Velbon And Hakuba Carbon-Fiber Tripods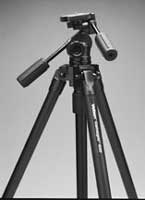 The vast majority of the images made while I was testing the Velbon Carmagne 630 are razor sharp. Even those requiring extremely long exposure times are technically perfect, confirming the rigidity of this carbon-fiber model.
As the manufacturer of numerous tripods, the Velbon name has been well known in the US for many years, particularly for very affordable and ultralight models. Recently however, some important changes have occurred. The Velbon Tripod Co. of Japan expanded its line of high-end models and magnesium alloy accessories; then, it assigned distribution to Hakuba USA Inc. Now, this corporation distributes two distinct brands: Velbon and Hakuba.

Hakuba USA Inc. provided two carbon-fiber models for testing: the Velbon Carmagne 630 and the Hakuba HG-6230C, a similar but less expensive model. Frankly, neither falls into the bargain-priced category because the cost of carbon-fiber is significantly higher than that of aluminum. Approximately 30 percent lighter, the high-tech material does offer a significant weight advantage. Other benefits include: superior vibration-damping qualities, even greater corrosion resistance and greater comfort in extremely cold weather.

While some photographers question the stability of a lighter tripod, a carbon-fiber model can indeed be very rigid. For both models, a wall thickness of 1.12mm is used, in a cross-layered weave; seven layers are used, each running in a different direction for extra rigidity. According to Velbon Co. in Tokyo, this is not as thick as the 1.5mm fiber used by their primary competitor for their pro tripods, but this was intentional. However, neither models were intended for use with super telephoto lenses.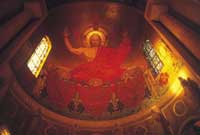 The 3 lb Velbon Carmagne 630 carbon-fiber tripod was a welcome companion during days of shooting stock in Washington, DC. Some photographers prefer the 10+ lb models for all their work, but my own heavyweight tripod is not practical for travel photography. (Canon EOS-1N with Power Booster; Sigma 70-300mm APO zoom; Fujichrome Astia 100.)
Photos © 1999, Peter K. Burian, All Rights Reserved
Carmagne Characteristics. Recommended for loads up to 14 lbs. The Velbon Carmagne 630 features three section legs and weighs only 3 lbs. Aside from the carbon-fiber tubes, lightweight is maintained through the use of magnesium alloy components, instead of cast aluminum. Its maximum extended height is 63.4" or 53" when the center post is retracted for maximum rigidity. Tall photographers may feel that this is a bit short, but this model folds down to a short 22.8" so it will fit into a large suitcase or duffel bag, ideal when traveling by air.

This tripod features individually adjustable legs for use on uneven terrain, or for low-angle shooting--as low as 15.3". Is that still too high? In that case, you can easily shorten the center post by 5.5", thanks to the intelligent two-part design. Other features include: twist-type leg locks, made of metal but covered with rubber for durability and a good grip, a reversible center post, and rubber tipped feet for no-slip setups.
In order to fully test the Hakuba HG-6230C tripod, I sought out subjects that would call for very long exposures, such as this amusement park ride at Seabreeze in Rochester, New York. Except for intentional motion blur, this image is very sharp, confirming the effectiveness of the tripod. (Canon EOS-1N with Power Booster; Sigma 70-300mm APO zoom; Ektachrome E100VS.)
Evaluation. I worked with the Carmagne 630 frequently, often with equipment weighing 8 lbs. Occasionally I switched to a 300mm f/2.8 telephoto for a total weight of 12 lbs, approaching the limits of this tripod. During the test period, I made the following notes:
· The rubber tipped feet are ideal for use on hard surfaces. Retractable spikes might be useful too in grass or moderately hard soil. These are offered as an accessory in Japan but not in the US at this time.

· The leg locks are certainly effective, with smooth operation. They are not as quick to operate as the flip locks used on some other Velbon models, but serious photographers expect durable twist-type collar locks on tripods in the Carmagne price range.

· The center post twist-lock (similar to the lock used for the legs) is not as quick to operate as a simple screw lock, but it is very effective in preventing post slippage.

Overall, this tripod performed extremely well with long exposures. The Carmagne (and Hakuba) carbon-fiber models are not recommended for use with the very heavy equipment favored by wildlife photographers. Still, they provided adequate support for the 12 lb maximum weight that I occasionally used, especially when I did not extend the lower leg section. When viewed under a 10x loupe, the majority of my slides are very sharp. There is no evidence of blur from tripod shake except in a few situations when I was shooting during high winds or in deep grass.

Like any lightweight carbon-fiber model, the Carmagne 630 offers the most rigid support with a camera/ lens/head combination of at least 5 lbs. The extra mass helps increase stability. Photographers who generally use compact SLR cameras with short lenses will want to add extra weight, so Velbon includes an accessory "Stone Bag." Designed for attachment to the tripod with quick release snaps, it should be filled with small rocks in the field. This accessory is convenient and highly effective.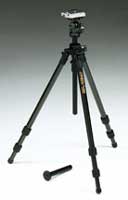 Surprisingly affordable for a carbon-fiber model, the 3.49 lb Hakuba HG-6230C proved its value in my stock photography. Because it was a pleasure to carry--thanks to its moderate size/weight--I rarely left this tripod behind even when planning to walk miles.
Hakuba Model. A less expensive tripod, the Hakuba HG-6230C is another carbon-fiber model with three section tubular legs. This tripod is 8 oz heavier because it sports conventional aluminum alloy hardware. The center column lock consists of a screw, but there is a secondary tension control collar, too that prevents slippage even with heavy photo equipment.

My assessments of this model are similar to those for the Carmagne 630, except for the following:
· Considering its relatively modest price, the Hakuba HG-6230C offers fine support and overall performance.

· The individual leg angle positioning controls seem a bit more convenient to operate.

· No information was provided on maximum load bearing ability, but I judged that to be similar to the Velbon model.

· The Velbon Stone Bag is not included with the Hakuba model but I definitely appreciated the second short (7.2") center post that is included instead, for low-level photography--down to a mere 10.2" above the ground.

Conclusion. Like any tripod, the Hakuba and Velbon models provide the most stable platform for camera equipment when used intelligently. Extending the center post more than a few inches creates a monopod on three legs, so it is not generally recommended. During days with strong wind gusts, extend only the top section of the legs.

Some photo enthusiasts are not yet convinced that a 3 to 4 lb carbon-fiber tripod is suitable for serious photography. They firmly believe the adage that "only mass provides stability" and will buy the heaviest tripod they can find. If you fall into that category--or if you own a 13 lb super telephoto lens--Hakuba USA Inc. recommends some of their other models. Personally, I am a convert to the benefits of a rigid carbon-fiber tripod for travel photography and for hiking trips and am looking forward to testing their new magnesium alloy accessories. They will shave a few more ounces off the burden that I must carry into the field. Since no tripod is of much value when stashed away in a closet, the greater portability should assure that these models are used frequently.

For additional information on Velbon and Hakuba products, contact Hakuba USA Inc., 10621 Bloomfield St., Ste. 39, Los Alamitos, CA 90720; (800) 423-1623, (562) 799-1898; fax: (562) 799-1316; www.hakubausa.com.

LATEST VIDEO