Using a Wide-Angle Zoom & Focus Stacking for Sunset & Blue Hour Photographs (VIDEO)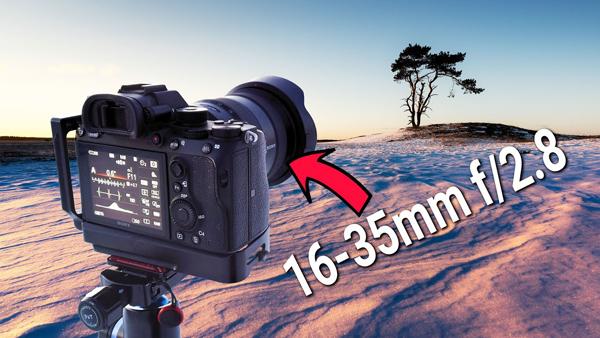 Wide-angles lenses are an important component of a landscape photographer's arsenal, because they make it easy to capture the splendor of expansive vistas. In this tutorial you'll learn a specific application for wide-angle nature photography; namely, shooting beautiful sunset and blue hour images.
We often turn to Danish pro Mads Peter Iversen, for tutorials on an artistic approach to landscape photography. Iversen recently purchased a Sony 16-35mm f/2.8 GM wide-angle zoom, and in this behind-this-scenes episode you'll see how he uses it to capture some beautifully sublime winter landscape images.
Iversen is dressed in full arctic garb because of the below-freezing temperature. And as with his typical minimalist style of shooting, he found a couple lonely trees in the foreground of a clean and simple scene. Iversen explains that he chose a 16-35mm, because his 12-24 zoom often doesn't provide enough reach at the long end for the composition he desires. The difference between 24mm and 35mm might not seem significant, but sometimes it's just enough to make a difference.
Iversen says "What makes a wide-angle zoom so great is that you can either take in the entire landscape, or get down low and capture those foregrounds." That latter approach is what he chose to do in this episode.
During the shoot Iversen describes his thought process as he composes the shots. Diverging from conventional wisdom, Iversen frequently composes scenes with the main subject in the center of the frame. And you'll see how he employs S curves, leading lines and other compositional devices to direct a viewer's eye through the shot. It's a simple yet powerful approach.
Iversen explains the camera and exposure settings he used, and why he employed focus stacking to achieve the final result he envisioned. And you'll see how changing one's vantage point only slightly can make a big difference in the images you capture. There are a few more tricks to learn, so spending 12 minutes watching the video is time well spent.
You can learn much more by visiting Iversen's YouTube channel. And for a totally different approach to landscape photography, check out our recent story explaining why a telephoto lens can be a great choice.

FEATURED VIDEO