Urban Elegance
Personalize Your Images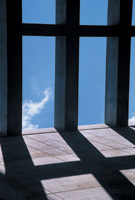 Photos © 2003, Richard Lotman Brown, All Rights Reserved
Funny thing. Creating a portfolio of pristine city images, I recalled lessons learned from the comedy business and applied them to photography. Additionally, by finding fresh perspectives in, oftentimes, ordinary or limited settings, the camera became a tool for limitless self-expression. I was able to build confidence and enrich my life. I hope that while shooting urban landscapes (or whatever strikes your eye) you might experience the same rewards.

I began my recent 15 years in the entertainment business learning from hours spent at the Friars Club with then reigning president, octogenarian, Milton Berle. He said, "Know who you are, what you are doing, and why you are doing it." Through time spent with Charles Joffe (personal manager for Woody Allen, David Letterman, and Robin Williams), I learned, clearly, his one word mantra, "focus."
Then, as a personal manager myself, I helped actors, writers, and comedians find their uniqueness. I came to believe that the most truthful voice came from within the "performing artist." Together, the client and I eventually discovered the ruby slippers that had been there all along. Berle had reiterated this perspective, offering, "Don't play for the band!"
Customize Your Journey
For any visual artist and fine-art photographer, this means forgetting about the critics and letting go of the demons. Using the camera, you have the chance to design and fine-tune your own custom journey. Ideally, you can do so while finding inspiration right in your backyard or back streets. Your pictures may look nothing like these. That's even better.
Look forward to enjoying a passionate pursuit. Be willing to take new risks. Before you do, take a minute or two to set some artistic goals and to be technically aware.
Who, What, Why
Think, now. Shoot, later. It is a matter of guiding the creative process. Begin with some simple, relaxing introspection. Who are you these days? Height and weight, unimportant. Then, remember the ideas or passing fantasies you had in mind when you first started using your camera. What do you want to say with your new or old friend? Why are these expressions important to you?
Your vision may not be realized for some time or it may change along the way. However, having a brief conversation with yourself before you begin each shoot will pay dividends. It will not only increase the chances of getting the results you want but will also give you a sense of accomplishment along the way.

In my case, after guiding other artists, I was ready to reclaim my own free spirit. I began with a desire to find shapes, observing them as I might have first seen them as a young child. Unlike my more youthful visions, however, I was now more willing to explore the imperfections created by light and shadows. This added character to the work.

I also wanted to put myself through photography boot camp. I dropped myself only a few minutes from any current living space. Then, the internal commander shouted, "Go find the shot. This is all you have to work with. Come out with the prize!"
Your Yen/Yang
In each session, I try to find the zone which draws first from intuition and, afterward, from logic. When you begin, know that your picture is there, somewhere. Locate the shot through feel and internal trust. Then, compose it with your rational brain. Edit within the camera, grounding each piece with a central story.

The "focal point" of each of my images is often narrow. I worked toward saying the most with the least amount of elements. For me, it raised the stakes. In a given setting, it affords me the chance to share a distinct view that may have been missed by a passerby. Unexpectedly, elegance came from presenting the unadorned.
Consider a working definition of "focus" to be commitment and consistency. Your interpretation may not be as minimal as these images are--most important is the clarity of your point of view. Before you move on to another idea, apply your current perspective to enough different settings that it becomes apparent.

Discover conflict. The artistic themes in a visual dialectic, of contrast and juxtaposition, are infinite. For example, find surprising spots of foliage within the concrete jungle. Shoot the intersections of old and new. Or, locate the angles in front of urban settings that make people look very tall, or very small. Start with specifics: doors and entryways, roofs, horizontal views of alleys--or just shoot pink.
Technical Sport
Technical consistency will help give you a professional look and assure your success as an artist. If it helps you tell a better story, break the rules. Just break them the same way every time. I combine both traditional and unconventional techniques.

I still shoot with film. Black and white film keeps my eye on composition. I most often use my 35mm Canon; sometimes a medium format Mamiya. I prefer Agfa 25 (harder to find), Ilford 50, and, for evening or night, Kodak's T-MAX 100.
I generally stop the lens down, aiming for a deep depth of field. I hope for one or two keepers per roll of 36 exposures. I like to shoot AE, aperture priority, overriding it in special circumstances. In stopped-down shooting, a slower shutter speed is often required. Using the tripod, even when the shutter speed is not restrictive, assures the sharpness of my images. It also forces me to relax, setting up each individual shot.


Most often, I use autofocus. This gives me one less issue with which to deal. The results are satisfactory. With the increased depth of field, I generally end up with an image whose few chosen elements are, relatively, in sharp focus.

I use color when the color is an important part of the picture. I like saturated colors offered by Agfa's Ultra 50 (discontinued, replaced with Ultra 100), Fuji's Fujichrome 50, and Kodak's Ektachrome E100 VS. I believe Agfa is the warmest film to the middle colors; Ektachrome is the warmest to blues.
I usually shoot one stop over, developing at the rated ISO, or pulled one stop. Occasionally, I have used contrast filters. Ideally, and less orthodox, I shoot to enable prints whose gray scale includes both pure black and pure white. I scan negatives and slides and print from Photoshop 7.0 to an Epson 7600. I use Photoshop to present the original intent of the shot. My guiding thought is: "How would I print the image in a conventional darkroom?" This translates into minimal alterations of the original picture.

For all aspects, the main point is, "Keep it simple."

LATEST VIDEO