(Un)Natural Wonders; Rob Atkins Captures The Passing Scene
In the early 1980s, when he was just starting out as a commercial and advertising photographer, Rob Atkins took a few trips to the Southwest. "I went to photograph the great natural wonders," Rob says, "like the Grand Canyon and Monument Valley." But as he traveled to those and other destinations, something else caught his eye. "So often, out in the middle of nowhere, I'd come across quirky motels and roadside stops, and I started photographing them. A few years ago I was editing some of my pictures, and it became pretty obvious that over the years I'd had an ongoing interest in those places and had been continuing to take those kinds of pictures. I looked at my light table and there was an idea for a book. I started doing research, and I compiled a list of things I wanted to include and places I wanted to explore. Then I started making specific trips to the Southwest."
Las Vegas
All Photos © 2006, Rob Atkins, All Rights Reserved
And just in time. "What became apparent--and this is a central part of the project--is that every time I go, there's less and less to photograph because there's less and less of the quirky stuff. The funky little motels with the neon cowboy signs are disappearing. What I'm seeing are Holiday Inns that could be right off the Long Island Expressway or somewhere in the Midwest." Soon what Rob calls "the local vernacular" will exist only in photographs.
Espanola, New Mexico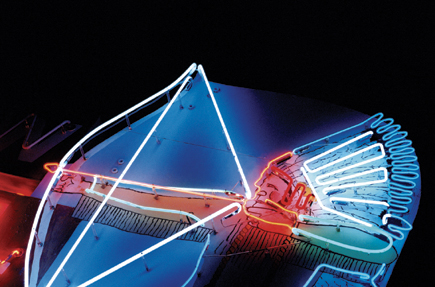 "I see all over these areas recurring themes," Rob says. "There's the cowboy and the Indian, of course, and the idea of the exotic western frontier. And there's a lot of atomic stuff because bomb testing was done out there. You see roadside missiles and monuments to rockets and space. There's a liquor store in Las Vegas called Atomic Liquors, which is next on my list."

Rob plans to call his book Neon Mesa, and it will feature photographs taken in the Four Corners states: New Mexico, Arizona, Colorado, and Utah. His website, www.robatkins.com, has additional images from the project.
Valentine, Arizona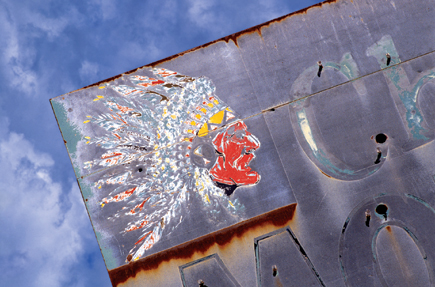 "Walker Evans, in the '30s, made a list of things he wanted to work on," Rob says, "and he used the term `the automotive landscape.' And that, too, is a defining point of what I'm doing. This is the landscape of the automobile. The signs are huge so you'll be able to see them from a car going 70 miles an hour. The symbols are big, things loom up so we won't miss them. The messages are clear: cup of coffee ahead."

LATEST VIDEO