This Unique Approach to Landscape Photo Composition Delivers BETTER Results (VIDEO)
This tutorial begins with a question: "How do you tell truly captivating stories with your landscape photography?" In other words, stories that tell your viewers what you want them to know about a place.
We've discussed the importance of visual storytelling before, and in the video below photographer Joshua Cripps provides his take on the subject, especially as it pertains to landscape photography. Cripps notes that proper framing is often the most difficult challenge for nature photographers to master because, "There are so many different rules, perfect ratios, and golden doodads to learn that it's enough to make your head spin."
As you'll see, Cripps prefers a simpler approach based upon the principles of visual storytelling to help determine the best framing for nature and landscape images. He demonstrates the basic three-step system he uses for most of his shots, and discusses four common mistakes made by budding landscape shooters. You'll also find a list of Cripps' favorite gear in the description below the video.
Cripps' has a different philosophical take on image making. While most landscape photography rules involve guiding a viewer's eyes through an image, Cripps is more concerned with guiding the viewer's mind—thereby helping them better understand with the scene is all about. By starting with a story you want to tell, and letting that dictate your composition, you'll capture a viewer's attention, and that's what photography is all about.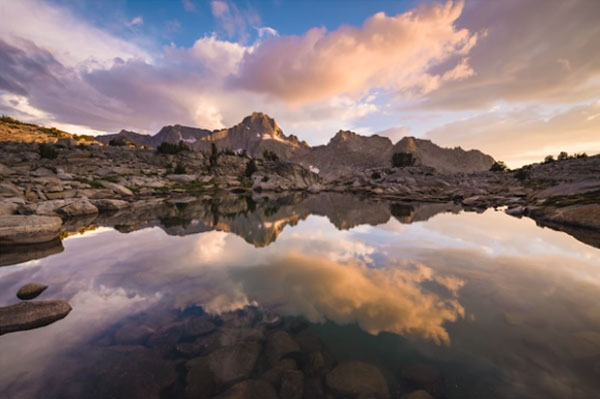 Cripps uses a few of his stunning images to illustrate how this strategy works, and how his tactic can create different and more interesting images of the same scene at the same time than photos captured by following conventional framing rules. Above all, Cripps strives to capture images that convey his impression of a location, his emotional reaction to the scene, and what elements were most important to his experience.
This is certainly a different approach to landscape composition, but one that deserves a place in your bag of tricks. After watching the video, head over to Cripps' YouTube channel for more great tips. And be sure to check out our recent story, with the "ultimate hack" for shooting better images of the great outdoors.

LATEST VIDEO