Tunnel Vision
A Guide To Using Super Telephoto Autofocus Lenses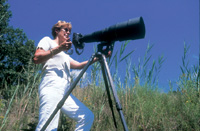 Even on steep terrain, make sure the tripod and lens is secure by testing it with your left hand while getting ready to fire the camera with a cable release in your right hand. A strong and versatile tripod like this Gitzo carbon-fiber version is great in a situation like this.
Photos © 2002, Stan Trzoniec, All Rights Reserved
There certainly seems to be a true mystique when it comes to telephoto lenses. In a quick poll taken in our lab I found out that when a person buys a new single lens reflex camera the next lens he or she wants is a telephoto. Not much of one, of course, as folks with youngsters simply don't want to be bothered with all the trouble of one over the focal length and fast film to capture it all. Something less than 200mm or so seems to be the magic number.

But as you advance you start to reach out further. Zoom lenses are popular, especially in combinations like the 80-200mm or 70-300mm. Serious photographers seem to stay away from a zoom once they get what I call "tunnel vision." Then, these same people, when confronted with the likes of a 300mm or even a 500mm lens, start to get a strange look about them. Their eyes start to glaze over and their speech begins to slur. In short, what they really want is to move up the ladder to bigger and longer millimeters.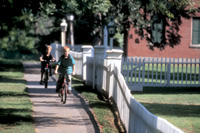 Today's modern telephotos incorporate a wide number of features one of which is the new Silent Wave type focusing motors. Here the author was able to follow two youngsters as they peddled their way through an old New England village.
Getting Started
Let's talk millimeters first, straight millimeters and not zooms. When I'm in the field my gut feeling is that I get more use (and sharper images) by using a traditional telephoto in 300, 500, or 600mm. Zooms are great, and my own Nikon 80-200mm f/2.8 AFS delivers some extraordinary images, but for some reason I'm always fiddling with that darn power ring. Call it habit or whatever but when that great blue heron comes to a screeching landing, I'm always at the wrong end of the power ring.
A cursory look at what's available today in straight, no nonsense super telephotos makes for good reading. Nikon and Canon, for example, are known for their fast reacting telephotos complete with all of the goodies like Silent Wave or Ultrasonic motors. These front-end motors are built into the actual lens and are not driven by the camera body itself, assuring quick and decisive pinpoint focusing. Even today we are on the forefront of new technology in the form of Image Stabilization, Vibration Reduction lenses from Canon and Nikon, along with the new stabilization lens from Sigma. The end result is what we're all looking for--more keepers for our files.
For neat effects like compression, super telephotos are the way to go. The distance between these two buildings is about 150 ft, but note how a 500mm lens has shortened this space. Are they sharp? Just look at those hanging flowers. You can see every vine and leaf!

Glass is certainly an important equation in any lens, more so in super telephotos. Each manufacturer has a combination of finely tuned optics to capture sparkling images in all kinds of light. Don't forget for a minute that people like Nikon, Canon, Contax, Pentax, Minolta, Sigma, Tamron, and others build their reputations on what the good photographers like us place on film. Now everything being equal, you still--and especially in super telephotos--get what you pay for. High quality telephotos cost plenty, but they are sharp, clear, and have a true color rendition of what the photographer captured at that particular moment in time.

Naturally other features come into play. Do you have the option of switching from autofocus to manual at a heartbeat or can you fine-tune your image as an override when shooting a marsh wren through waving tall grass and cattails? Limit switches come in handy, especially when the subject is on the plain side (keeping in mind autofocus lenses need a contrast difference to function correctly) and you want the lens to stop hunting for that perfect point of focus. Built-in or readily available lens shades are a plus and the deeper the better. Tripod collars are a must, especially with longer optics as they balance the whole package for fast-paced action shooting and allow you to turn from horizontal to vertical without even touching the ball head or tripod.
The Nikon 600mm f/5.6 ED IF was used to isolate the foreground from the train, which was almost a half mile away. The haze of a hot summer day helps to convey the feeling and since there was no movement involved, the manual focus lens was just the tool for this scene.
What's Out There
Today, like everything else in our society, telephoto lenses of all kinds are out there in spades. Nikon has both a 300mm f/2.8 and 300mm f/4 AFS. From there you move up to 400, 500, and 600mm AFS versions. Canon's line is very similar and very impressive and includes autofocus lenses from 300mm up to and including a very formable 1200mm f/5.6L complete with an Ultrasonic motor. The cost on this baby? If you have to ask, a mere $79,000.

Sigma has a line of autofocus super tele's that range from the popular 300-800mm that couple to most modern cameras. Tokina has a pair of 300s in both the f/2.8 and f/4 versions; Pentax has a neat 400mm f/5.6; Minolta follows suit with a 300mm f/2.8 and f/4, a 400mm f/4.5, and a more traditional 600mm f/4 lens. For a more complete update see the attached chart or purchase the latest Shutterbug's Photography Buyer's Guide, which offers all specifications, lens mounts, and prices. Also, check the updates in our PMA show report published in the June, 2003, issue of Shutterbug.
Are telephotos good for close-ups? You bet, as witnessed by this daisy photographed on Velvia with a Nikon 300mm f/2.8 lens all tied together with a PK-13 extension ring.
Sorting Out Your Needs
Super telephotos can play a very active role in both your photography objectives and budget, so let's look a little closer at how millimeters affect relative size and the image on your film. For the sake of argument let's say you have an image in front of you that you want to photograph. Size is unimportant at this time, but let's say you'd like it to fill your frame comfortably in the horizontal format. With a 300mm lens, you need to back up to around 49 ft, a 400mm lens will push you back to about 65 ft, a 500mm will move you to the rear 82 ft, and with that super 600mm you'll be at 98 ft.

Still another fact to consider is how much difference in image size one will gain by going to a different focal length. About two years after purchasing my Nikon 500mm f/4 AFS I had a real strong desire for that 600mm f/4 AFS. But would I really gain anything of significance with only 100mm more? Reason shows that the difference between 500mm and 600mm is only 20 percent. True, but to a point. In fact, asking around I was given a formula by a manufacturer that when you square the focal length of the lens the image size increases. So playing the 500mm against the 600mm my increase in image size would not be 20 percent but an impressive 44 percent. Now that's pretty good considering that the angle difference between the two is less than 1Þ! That's what I was looking for and consequently purchased the lens.
It's simply amazing what you can do with a 300mm lens and a 1.4x extender attached! Even with the newer Nikon 300mm f/4 and the extender, the close focusing distance has not been changed allowing full frame images with more than adequate working distance. Note the sharpness on the inside of the flower.
Still another avenue to consider is weight. More glass and larger maximum aperture equals a heavy lens that costs more money. For instance, in my battery of upper-end telephotos (in millimeters now, not dollars) you'll find the 300mm f/2.8 AFS, 300mm f/4 AFS, 500mm f/4 AFS, and 600mm f/4 AFS. The reasoning behind all of this hardware soon becomes clear. For extended travel by airline, hiking, or from a precarious vantage point, the 300mm f/4 AFS gets the nod. Light in weight, costing less than a quarter of the money I paid for the 300mm f/2.8 AFS and containing that famous Nikon ED glass, this new version is a much improved product especially in the response uptake for moving subjects. The 300mm f/2.8 AFS comes on-board when (1) I'll being using my Suburban for travel, (2) using a tripod for both the extra speed and perhaps a tele-extender, and (3) when I want to employ the use of the 2x extender handheld or braced on a set of beanbags.

The big guns--my 500mm and 600mm Nikkors--are my out and out favorites. The 500mm I'll use when I'm going on a substantial hike and I'm still comfortable with the 1.4x extender. The 600mm f/4, on the other hand, finds more and more use as it allows me more reach without the use of extenders that can degrade overall quality if you're not in tune with proper technique matched with a really sturdy tripod.
Even in flight this heron can be tracked handily by the use of a high-performance tripod head like those made by Kirk or Wimberley. The author's Nikon 600mm f/4 was used with Provia 400F.
Last in our series is the 400mm class of super telephotos. Both Nikon and Canon have this model in the f/2.8 version, both autofocus with the 2x extenders to reach a whopping 800mm at f/5.6. However, the sleeper in this series seems to be Canon's 400mm f/5.6. Small and light, folks who have this lens swear by it as one of the best in its category for full action photography, panning, and overall image clarity. Presently, all we need now is for someone to introduce a 400mm f/4 and all the gaps in this 16" focal length will be filled.
Moving Up With Film
With all those really good products out there all I can say is don't be in too much of a hurry to slow down! Don't be miffed by the fact that using slow film like ISO 100 is always the best, as many factors can ruin even the best day. Sure 1/100 sec at f/16 is normal on a bright day and shooting a long lens at f/8 (2 stops from wide-open on a f/4 lens) is best, but you have to consider various lighting situations that always seem to enter the picture.

For example, sidelighting can eat up 1-2 stops depending upon the subject and darker subjects can also drop shutter speeds down even more. In my workshops I encourage students who are new to the world of telephotos to start with a film with an ISO 400 rating to help instill confidence. When photographing a brace of dark mallards with Provia 100F on a dark riverbank with a 1.4x tele-extender you get speeds of around 1/125-1/160 sec with a 500mm wide-open at (with the extender) f/5.6. Even on a tripod this really starts to get marginal at best, so proper technique--good tripod, cable release, static subject--makes for another keeper.

ISO 400 film is getting better and better, and when I'm out in the field with any of my super telephotos one Nikon F5 is always loaded with Provia 400F. I find no disadvantage here--use this film with high shutter speeds combined with a moderate aperture and you'll get great prints in the 11x14" class. Still another favorite that pushes really nice is Kodak's EliteChrome in ISO 200. Great color, tight grain, and when you do your part with a crisp image one never even takes note of the grain pattern. Remember: take a little grain anytime over the loss of a one-time image. Additionally, I find that because of their narrow angle of field (500mm has around 5Þ of angle) my exposures seemto be more consistent. Why? Simply because your camera's metering
system has now turned into a spot meter and a concentrated area means a better exposure.
Walking along the beach in Maine, the author found the Canon EOS 3 with their 400mm f/5.6 lens a great combination with Fuji Provia F ISO 400 film. Stalking the common seagull was easy with no stress on either the bird or the photographer.
My Aching Back!
The bigger the lens the more you'll need under it to support the bulk. Over the years, between inside studio and outside on-location work, tripods have come and gone. The larger Bogens are great for view cameras and static studio setups. For wildlife, a favorite of mine is the Manfrotto 3021, which is more than adequate for most of my work. When I start to reach that 500mm and up plateau I reach for the Gitzo Mountaineer MK2 and equip it with their G1377M magnesium center ball head with the more common camera mounting screw.
This Gitzo has a bare weight of around 41/2 lbs, is made from carbon fiber, and has legs that adjust just inches off the ground. If I'm using lenses with the ACRA type mounting system I'll switch over to the Kirk ball head. For unrestrained movement, the Kirk King Cobra or the Wimberley head is great. When it comes to ultra-sharp telephoto images, it's all in the support system under it and whether you want to believe it or not, the tripod is the strongest link.

Finally, use a remote cable release. Unless your shutter speeds are way up there shoot single bursts with a pause, if possible, between each frame to allow your rig to settle down. Additionally, allowing the mirror to be set in the up position during the exposure (in manual mode) is yet another way to erase all the variables in long distance photography. And don't forget an additional set of batteries. With full camera automation and in-lens motors all I can say is, "Don't leave home without 'em!"

I know, I've been there...
Long lenses like a 500mm or 600mm actually seem to render more consistent exposures due to their very narrow angle of view. Can't get any worse than this. A dark mallard on an almost black riverbank. Matrix metering figured it out and gave a perfect exposure.
Go The Distance
There is a very simple rule out there concerning super telephotos and it goes like this: No matter how long your present lens is, it's never long enough! Just when you think you have the best of the best, that brown pelican you've been stalking since the wee hours of the morning is just that much farther away. That's when you start needing tele-extenders.

Common today are 1.4x and 2x extenders that will increase that 500mm into a 700mm with the former and up to 1000mm with the latter. With one you lose one stop of light (now that 500mm f/4 becomes a 500mm f/5.6); with the 2x you vacuum up yet another stop of light. The folks using digital seem to have the best of both worlds. They keep the original lens opening yet, because of the digital format of multiplying 1.6x the focal length, your 500mm now becomes a 800mm f/4. If you really want to space out, add a 1.4x extender to the math and bingo, you're at 1120mm! Is that beyond the scope of practicality? Maybe, but keep it all supported and you're in. Whatever your choice, tele-extenders are one inexpensive way to add power to your
super telephotos.
Autofocus Super Telephotos

Millimeters
Aperture

300
f/2.8

300
f/4

400
f/2.8

400
f/4.5

400
f/5.6

500
f/4

600
f/4

800
f/5.6

1200
f/5.6

Nikon SWM

X

X

X

X

X

Canon USM

X

X

X

X

X

X

X

Pentax

X(1)

X

X

X(2)

X

X

Minolta

X

X

X

X

Sigma HSM

X

X

X(3)

X

Tokina

X

Tamron

X

Notes: (1) Pentax 300mm f/4.5, (2) Pentax 500mm f/4.5, (3) Sigma 500mm f/4.5,
SWM=Silent Wave Motor, USM=UltraSonic Motor, HSM=HyperSonic Motor

LATEST VIDEO

SPONSORED VIDEO