Traveling With A SlingShot; A New Take On A Popular Style
Slingshots may seem like odd travel accessories, but these SlingShots are two dispatch rider-style backpacks--also known as bandoleer bags and, yes, sling bags--from Lowepro.

They are part of the "Designed for Digital" range, but don't let that worry you: they are at least as good for film cameras. Yes, they are designed especially for carrying a digital SLR and all of the accessories you need; they are very compact; there are built-in pockets for media cards; there is a special built-in microfiber screen protector. While this makes them ideal for digital, it does no harm at all with non-digital. In fact, I'd say that they are just about perfect for rangefinder cameras.
Yes, I got all this into a 200 AW: two Voigtländer rangefinder bodies (there's an R2 with a lens on it beside the Alpa), an Alpa 12SWA, five lenses (four Voigtländer, one Alpa), filters, cable releases, levels, viewfinders, Q-Top tripod plates, cleaning kit, and film. And passports. I hope this doesn't invalidate the warranty... When I was working, though, at least one camera was normally around my neck.
© 2005, Frances E. Schultz, All Rights Reserved
On a recent trip to China, for example, I carried two Voigtländer rangefinder bodies (Bessa R2 and Bessa-T), an Alpa 12SWA, five lenses (four Voigtländer, one Alpa), five filters, two cable releases, a spirit level, four viewfinders (Voigtländer 21, 28/35, and 90, and Tewe 35-200), cleaning kit, and film! I admit the bag was well stuffed but it stood up to the abuse and kept my equipment secure and accessible. This was all in the 200 AW, the bigger version: its little brother the 100 AW is perfect for a day out with one camera, a couple of lenses, and the requisite accessories. Both have padded backs (so your cameras don't stab you in the back) and a built-in folding "rain hat" of waterproofed rip-stop nylon which also provides additional security on mean streets.

This style of one-strap bag is increasingly popular, and deservedly so, but what really makes the SlingShot special is the way it opens. Unzip the main compartment fully for packing and unpacking. This opens two faces of the bag, the front and the left side: a lot easier to understand than to describe, but I'll try.

When you carry the bag, you have the shoulder strap slung across to your right shoulder. A sternum strap holds it firmly in place--another excellent idea that distinguishes the SlingShots from many of their competitors. Lowepro calls the sternum strap a "stability strap," and that's a pretty fair description. Both the main strap and the sternum strap have quick-adjustment buckles: pull the loose end to tighten, lift the buckle to allow it to loosen. The sternum strap can also be tucked away into a little pocket to stop it trailing when it's not in use.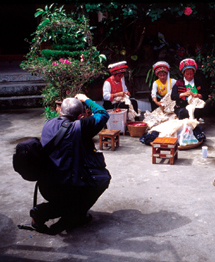 At Shutterbug, when we test something we don't just check the facts on the press releases, or pop out for an afternoon's shoot. These indigo tie-dyers are near Lake Erhai in Yunnan province: the bag (and I) went to Beijing, the Great Wall, Chengde, Kunming, Da Li, and Lijiang, and of course Paris on the way there and back, traveling by air, Land Rover, hire car, bicycle rickshaw, and taxi. And foot: see text.
© 2005, Roger W. Hicks, All Rights Reserved
Undo the sternum strap and pull the bag around to the front, and the side opening becomes a top opening. "Zip-Stop" buckles stop you from opening the bag too far and dumping all your gear. The top opens away from you so you can see what is inside and even use it as a workbench. When using the bag this way it is like using a conventional shoulder bag, but it is more comfortable for carrying long distances.



LATEST VIDEO

SPONSORED VIDEO
Testing Tamron's SP 150-60mm G2 lens while capturing birds and alligators in Apalachicola, Florida.