The Tools I Use; What's In My Gear Bag And Why
"Silver white winters that melt into springs."--Oscar Hammerstein II
The idea behind this story was to provide insight into the photo gear I own and use, all of which was purchased from Shutterbug advertisers. During the review process many different photographic products pass through my hands but contrary to what you may think they don't stay there and have to be returned to the manufacturer. While this is an up-close-and-personal look at my equipment, it does not constitute an endorsement. It's just a statement of fact. You can use whatever brand of camera, lens, or software that fits your photographic style and budget, but if you've ever wondered "how did he do that?"--now you'll know.
Camera Systems
When Mary and I sold our studio in 1995 we also sold almost all the cameras and that gave me an opportunity to start over with new gear. Shutterbug contributor Rick Sammon suggested a look at the Canon EOS system and I purchased a used body, lens, and flash to get started. Shortly thereafter I was hooked and began using Canon film, then digital, SLRs for most of my personal and professional photography. My main camera is an EOS-1D Mark II but after the full-frame EOS 5D was introduced I purchased a factory refurbished model. New, used, or refurb, it doesn't matter to me because I'm actually going to use the camera, not "wrap it up and kiss it goodnight."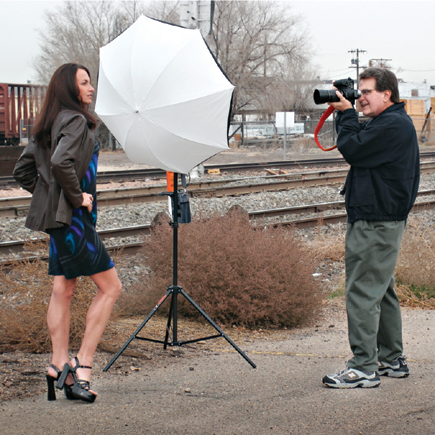 Here I'm photographing a model on location using one of my favorite lens/body combinations, a Canon EOS-1D Mark II and an EF 85mm f/1.8 USM lens. Lighting is from a battery-powered JTL Mobilight with Westcott light bank that I was testing for Shutterbug.
© 2006, Mary Farace, All Rights Reserved
This digital infrared image was captured with an EOS Digital Rebel XTi and a Tamron SP AF11-18mm F/4.5-5.6 Di II LD Aspherical lens. The camera was converted to IR use (only) by Life Pixel. Exposure was 1/80 sec at f/16 and ISO 400.
© 2006, Joe Farace, All Rights Reserved
Over the years I've converted a number of Canon D-SLRs for dedicated infrared capture and right now I am using a Rebel XTi that was converted by Life Pixel. I also purchased a used Rebel XT and had it converted using Life Pixel's Enhanced Color IR that allows more color to pass and is supposed to produce more saturation and color range, but I'm unconvinced about the value of this particular conversion. Because IR capture is difficult to predict, perhaps I need more time with the camera. Both Rebels and the EOS 5D are used with Canon's battery grips because I like the extra battery capacity, enjoy the vertical shutter release, and find it makes the Rebels easier to shoot because of added bulk to their otherwise tiny frames.
This fur-trading adobe outpost located on the South Platte River in Colorado was founded by Louis Vasquez and Andrew Sublette in 1835. The original black and white image was captured with a Zeiss Ikon SW and a 21mm f/2.8 Biogon ZM lens and later sepia toned in the digital darkroom.
© 2007, Joe Farace, All Rights Reserved
It is so crowded at indoor car shows that I sometimes say "the heck with it" and make the crowds part of the shot. Here I photographed this classic Chrysler using the EF 16-35mm f/2.8L USM at ISO 800 with a slow enough shutter speed to get motion blur from the spectators. Exposure was 1/2 sec at f/22 and the EOS 5D was set in the Nostalgia Picture Style you can download from Canon's website.
© 2006, Joe Farace, All Rights Reserved
I still have what seems like lots of film cameras, including a Leica M6 TTL, Zeiss Ikon SW, and Hasselblad Xpan along with a few lenses. There are even a few medium format cameras, including a Hasselblad 503, Flexbody, and 35mm Leica R8 that are awaiting digital backs, although Leica threw a monkey wrench into my plans by discontinuing the DIGITAL-MODUL-R. I don't use my film cameras much but enjoy the lightweight and stealthy, precise quality the M6 and Zeiss Ikon bring to my photography, and using these finely-crafted cameras just feels good. No digital camera I have used (haven't tried an M8 yet) comes close to recapturing my original excitement of making photographs with these particular imaging instruments.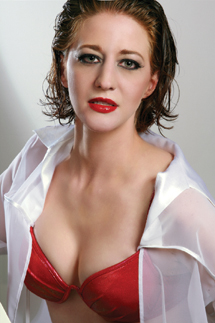 Consciously or unconsciously, I often find myself channeling Peter Gowland and other Golden Era Hollywood shooters when photographing models such as Tia Stoneman. When working in my tiny basement studio, Canon's EF 85mm f/1.8 USM is a good choice, especially when used with the EOS 5D that because of its full-frame chip lets me use the lens to its fullest capacity. Exposure with two Adorama monolights is 1/60 sec at f/13 and ISO 200.
© 2007, Joe Farace, All Rights Reserved
Lenses
I prefer prime focal lengths to zooms for portraits but don't have any hard-and-fast rules about it. I'm not a lens snob. My Canon-mount lenses include the EF 85mm f/1.8 USM for indoor portraiture and the EF 135mm f/2.8 SF that lets me apply soft focus effects--or not--outdoors. I like to use longer lenses for full-length portraits outdoors because I like the perspective and often thought about adding a 200mm for outdoor portraits.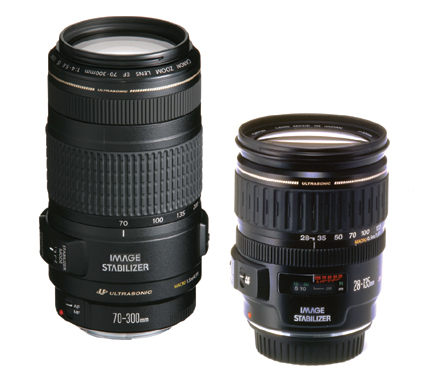 Did somebody say zooms? My favorite lens for photographing cars is the Canon EF 16-35mm f/2.8L USM, my only lens in their expensive L-series. My two Image Stabilized lenses are workhorses: The EF 28-135mm f/3.5-5.6 IS USM lens is a bargain considering its versatility and it's the one lens I'd recommend to all Canon shooters. The other is the EF 70-300mm f/4-5.6 IS USM that I use for travel, fashion runway, and some sports photography.

As far as non-Canon lenses are concerned, I really like Tamron's Di II digital-only lenses and love the SP AF11-18mm F/4.5-5.6 Di II LD Aspherical lens for digital infrared photography because of its wide field of view. On the other end of the focal length spectrum, I like the performance of the modestly priced but high-quality Pro-Optic Multi-Coated 2x Tele-Converter.
This photograph was made in Aspen, Colorado, using a cheap ($50) and well used EF 50mm f/1.8 lens along with the Pro-Optic Multi-Coated 2x Tele-Converter. Exposure with the EOS 5D was 1/60 sec at f/11 in Aperture Priority mode.
© 2007, Joe Farace, All Rights Reserved
Lighting
This may surprise you but since selling our studio, my lighting gear consists of a couple of Canon EX shoe-mount flashes and a motley assortment of inexpensive and hand-me-down monolights. I don't like the situation but like most of you I don't have the budget to replace these lights with high-end European or Japanese monolights. Most of the time I make do with a portable kit that includes two Flashpoint DigiPoppers, two Westcott collapsible umbrellas, a pair of Manfrotto light stands, and a Flash Waves wireless sync kit--all packed into a single Lightware case. The DigiPoppers are discontinued and have been replaced by the rugged and larger Flashpoint 320 at the same price as the lighter weight DigiPoppers. Flash is metered with a Gossen Luna-Star F2 meter that also measures ambient light, although I hardly ever use it for that purpose anymore. Similarly, I have a Color Meter III F that I seldom use.
That Lightware Soft Side Midsize case Mary Farace is holding measures 15x9.5x11.5" and yet holds all the lighting gear--lights, umbrellas, stands--you see in the photograph with the exception of the collapsible Westcott background that's, well, in the background.
© 2005, Joe Farace, All Rights Reserved
Digital Darkroom
I've been an Apple Macintosh user since '84 and that remains my computer of choice for serious imaging. Currently that translates into a Mac Pro running OS 10.4.11 with 5GB RAM and four hard drives providing a total of 2.5TB of storage. The monitor is a 23" Cinema HD Display calibrated with a ColorVision Spyder2. My laptop is a used PowerBook G4 running Mac OS Leopard that I'm still wondering why I bothered to upgrade. I also have a Compaq Presario where I run Microsoft Office, especially Outlook, and use it to test all Windows-based software for Shutterbug. It is running Windows XP Home and has an Apple 22" Cinema HD Display (yes, it works just fine) attached and is calibrated with the same Spyder2.