Tokina AF 19-35mm f/3.5-4.5 Zoom And New Kenko PRO Tele-Converters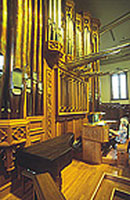 I appreciated the close focusing ability of the Tokina AF 19-35mm zoom in numerous situations. At most apertures, at any focal length, image sharpness is outstanding in close focusing. (Mormon Assembly Hall; at 28mm; handheld; f/8; Fujichrome Velvia at EI 80.)
Photos © Peter K. Burian, 2000
Although most lens manufacturers offer fast (f/2.8) ultra-wide zoom lenses, these tend to be large, heavy, and quite expensive. Tokina's own AF 20-35mm f/2.8 AT-X PRO is a superb product but most photo enthusiasts do not require such a wide aperture in a short zoom often used at f/16. If you fall into that category, the new AF 19-35mm f/3.5-4.5 zoom would be well worth considering. It's compact and lightweight, and offers performance beyond the norm for a mid-priced zoom. In fact, its optics can meet professional standards as I discovered while shooting 20 rolls on assignment in Salt Lake City and the Moab area of Utah.
Physical Characteristics. This is a lightweight lens but with a rugged feel and stainless steel mount for long-term reliability. The rubberized zoom and focus rings are adequately wide and knurled for good grip. The rotary zoom action is extremely smooth and well damped; the manual focus mechanism is not as well damped nor as smooth but works very well in practice. Less than a 45 degree rotation is required for moving from infinity to the 1.3' setting for quick operation in both manual and autofocus. AF operation was very quick indeed, and fairly quiet, with the Nikon N80 used for my tests; I had no difficulty tracking the motion of rapidly moving cyclists and dirt bikes at the famous Slickrock Trail in Moab.
I frequently used the AF 19-35mm zoom for close-ups of cyclists and motorcycles at Slickrock Trail in Moab, Utah, at very long exposures for a pan/blur effect. Autofocus performance with a Nikon N80 was excellent. (At 35mm; SB28, fill flash; 1/8 sec exposure; B+W polarizer; Fujichrome Velvia at EI 80.)
There's a standard distance scale (in meters and feet) and a focal length scale but no depth of field markings--a common omission from zooms these days--so I used the camera body's depth of field preview. For maximizing depth of field for landscapes at Arches National Park, I referred to a Hyperfocal Chart, which lists the ideal focus distance for every focal length and aperture. (This affordable, laminated chart is available from Steve Traudt, Synergistic Visions, (970) 245-6700; www.synvis.com)
Design Features. The new model offers some advantages over the AF 20-35mm f/3.5-4.5 zoom that it replaces, in addition to lower price, plus some other noteworthy features:
With the expanded spatial perspective of an ultra-wide lens, plus extensive depth of field, images with high viewer appeal are possible. The mid-priced Tokina AF 19-35mm zoom would be a fine choice for any serious photographer first considering a lens of this type. (At 19mm; f/16; Manfrotto tripod; hyperfocal focusing; Fujichrome Provia 100F.)
The mechanical design is similar but increased use of polycarbonate parts has reduced the weight; this will be appreciated by outdoor, travel, and landscape photographers especially when hiking or walking long distances. This is not the lightest lens in its class because the THK designers insisted on internal components with high durability.
The Internal Focusing mechanism is also new. Unlike conventional designs, which often require movement of the entire optical formula, such systems shift fewer components (less weight). This strategy produces several benefits: increased AF speed, improved sharpness at close range, and constant physical size (when focusing or zooming). The front element does rotate but the filter mount on the barrel does not. I really appreciated this fact when using a polarizer or graduated filter while photographing the canyons in Dead Horse Point State Park, near Moab.
The minimum focusing distance has been shortened, important even in a wide angle lens for dramatic effects.
This zoom includes an element of high refraction, low dispersion (HLD) glass to ensure superior image quality. All elements are multi-coated to counter flare and assure faithful color reproduction. They are made by Hoya, the world's largest optics manufacturer; internal precautions against flare also ensure high contrast images.
Focus does not shift when zooming, so there is no need to re-focus after changing focal lengths. I found this to be an advantage especially when working in manual focus.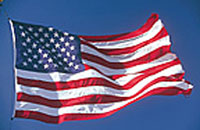 A tele-converter of top quality like the Kenko PRO 1.4x, on a pro caliber lens, can produce excellent image quality. Use professional shooting techniques as described in the text for the most satisfying results. (AF-S Nikkor 80-200mm f/2.8D ED IF; manual focus; Manfrotto tripod; B+W polarizer; f/11; Provia 100F at EI 200.)
Performance Evaluation. In addition to the stunning Utah landscapes, I used this lens frequently for travel subjects on the grounds of the Mormon Temple, Salt Lake City's premier site for tourists. While reviewing my slides under a 10x loupe, I made the following notes:
Light falloff at the edges of the frame is no longer apparent by f/5.6. Even at wider apertures, this is noticeable only when the white temple and the sky fill the frame.
As with most ultra-wide zooms, my conventional polarizer did produce vignetting (darkening of the corners of the image) at focal lengths shorter than 22mm. A "thin ring" polarizer would prevent this effect.
Because linear distortion is well controlled at all but the shortest focal lengths, barreling (bowing outward of lines near the edges of the frame) was minimal in the 24-35mm range. Note: In architectural photography, it is important to avoid tilting the camera to avoid apparent distortion of perspective. Position the camera back parallel to the subject if you want straight lines to be rendered plumb and true to the original.
Optical performance was superb at the 19mm end at all but the widest aperture; corner sharpness matches central sharpness at all apertures from f/11 to f/22, with quality usually expected only in a single focal length lens. The resulting slides are suitable for enlargement to 11x14 or for a crisp double page spread in a magazine.
At other focal lengths, image sharpness, clarity, and contrast are nearly as impressive, with the very best results at 28mm. From f/5.6 to f/16, this lens produced slides suitable for an excellent 8x12 enlargement, or a full page magazine reproduction, at any focal length.
Because wide angle lenses are often used at f/16, I was pleased to note that this aperture produced slides with absolutely first-class quality at any focal length. This is an important factor in landscape, close-up, and travel photography, and whenever maximum depth of field is desirable.
High image quality is maintained in extreme close focusing: the results are nearly identical to those listed for greater focused distances.
Although a lens hood was not provided, flare was a problem only in extreme backlighting; this was a pleasant surprise and speaks highly of the effectiveness of the anti-reflective strategies.
The Tokina AF 19-35mm zoom proved to be highly useful in people photography, when the surroundings were equally important. Photojournalists frequently use lenses of this type to include both the primary subject and its environment. (At 19mm; f/11; original photo in color.)
Conclusion. Photojournalists may prefer the Tokina ATX PRO AF 20-35mm f/2.8 model because of its very wide maximum aperture, beneficial in low-light situations where flash is not permitted. That PRO lens boasts even more rugged construction plus two aspherical elements for outstanding performance even at the widest apertures: in terms of edge to edge sharpness, even illumination across the frame, and superior correction for aberrations and distortion.
If you routinely shoot at the widest apertures, need to please critical commercial clients daily, or enlarge your negs to poster size, by all means check out the PRO Tokina zoom. Given my own shooting style--frequently stopped down--and choice of subjects, I would be happy with the smaller AF 19-35mm f/3.5-4.5 model. For my stock photography, for magazine covers, and for wall decor prints, I could get by nicely with this more affordable alternative. Whether for land or cityscapes, informal architectural photography or for environmental portraits, I predict that this ultra-wide zoom will satisfy many discriminating photo enthusiasts.
New Kenko Pro 1.4x And 2x Tele-Converters
For my assignment in Utah, THK Photo Products Inc., also provided samples of their new Kenko PRO tele-converters, labeled as the "Teleplus Pro 300" series in Nikon AF-D mount. Since I did not take a long telephoto lens on the Utah trip, I have not extensively tested these accessories. However, I did use them with an 80-200mm f/2.8 zoom to shoot several rolls of slide film.
Features And Compatibility. The earlier Kenko tele-converters were already among the top rated independent brand models. The new PRO series features a higher quality super-low dispersion glass to correct chromatic aberrations and match the quality of the prime lens. High quality multi-coated Hoya glass is used: five elements for the 1.4x model and seven for the 2x model. Both have metal lens mounts and a metal core so they are suitable for use with heavy telephoto lenses and pro cameras. THK indicates that neither will cause any vignetting on lenses of 100mm and longer.
They are recommended especially for use with telephoto lenses of 200-500mm. These PRO tele-converters can also be used with zooms, but are not recommended for those with a range starting at under 50mm. Both are available in Nikon AF-D, Canon EF, and Minolta AF mounts. Do note that autofocus is not maintained with all lenses, including Nikon AF-S models and most zooms with small maximum apertures. The THK web site (www.thkphoto.com) provides specifics as to Nikon AF and Canon EOS compatibility issues. In the fall of 2000, a new Teleplus PRO model, intended for Nikon AF-S/Silent Wave lenses, should be introduced.
Evaluation. I can offer the following preliminary comments on these Kenko accessories:
I used both PRO models with the Nikon N80 body and the AF-S 80-200mm f/2.8D ED IF Silent Wave zoom lens. Although THK indicates that these devices will not maintain autofocus with the AF-S lenses, they did so occasionally, with very good performance at those times. On conventional AF lenses, autofocus performance should be highly reliable as with the earlier Kenko tele-converters.
Optically, the PRO 1.4x model was simply exceptional. If this level of quality is maintained with long prime lenses, this tele-converter's reputation will exceed that of previous Kenko models.
As with all brands of tele-converters, the PRO 1.4x model proved superior in maintaining high image quality--at the widest apertures--than the 2x model. The PRO 2x device was most impressive at a stop or two down from maximum aperture.
Both devices are lightweight but appear rugged. (The 1.4x model weighs 4.7 oz, and the 2x weighs 6.5 oz.) Aside from the issue of autofocus operation with AF-S/Silent Wave lenses, they appeared to be fully compatible with the high tech Nikon N80 camera; information exchange between camera and lens was maintained.
Note: Because all converters reduce the light reaching the AF sensors, autofocus response--especially in dim light--is not as quick. When the effective maximum aperture of the lens/converter combination is smaller than f/5.6, most autofocus cameras disengage AF operation. If autofocus does continue to operate, it is very sluggish. This occurs with all brands of tele-converters making the 1.4x models most suitable for f/4 or "faster" lenses and the 2x models for f/2.8 or "faster" lenses if autofocus is important.
Conclusion. In order to obtain information on compatibility with other lenses and cameras, I interviewed professional wildlife photographer John Herbst (see www.grizzlyjhphoto.com). He has used both Teleplus PRO models with an EOS Rebel 2000 as well as a Nikon F5 and F100 with "fast" EF and AF mount lenses. "All of the equipment functioned, confirming full compatibility," Herbst confirmed. "They're sharp as a tack, too," he added. "I have been delighted with the results. The new PRO models provide faster autofocus and are much sharper than the older Kenko models."
With any long focal length--with or without a tele-converter--professional shooting techniques are essential for sharp images. Use the best lens available for the best results. Mount the equipment on a rigid tripod, use reflex mirror lockup when practical and a cable release to reduce the risk of blur caused by vibrations. As Herbst has found, the Kenko Teleplus PRO 300 models should maintain pro caliber sharpness with telephoto lenses of top quality. Though not inexpensive, you can acquire these fine devices for much less than the cost of another, longer lens; hence, they should be a suitable investment for value conscious photographers.
For additional specifics on Tokina, Hoya, and Kenko products, visit the THK web site at: www.thkphoto.com For more information on photo opportunities in Utah, check the Utah Travel Council web site at: www.utah.com.
Technical Specifications

Tokina AF 19-35mm f/3.5-4.5 Zoom
Maximum Aperture: f/3.5-4.5
Optical System: 13 elements in 11 groups; multi-layer coating
Angle Of View: 96 to 63
Shooting Distance Range: 1.3' (0.4 m) to infinity
Focusing System: Internal
Filter Diameter: 77mm
Accessories: Optional BF-774 dedicated lens hood
Dimensions/Weight: 3x3.2" (80x82mm); 14.6 oz (390 g)
AF Mounts: Canon, Minolta, Nikon-D, Pentax

LATEST VIDEO

SPONSORED VIDEO
Testing Tamron's SP 150-60mm G2 lens while capturing birds and alligators in Apalachicola, Florida.