Tamron SP 70-200mm f/2.8 Di VC USD G2 Lens Review: Telephoto Zoom Testing at Mardi Gras
One lens that should be in the arsenal of every photographer is a moderate telephoto zoom like a 70-200mm. Lenses in this category offer a great compromise between power, mobility, and versatility. They enable you to get in tight on nearby subjects, and unlike longer telephoto zooms, moderate telephotos are relatively lightweight, compact, and easy to carry.
If you spend a bit extra to get a moderate telephoto zoom with a fast maximum aperture like the new Tamron SP 70-200mm f/2.8 Di VC USD G2 (Model A025), you'll have the added benefit of being able to shoot hand-held under low-light conditions. The f/2.8 maximum aperture is also valuable for separating your main subject from distracting background elements.
I was fortunate to get my hands on the Tamron 70-200mm f/2.8 G2 just in time to photograph this year's Mardi Gras parades in New Orleans, Louisiana—both during the day and at night. I typically use a wide-angle lens to shoot the Mardi Gras festivities, so the longer reach of this new zoom provided an opportunity to get in tight and make images that were different than those I captured at the parades in the past.
Versatile Focal Range
As mentioned above, zoom lenses in the 70-200mm range offer great versatility. At the long end they enable you to capture subjects from a distance, and at the short end they're even useful for portraits. While the new Tamron SP 70-200mm f/2.8 Di VC USD G2 doesn't qualify as a macro lens, its reproduction ratio of 1:6.1 does let you photograph small objects from a comfortable minimum focusing distance of 34.4 inches.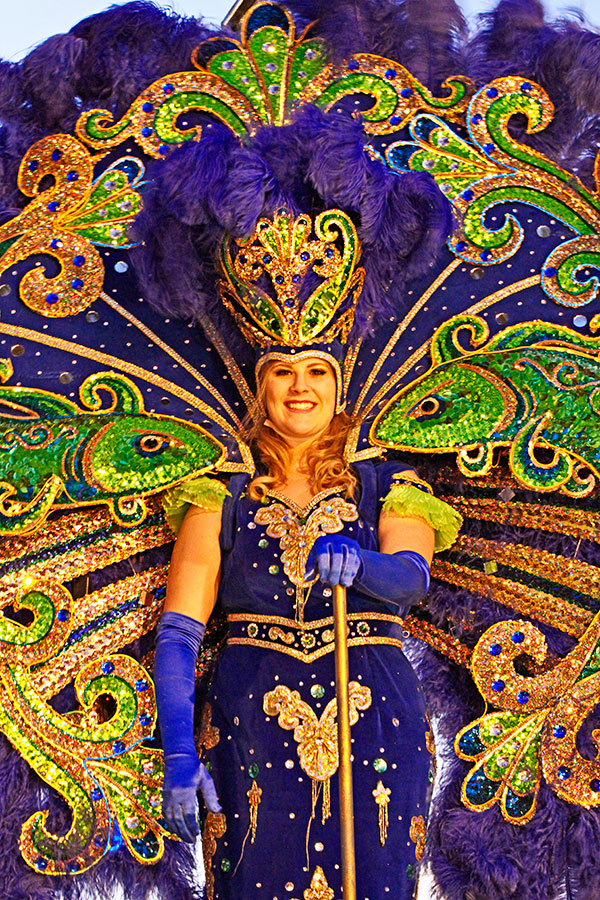 I used the lens on my Canon EOS 7D (original model) with a crop factor of 1.6x, yielding an equivalent focal length of 112-320mm. Because I'm not what you would consider "tall," at crowded events like Mardi Gras parades I have to fight my way to the front of the pack to prevent others from blocking my shot. Therefore, I made a few images at the short end of the zoom, and still got in tight on floats that were often just 15 feet away.
For other shots I was able to "borrow" someone's porch and shoot slightly down on the parade at a somewhat greater distance, thereby testing out the more powerful end of Tamron's 70-200mm zoom.
The Advantage of Speed
Even though I did a lot of shooting at night, the cramped conditions along the parade routes made using a tripod impossible. And that's where the benefits of an f/2.8 maximum aperture come into play. With an ISO setting of 3200, I was able to shoot hand-held at shutter speeds as slow as 1/8.
The "G" nomenclature of the Tamron SP 70-200mm f/2.8 Di VC USD G2 zoom indicates the lens is a second-generation version of this popular telephoto zoom. One of the big improvements of this latest model is a totally new optical design that delivers greatly improved image stabilization (Tamron calls this "Vibration Compensation," hence the "VC" in the lens description) with a claimed benefit of five stops.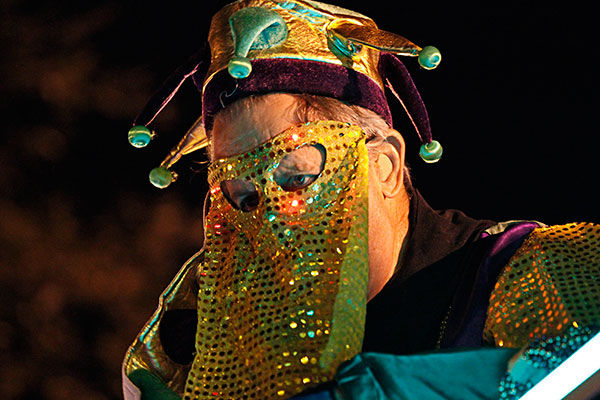 Combined with the fast f/2.8 maximum aperture of this lens, this superb image stabilization performance is what made shooting hand-held at night possible.
The Tamron 70-200mm f/2.8 G2 has two switches on the left side of the barrel that pertain to image stabilization: one turns the system on and off (had I been using a tripod I would have set this to "Off") and the other offers a choice of three VC modes. Mode 1 is a standard setting in which the lens makes a compromise between the stability of the viewfinder image and actual stabilization effects in the captured image. Mode 2 is exclusively used when panning, and Mode 3 prioritizes stabilization of the captured image without concern for what you see in the viewfinder. The images you see here were shot in Mode 3.
High Performance
The Tamron SP 70-200mm f/2.8 Di VC USD G2 is a high-performance zoom lens with significant enhancements to focusing speed, optical quality, and the aforementioned VC capabilities.
Tamron boasts about the "dramatic" improvements in focusing speed and acuity of the new 70-200mm f/2.8 lens as compared to its predecessor. The floats I photographed at Mardi Gras were pulled by tractors moving at a snail's pace (or temporarily breaking down and not moving at all), so I didn't have an occasion to stretch the camera's AF capability to anywhere near its limits.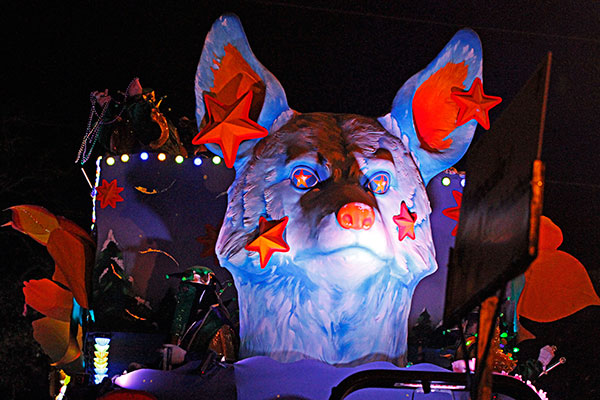 That said, focusing often suffers under low-light conditions, and the 70-200mm performed admirably in all respects—with the only image "softness" due to slow shutter speeds while being continually jostled by the exuberant and sometimes inebriated crowd. There are two focus-related switches on the barrel adjacent to those for the VC system: one switch lets you select between AF and MF, while the other is a focus limiter, giving you a choice between "Full" and 9.86 feet to infinity.
Optical Quality
Another key improvement of Tamron's new 70-200mm f/2.8 as compared to the earlier model (A009) is its new optical design that is said to deliver vastly enhanced sharpness, contrast, color rendition, and bokeh. This second-generation model is constructed with 23 elements in 17 groups, including both LD (Low Dispersion) and XLD (eXtra Low Dispersion) elements to eliminate flare, ghosting, and chromatic aberrations.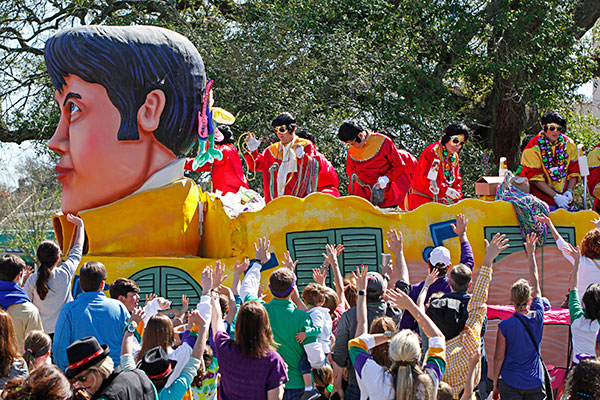 Tamron credits the nine-bladed circular diaphragm of the new 70-200mm f/2.8 G2 for delivering outstanding background effects at wide apertures throughout the entire zoom range.
Further contributing to the high-resolution characteristics of the Tamron 70-200mm f/2.8 G2 is a propriety eBAND (Extended Bandwidth & Angular Dependency) coating that augments the conventional multilayer coatings of the lens. The eBAND coating is specifically optimized for this lens and combines a nano layer with an extremely low refractive index that, in layman's terms, means it provides optimum anti-reflective performance, even under backlit conditions.
The nighttime images I shot at Mardi Gras seem to bear this out.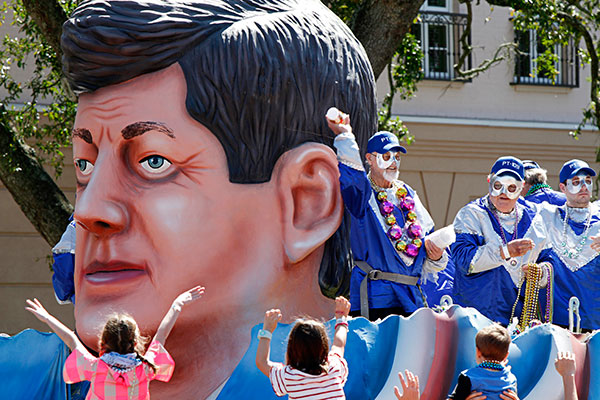 Handling & Build Quality
The new Tamron SP 70-200mm f/2.8 Di VC USD G2 is a nicely balanced lens with a premium build quality that belies the relatively modest price of $1,299 for a lens in this category. Available in mounts for both Canon and Nikon full-frame DSLRs, it uses 77mm filters and comes with a generously sized petal lens hood that bayonets on with a secure click. You also get a nicely padded case and a sturdy, detachable tripod mount.
One great feature of Tamron's 70-200mm f/2.8 G2 for outdoor shooters is the lens boasts a rugged moisture-proof and dust-proof construction that Tamron says exceeds that of other moisture-resistant lenses. For additional protection under adverse conditions, Tamron applies a Fluorine coating to the front element that is both oil- and water-repellent and makes it easier to clean.
The lens measures 7.6 inches in Canon mount and a hair less for the Nikon version, and weighs in at 52.9 ounces for Canon and 52.4 ounces for Nikon.
I liked the heft, balance, and feel of the Tamron 70-200mm f/2.8 G2 very much with one minor gripe that's mostly due to my unfamiliarity with the lens and the fact I was often shooting at night when I couldn't easily observe the control switches on the barrel. It turns out that the focus "On/Off" switch falls exactly beneath where I typically place my thumb when using a lens of this size. And on a couple of instances I inadvertently switched the AF system to "Off" when I raised the camera to my eye.
Obviously this "problem" is primarily due to operator failure (me), and once I got more used to the lens it wasn't a problem. With continued use I imagine that this switch placement could turn out to be an advantage, because my thumb would be right there to operate the switch when necessary.
Conclusion
The Tamron SP 70-200mm f/2.8 Di VC USD G2 zoom delivers premium results at less than a premium price. It's a great focal length for a variety of shooting situations, offers plenty of speed and a great image stabilization performance for low-light shooting, and fine build quality. Of course, all of that without superb optical performance wouldn't mean much. But in the all-important area of image quality, the lens is also a winner. It's available now for Canon and Nikon mounts for $1,299

LATEST VIDEO