Talking Pictures
"There's No Place Like Home"
"There's No Place Like Home"
I live at the end of a sandpit that curves off the northeasternmost tip of Bainbridge Island, just off the coast of Seattle, Washington. In January the combination of high tides and low barometric pressure frequently floods out the street at our end of the sandpit.

The tide was particularly high on this New Year's Eve, and actually came into our garage (an unusual occurrence), so we were busy sandbagging, keeping an eye on the barometer, and rising early to check the tides and move cars if necessary. On this particular morning our daughter had a play rehearsal scheduled for 10am, so we moved her car at 7:30 before the tide rose, and I walked out with her just before the tide crested at 10. When I came back, I removed my high-water boots and settled in for the duration with a cup of coffee and the latest issue of Shutterbug, and became intrigued by an article on infrared. So, I applied the technique to the photo I had taken of my daughter trudging through the tide.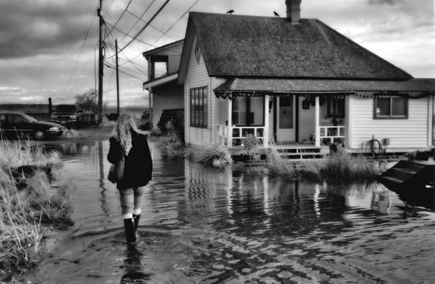 © 2007, Diane Walker, All Rights Reserved
For me, the photo has a distinct Wizard of Oz quality, with the simplicity of the homes, the threatening sky, and the imminence of natural disaster. So to those of our friends who cite the dangers of global warming, earthquakes, and tsunamis when they ask why on earth we stay here when it would be so simple to move to higher ground, I say, "Because there's no place like home. There's no place like home."
--Diane Walker
Bainbridge Island, WA
Please Read This
The premise of "Talking Pictures" is that every picture has a story. We invite you to send quality prints (only) and a short narrative on why you took the picture or how, in retrospect, it brings up thoughts and feelings about the subject.

We do not return submissions. By sending us an image and text you grant us permission to publish it in this magazine and on our website. If you have any questions, please e-mail us at: editorial@shutterbug.com.
Send submissions to:
Talking Pictures, Shutterbug
1419 Chaffee Dr., Suite #1
Titusville, FL 32780

FEATURED VIDEO