Talking Pictures
Passion Reveals Beauty In The Ordinary
How many times a day do we walk past those things that usually do not draw our attention? Many times they are the ordinary, the simplistic, and the dime a dozen, that we let go unnoticed. Not so for the passionate photographer.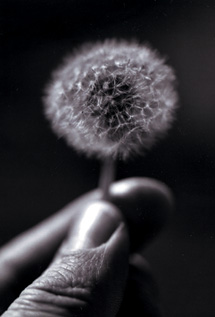 © 2004, Robert Michaels, All Rights Reserved
I am amazed how I can be so focused on those objects that everyone misses. Before I gained an interest in photography, I walked past them all myself. It might be old paint lifting from an old building, or a common leaf fallen from a very common tree. It might also be a reflection, a pattern, or a smile.

The photographer is like a modern-day treasure seeker. Instead of combing the beach with a metal detector, the photographer combs everything, everywhere, every time he or she steps out of bed and begins his or her day.

Passion sees beauty when others only see the ordinary.
--Robert Michaels
Walnut Creek, CA
Please Read This
The premise of Talking Pictures is that every picture has a story. We invite you to send quality prints (only) and a short narrative on why you took the picture or how, in retrospect, it brings up thoughts and feelings about the subject.

We do not return submissions. By sending us an image and text you grant us permission to publish it in this magazine and on our website. If you have any questions, please e-mail us at: editorial@shutterbug.com. Send submissions to:
Talking Pictures, Shutterbug,
1419 Chaffee Dr., Suite #1,
Titusville, FL 32780.

LATEST VIDEO