Talking Pictures
One Final Thought; A Kind Of Metaphor
A Kind Of Metaphor
After I took this picture of a staircase in the Wisconsin State Capitol, I became intrigued by the patterns created by its intersecting lines. The more I thought about it, I began to see the composition as a kind of metaphor for what takes place in this building. This metaphor can be interpreted in many different ways, such as:

· The stairs can be seen as an opportunity for the participants in the legislative process to ascend to greater heights, or to descend to greater depths.

· The interlaced network of forms calls to mind the many competing interests that influence this activity.

· The repetition of uniform posts suggests an outward appearance of fairness and equality, even while closer inspection reveals they are bloated at their base, and rendered unique by the texture of the materials from which each is formed.

· Brightly lit structures in the foreground are countered by recesses, subtly obscured by reflections of gold, leading to legislative offices.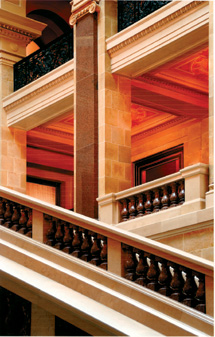 © 2006, Larry Dickerson, All Rights Reserved
Viewed as a metaphor, this picture could be seen as the complex struggle of conflicting ideas and issues, or the inevitable result of a democratic process erected on a foundation of compromise and consensus. Then again, it could just be a picture of an interesting architectural design!
--Larry Dickerson
Sun Prairie, WI
Technical Info: Canon EOS Digital Rebel XT, Tamron 18-200mm lens, ISO 100, f/4.5 at 0.8 seconds. Cropped and corrected in Adobe's Photoshop CS2.
Please Read This:
The premise of "One Final Thought" is that every picture has a story. We invite you to send quality prints (only) and a short narrative on why you took the picture or how, in retrospect, it brings up thoughts and feelings about the subject.

We do not return submissions. By sending us an image and text you grant us permission to publish it in this magazine and on our website. If you have any questions, please e-mail us at: editorial@shutterbug.com.
Send submissions to:
One Final Thought, Shutterbug
1419 Chaffee Dr., Suite #1
Titusville, FL 32780.

FEATURED VIDEO