Talking Pictures
One Final Thought; Cowboy In The Sky!
Retired in Hawaii, I cling to my native Oklahoma "roots," especially since most of my family still lives there and despite being away from the state for years, I've maintained my Oklahoma drawl.

As an Okie, I've had a lifelong fascination with cowboys; my uncle and cousin were rodeo cowboys, and my new home, Hawaii, has a little-known history of early-day paniolo (cowboys) who were every bit as tough as those of the Wild West.

On a recent trip to the Northwest, I photographed cowboys riding along the rugged coast of Oregon. Weeks later, printing my images back in Hawaii, I saw something I hadn't noticed when I took this photo, but something quite apropos. If you look closely, just above and to the right of the cowboys, you'll see a cowboy boot formed in the clouds.
--Paul A. Hughes
Kaneohe, HI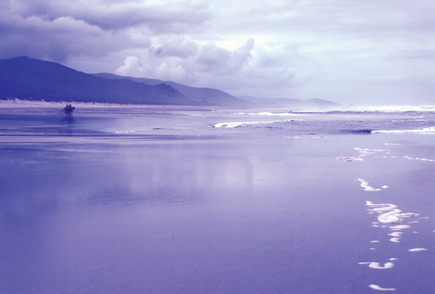 © 2006, Paul A. Hughes, All Rights Reserved
Please Read This!
The premise of "One Final Thought" is that every picture has a story. We invite you to send quality prints (only) and a short narrative on why you took the picture or how, in retrospect, it brings up thoughts and feelings about the subject.

We do not return submissions. By sending us an image and text you grant us permission to publish it in this magazine and on our website. If you have any questions, please e-mail us at: editorial@shutterbug.com.
Send submissions to:
One Final Thought, Shutterbug
1419 Chaffee Dr., Suite #1
Titusville, FL 32780

FEATURED VIDEO