Talking Pictures
Observant Eye
Observant Eye
Touring Nepal in 1994 with a small group of women, I was in awe of the prayer flags flying everywhere--cities, villages, and even remote countryside. My favorite site was the Bodnath Stupa in Kathmandu, where streams of prayer flags caught my eye and where the "Buddha eyes" that adorn the temple followed my every move. I took many photographs at Bodnath, all splendid, but it was many days later in a different location that this shot was presented to me.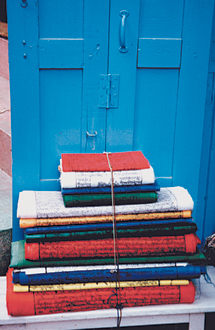 © 2007, Carol Snow, All Rights Reserved
As our tour continued, we flew to Pokhara, trekked for several days, visited the jungle, went river rafting, and then returned to Kathmandu. On the last day, the hustle and bustle of the city was almost too much for me, after the peace of the other locations. In the middle of the shopping district, Shelly (one of our group) said, "Look, Carol, your prayer flags!" I looked, but at first I did not see. Then, in the colorful blue doorway of a shop, I saw what Shelly meant for me to see--bolts and bolts of prayer flag material. This shot brings to mind all of my experiences in Nepal, including the observant eye of a fellow traveler.
--Carol Snow
Del Mar, CA
Please Read This
The premise of "Talking Pictures" is that every picture has a story. We invite you to send quality prints (only) and a short narrative on why you took the picture or how, in retrospect, it brings up thoughts and feelings about the subject.

We do not return submissions. By sending us an image and text you grant us permission to publish it in this magazine and on our website. If you have any questions, please e-mail us at: editorial@shutterbug.com.
Send submissions to:
Talking Pictures, Shutterbug
1419 Chaffee Dr., Suite #1
Titusville, FL 32780

FEATURED VIDEO