Talking Pictures
Neatly Flaked
I have studied and photographed Chesapeake Bay skipjacks for many years and they always provide wonderful subject matter. This image, taken with a Nikon D100, is the bowsprit of one of these workboats in the harbor at St. Michaels, Maryland. At first glance, this photo looks like a confused mess, but on closer inspection, everything is in its place. The sail is neatly stacked or "flaked," the reefing lines are lying carefully over the sprit, and everything is properly lashed and ready for the next excursion. This is one of my favorite skipjack images because of the star design on the end of the huge timber.
—Bill Harrison
Chesterfield, VA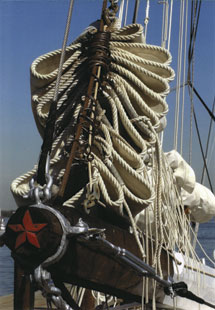 © 2010, Bill Harrison, All Rights Reserved
Please Read This
The premise of "Talking Pictures" is that every picture has a story. We invite you to send quality prints (only) and a short narrative on why you took the picture or how, in retrospect, it brings up thoughts and feelings about the subject.

We do not return submissions. By sending us an image and text you grant us permission to publish it in this magazine and on our website. If you have any questions, please e-mail us at: editorial@shutterbug.com.

Send submissions to: Talking Pictures, Shutterbug, 1415 Chaffee Dr., Suite #10, Titusville, FL 32780.

FEATURED VIDEO