Talking Pictures
Imagine
I made this image during a visit to Prague in 2007. On our first day there my wife and I took a walking tour that passed by this memorial to John Lennon. At the same time we arrived so did several large tour buses, which prevented us from getting a clear view of the memorial.
I like to explore and take pictures early in the morning on trips so that is what I did the following day. When I walked back to this spot no one was there so I took this shot. Somehow the graffiti seems to add to the poignancy of the memorial, as if Lennon is saying this is just something else I have to bear.
—Dan Cohen
Boca Raton, FL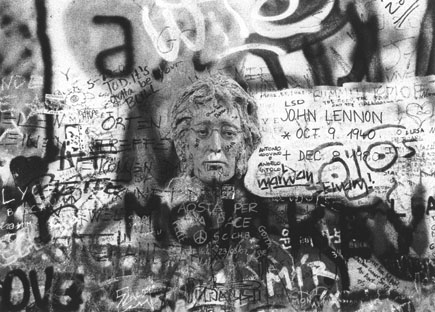 Technical Info: Image taken with a Nikon F5 and a 28-200mm zoom using Kodak T-Max 400 film.
© 2007, Dan Cohen, All Rights Reserved
Please Read This
The premise of "Talking Pictures" is that every picture has a story. We invite you to send quality prints (only) and a short narrative on why you took the picture or how, in retrospect, it brings up thoughts and feelings about the subject.

We do not return submissions. By sending us an image and text you grant us permission to publish it in this magazine and on our website. If you have any questions, please e-mail us at: editorial@shutterbug.com.

Send submissions to: Talking Pictures, Shutterbug, 1415 Chaffee Dr., Suite #10, Titusville, FL 32780.

FEATURED VIDEO