Talking Pictures
"The Girl With The Camera"
During December of 2006 we spent two days in London en route to Israel. Although the weather was cold and gray, we spent much of our time outdoors. My 17-year-old daughter brought along an old film Canon Rebel she borrowed from a friend. Being an artist, she spent much of her time trying to capture interesting shots she could later paint. After a few years of urging her to try photography as another outlet for her artistic expression, I was delighted to see her using her camera as we walked along the rainy London streets. We were crossing the river over the Millennium Bridge when I noticed her leaning over the edge photographing something along the water's edge. I happened to be holding my camera so I was able to capture her photograph against the backdrop of the city. I actually never found out what she was photographing below the bridge…
—Hannan Lis
Farmington Hills, MI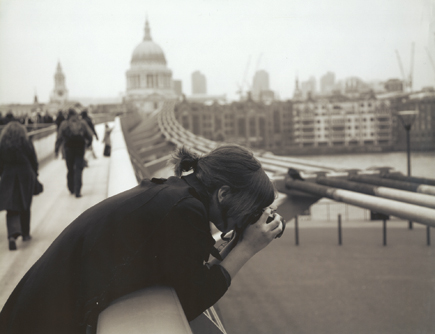 © 2006, Hannan Lis, All Rights Reserved
Technical Info: Canon EOS 5D with a Canon 16-35mm f/2.8L USM lens. Image converted from color using Bibble Pro software and printed on a Canon i9900.
Please Read This
The premise of "Talking Pictures" is that every picture has a story. We invite you to send quality prints (only) and a short narrative on why you took the picture or how, in retrospect, it brings up thoughts and feelings about the subject.

We do not return submissions. By sending us an image and text you grant us permission to publish it in this magazine and on our website. If you have any questions, please e-mail us at: editorial@shutterbug.com.

Send submissions to: Talking Pictures, Shutterbug, 1419 Chaffee Dr., Suite #1, Titusville, FL 32780.

FEATURED VIDEO