Spyder3Elite; A Top-Of-The-Line Monitor Calibration Setup
Monitor calibration has become fairly mainstream over the past few years. Nearly everyone knows they should be calibrating their displays, and a fair percentage of them are actually doing it. And, with the cost and ease of use down into the normal (e.g., non-geek) level, there is really no reason to not calibrate your display.

Display calibration is important in order to assure that the colors you see on your screen are going to be the colors seen on someone else's screen, or on the paper when you print. This is a simplistic explanation, but it gets the point across--the first step in color accuracy is with an accurate display. There are several good products out now that can handle the calibration process for you. X-Rite has the i1Display 2, Pantone has the hueyPRO, and Datacolor has the Spyder. All will do a good job, some with more control than others, but in general, you can use any of these devices and have a properly calibrated display. So, with so many options available, and all of them good, why bring out a new device? Like everything, there is always room for improvement. And, with the Datacolor Spyder3Elite, that improvement is both welcome, and visible.
What's New
The Spyder3Elite (#1) is the top-of-the-line version of Datacolor's colorimeter products. The main differentiation in all the Spyder3 products is the level of software functionality you have. With the Elite package, you have total control over the critical settings like color temperature, gamma, and luminance. The new Spyder uses a seven-color detector engine and a larger light aperture to improve performance. The larger detector makes the Spyder3 more accurate when profiling wide gamut displays, including those that are capable of displaying the Adobe RGB color space. Also new to the Spyder3 is an Ambient Light Control which will automatically measure the light in a room at regular intervals to help you keep your display accurate when changes are detected to the ambient light.
On the software side, Datacolor has completely reworked the user interface to make it easier to navigate through the various options. Like before, there are two modes. A guided Wizard mode for those who just want to get calibrated and back to work, and an Expert Console (#2) for those of us who like to know what's going on and make specific selections. At all points in the process, regardless of which mode you're in, there is extensive help available.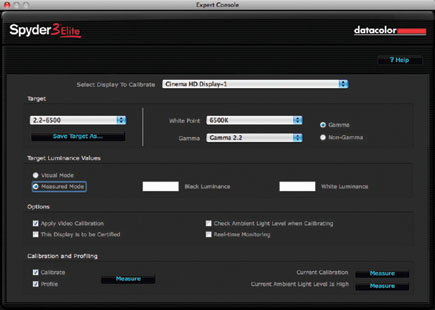 Using The Spyder3Elite
After you've installed the software and plugged the Spyder3 into an available USB port, launch the Spyder3Elite program to get started. If you have multiple displays, you'll have the opportunity to select which display you want to calibrate (the software will profile multiple displays). To use the Wizard interface, just click the Next button and you'll go straight to the Calibration screen. If you wish to make changes, click on the Change these settings button and you'll be taken into the Expert Console where you can tweak settings to your heart's content (#3).
At all times, helpful text tells you what your options are. You have complete control over settings for color temperature, gamma, gray balance, and ambient light compensation. The calibration process (#4) measures different color values determining what your display is capable of reproducing, and then making adjustments to the video settings to give you an accurate rendition of color. The new version is much faster than before, taking about 5 minutes total compared to the 9-10 minutes of the previous Spyder.
Once calibration is completed, you'll see a summary of the results. From here you can go back and recalibrate if you feel it necessary, or you can finish the process and check a before and after to see what you've got (#5).
One very nice feature in this before and after window is the set of images used for validation. Datacolor has done an exceptional job of selecting a range of images that will suit any type of work you do, from colorful landscapes, to skin tones, to black and white. To make it easier to check the results, you can click on any quadrant of images to zoom into that set (#6). You can also click again to zoom into a single image if needed.

LATEST VIDEO

SPONSORED VIDEO
Testing Tamron's SP 150-60mm G2 lens while capturing birds and alligators in Apalachicola, Florida.