Sigma 150-600mm f/5-6.3 Sports Lens Review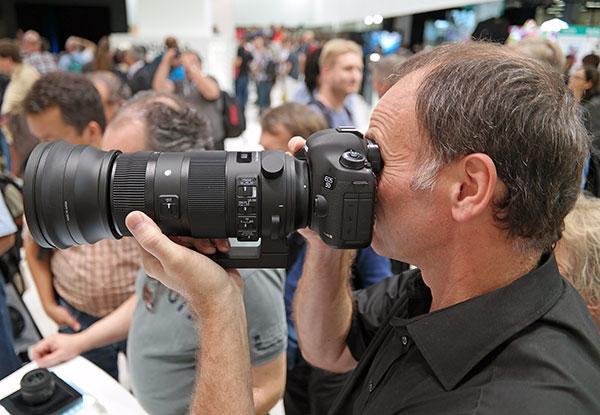 If you spend a lot of time photographing wildlife, sports, aircraft in flight (or even UFO's) I'm sure you've longed for a lens with extreme telephoto reach. Well, you're in luck. Sigma now offers a tough, quality 150-600mm f/5-6.3 DG OS HSM Sports lens that can fulfill the wishes of many nature and action shooters. In addition to the ultra long reach, the fact that the lens is a zoom makes it easy to frame the precise composition you want at a wide variety of distances from the subject—and for subjects in a variety of sizes.
The Sigma 150-600mm f/5-6.3 DG OS HSM Sports lens ($1,999), which is available in Canon, Nikon and Sigma mounts, is designed to cover full frame sensors. Of course, you can also use it on an APS-C sensor camera, which will extend the reach to an equivalent of 225–900mm on a Nikon or other camera with a 1.5x crop factor (also known as the "focal length multiplier" for those who prefer more syllables). On an APS-C Canon or other camera with a 1.6x crop factor, the effective focal length range becomes 240–960mm. This extra reach can be a significant advantage for nature work as well as for any distant subject, moving or stationary.
Sealed for dust and splash resistance, this is a rugged metal lens designed to withstand the rigors of extended field use even in tough shooting conditions. A hypersonic HSM motor makes the autofocus fast and, to my ears, nearly silent, which is a boon for nature photography.
You will want to enlist your sturdiest tripod to cradle it; this lens weighs in at 7 pounds (112 oz.), with the included detachable super heavy-duty 4.5-inch long metal lens shade with a rubber rim. (See photo #2) While I love the shade, I wish it used a bayonet style mount instead of the large screw with a knurled knob, which must be loosened and tightened whenever you remove or mount it.
A large, sturdy, non-removable tripod socket features 90-degree click stops to quickly switch from landscape to portrait orientation. The tripod socket also includes rings for attaching a lens-carrying strap. Filter size is a substantial 105mm. Maximum magnification is 1:5 while the minimum focus distance is 8.53 feet (102.4 inches).
The lens ships in a nice, thickly padded black rectangular bag with a shoulder strap, which can be used to store it and carry it to your shooting location. The lens hood must be removed and slipped over the front of the lens backwards for the lens to fit in the protective bag.
In the field, I found the autofocus to be fast and accurate. Setting the AF switch to MO (Manual Override) mode allows you to switch from autofocus to manual with just a twist of the focus ring, even in your camera's continuous AF mode. The lens does not have an aperture ring, so it must be used with a camera in aperture priority or manual mode where you set the aperture via the camera's controls.
Zoom On
When it comes to zooming, the Sigma 150-600mm f/5-6.3 Sports lens offers the best of both worlds. You can turn the substantial zoom ring, marked with focal lengths as noted below. Or you can use the push-pull method to change the focal length.
Another helpful feature with a lens of this heft is the zoom lock that—unlike most I've encountered—is actually useful throughout the zoom range. Most lens locks secure the lens only at its shortest focal length for transport. The Sigma Sports lens allows you to lock the zoom at any of the eight marked focal lengths: 150, 180, 200, 250, 300, 400, 500, and 600mm.
Particularly when photographing birds or aircraft where you are aiming high, I found this to be especially helpful. It would be equally of service for someone shooting down from a high blind. A firm twist will automatically disengage the lock if your subject changes position substantially.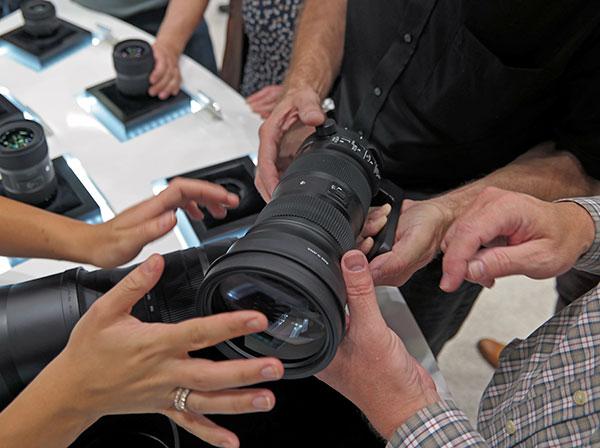 Top Glass
Five low dispersion glass elements minimize chromatic aberration and maximize optical quality to make this the flagship of Sigma's Sports line of optics. Water and oil repellant coatings protect the front and rear lens elements. If you want to go even longer, the 150-600mm f/5-6.3 Sports lens is compatible with Sigma's latest 1.4x and 2.0x teleconverters.
Getting Stable
While the lens offers built-in optical stabilization, I found it too heavy for much handholding. I did some very limited hand-held tests with the Sigma OS turned on in sunlight at the 150mm (225mm on APS-C) setting. My results were that about half the shots were sharp. In many situations, a monopod can be a workable option, but my first choice is a hefty tripod. However, for many shots I achieved excellent results by bracing the lens on a wall or a railing.
There are two OS modes (see photo #3). With Mode 1, you press the shutter release halfway, wait for the image to stabilize, then shoot. Mode 2 (according to Sigma) includes an acceleration sensor that "detects vertical camera shake and overcomes blurring. It is effective on subjects moving horizontal to the camera," and is ideal for panning with subjects such as motor sports.
Sigma says that the optical stabilization should be switched off when the lens is on a tripod, for long time exposures, when shooting from a moving vehicle, and "if there is considerable camera motion or shake." I assume that the OS should be switched off when you are bracing the lens on stationary support such as a wall, which is what I did for many of the examples seen here. I would want to do my own extensive comparative testing if I owned the lens.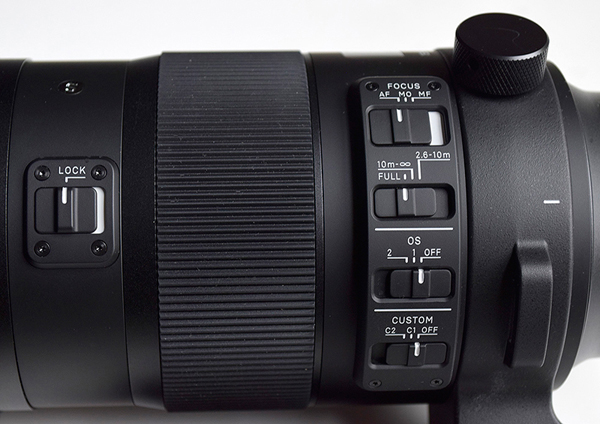 Customization Options
Many settings can be customized and firmware updated via a computer with an optional Sigma USB Dock ($59) and software. With the dock mounted to the lens, parameters including AF speed, manual override, focus limiter, and optical stabilization patterns can be adjusted.
In the Field
First, to demonstrate the reach of the lens I took it to Manhattan where I knew of some highly detailed subjects that would not move while I changed focal lengths. Bracing the tripod socket foot of the lens on a concrete wall (no tripod), I shot views of midtown architecture and the Chrysler Building that was a few city blocks away.
With the lens affixed to an APS-C Nikon D90, I shot the first frame with the lens at its widest 150mm focal length (225mm equivalent on this camera). How marvelous that the moon was where it was that day. I'd like to tell you that I looked up its position in astronomical tables, but I have to chalk it up to good karma—and being in the right place at the right time with the right lens.
In Aperture Priority mode, I shot at 1/500 sec. at f/8, ISO 200. This is from the original camera JPEG file, with only a levels adjustment in Photoshop CC (2015), then I downsized it for the web. For photos (#4, #5, and #6) there were no other adjustments than minor levels tweaking and downsizing. There was no sharpening applied.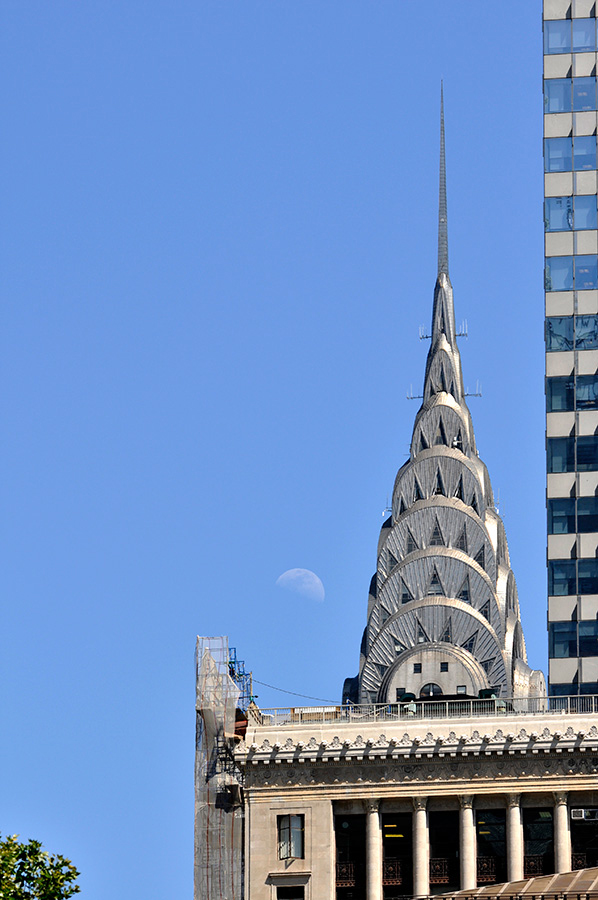 Next, I zoomed the lens out to 400mm (600mm equivalent on the APS-C camera), cranked the ISO up to 400, stopped down to f/11 and exposed at 1/400 sec., (#5). Detail is sharp and crisp, and you can clearly see shaded craters on the moon.
Lastly, I shifted to landscape format by loosening the setscrew and rotating the lens 90 degrees to the click stop for horizontal shooting. Then, I went all out to the 600mm setting (900mm APS-C equivalent), zeroing in on the art deco sunray pattern of the steel-clad cap of the skyscraper (#6).
Here, I lowered the ISO down to 200 for more resolution, and shot at f/11 at 1/250 sec. The detail is superb, especially considering that the lens is merely braced on a wall and the reach is a whopping 900mm.
On another day, I mounted the lens on a Manfrotto tripod and followed aircraft over Long Island Sound. Photo (#7) was taken at 460mm, the equivalent of 690mm on an APS-C body, at f/11, 1/250 sec. ISO 200. I did pan with the airplane's motion.
This frame has had no adjustments applied to it at all—except downsizing for the web. With newer cameras, and especially full frame cameras, I would recommend using the highest ISO possible that maintains quality, so you can shoot at fast shutter speeds stopped down to f/11 or f/16. When shooting aircraft aloft like this, or birds in flight, a zoom is a tremendous advantage for framing and following movement.
For a more dramatic image (#8), I used Photoshop CC 2015 to crop photo (#7) and apply a simple Levels adjustment, bringing in the black and white sliders to the edges of the data. This intensified the color and increased the contrast.
To show the lens' unenhanced rendering for this article, I applied no sharpening. Normally, I would apply some sharpening to a substantial crop like this, as well as some noise reduction for the underside of the jet in shadow.
Still on the sound, later in the day I spotted a great egret fishing along the shoreline (#9). Since I had already packed up the tripod, I supported the lens by placing the foot of the tripod collar on a railing.
The bird was in heavy shade so I was a bit concerned about sharpness. I needn't have worried, 80 per cent of the frames were sharp, showing fine detail in the feathers, even though I was shooting at a relatively slow 1/160 sec. with the lens zoomed to 270mm, equal to 405mm with the APS-C sensor.
Normally, I would not shoot at less than 1/400 sec. at 400mm. At ISO 200, the aperture was f/11 and I shot in Raw because of the strong backlit lighting conditions, to allow me more leeway in adjusting the image later in Adobe Camera Raw, ACR, and Photoshop CC 2015.
After opening the image in ACR, I first selected the "Auto" adjustment and then tweaked the sliders to brighten the water and open up the shadows on the egret (#10).
I used the following adjustments to bring up the pastel hues in the water and the rippling highlights, as well as the fresh green of the vegetation. First, I opened up the exposure from +0.60 to +1.20. Next, I took the highlights down to -92 from -36; then I pumped the shadows up to +64 from +36.
To show the level of detail captured by this lens, I cropped into a section of the bird's tail feathers, approximately a 200 percent view of the original image. Due to the extreme enlargement, I sharpened slightly in Photoshop with Unsharp Mask, using an amount setting of 100 percent with 1.0 for the radius (#11).
This extreme crop demonstrates the sharpness and acuity of the Sigma 150-600mm Sports lens. Lastly, I cropped the composition so that the egret was more prominent (#12).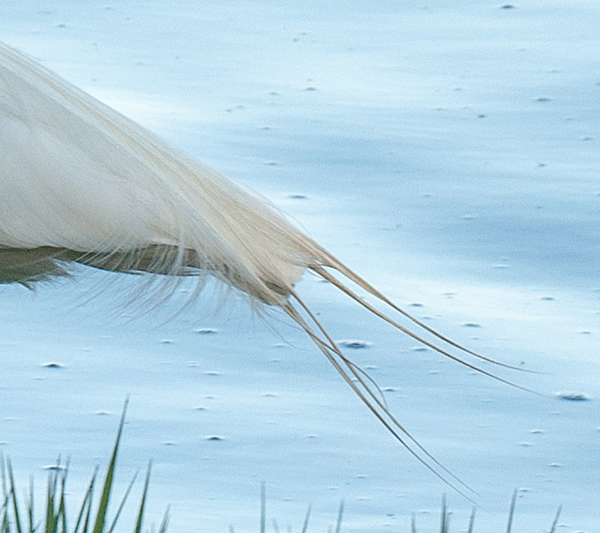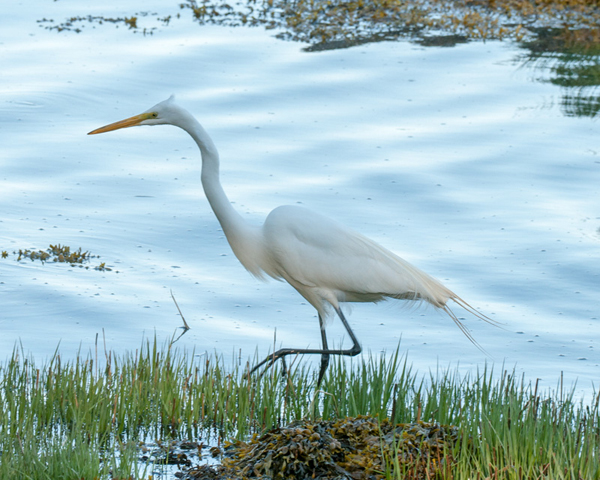 When reviewing the photographs in Adobe Bridge CC 2015, I was pleased to see that the lens was properly identified as a 150-600mm zoom, and that lens data, focal length, shutter speed and ISO setting were all accurately recorded.
Conclusion
What conclusions can be drawn from these field tests? Certainly the Sigma 150-600mm f/5-6.3 DG OS HSM Sports lens is a well made, well finished lens that is quite sharp and features excellent color rendition. Available in Canon, Nikon, and Sigma mounts, the retail price is $1,999. The autofocus is pleasantly fast and quiet. It is a rugged and rather heavy lens and should be used on a tripod, monopod, or braced on a sturdy support. It offers a wide and very useful zoom range with moderately wide apertures. For low light work with this lens, I would recommend using one of the newer cameras that allows high ISO settings while preserving detail. High ISO will allow you to use fast shutter speeds and smaller apertures.
If you look for this lens, be aware that Sigma also makes a model called the Sigma 150-600mm f/5-6.3 DG OS HSM Contemporary which is physically smaller and lighter in weight—about 4.5 pounds vs. nearly 7 pounds for the Sports lens with it's metal hood. The Contemporary lens, priced at $1,089, is less rugged with fewer lens elements, a plastic hood and a removable tripod mount. The heavier mount for the Sports lens cannot be detached.
My conclusion: the Sigma 150-600mm f/5-6.3 DG OS HSM Sports lens is a quality optic that should withstand the rigors of frequent field use while offering substantial reach with the convenience of a wide zoom range. While it's slower than a number of high-end prime long lenses and zooms, the Sigma 150-600mm Sports lens is available at a fraction of their cost and is a great option for those who can work comfortably with its maximum apertures.
Price: $1,999
Info: www.sigmaphoto.com

FEATURED VIDEO