Sony Launches Low-Light Shooting A7S II Mirrorless Camera with 4K Internal Recording and 5-Axis Image Stabilization
Sony further updated its mirrorless camera lineup this morning by adding the Sony A7S II, which is designed for low-light shooting thanks to its high sensitivity full-frame CMOS sensor.
The Sony A7S II is, of course, the follow-up to the Sony A7S, which was announced in April 2014. Like its predecessor, the Sony A7S II is loaded with a 35mm-sized 12.2-megapixel imaging chip that can shoot an expanded ISO range of 50-409600, with the help of the camera's BIONZ X image processor.
According to Sony, the BIONZ X processor in the A7S II features an upgraded image processing algorithm that boosts the sensor's capabilities overall, particularly at the mid-high end of the ISO scale. This is designed to produce more detailed still images and movies with low noise at high ISOs.
For an example of this, check out a sample movie – provided by Sony – shot with the A7S II at the bottom of this story.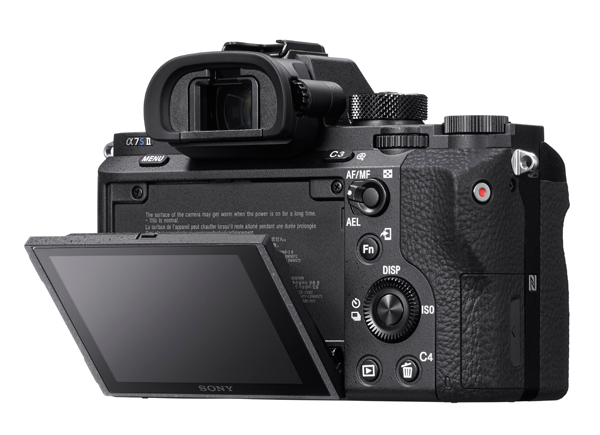 The Sony A7S II adds several key features to the mix that should appeal to both photographers and videographers. For one, this new Sony mirrorless camera offers 5-axis image stabilization, which compensates for camera shake along five axes during shooting, including angular shake (pitch and yaw), which can occur when shooting with a telephoto lens; shift shake (X and Y) axes; and rotational shake (roll), which typically affects video recording.
This 5-axis image stabilization technology has turned up on all of Sony's next generation A7 mirrorless cameras, including the recently launched A7R II.
The Sony A7S II also adds the ability to record full-frame 4K video internally with full pixel readout and no pixel binning. According to Sony, the A7S II is the world's first camera to offer this feature. This feature is possible, the company said, because of the XAVC S codec, which can record at a high bit rate of up to 100 Mbps.
"Because information from all pixels is utilized without line skipping or pixel binning, the camera can maximize the expanded power of the full-frame image sensor and produce 4K movies with higher image clarity and negligible moiré." Sony said in a press announcement this morning.
"This full pixel readout without pixel binning is also employed when shooting Full HD video (24p/30p), where the camera collects information from approximately five times as many pixels that are required to generate Full HD 1920x1080 and oversamples the information, producing movies of extremely high quality and detail."
In another first for Sony's A7 mirrorless camera line, the A7S II can record full 1080p HD at 120 frames per second at 100mbps in the full frame format. This footage can been immeditately reviewed on the camera's 3-inch, rear tilting screen and edited into 4x/5x slow motion footage in full HD (24p/30p) resolution.
The autofocus system on the Sony A7S II has been upgraded too. It now offers 169 AF points designed for faster, more precise focusing with greater accuracy compared to the previous model. According to Sony, the low noise image produced by the A7S II's image sensor lets the AF system detect contrast more easily to react speedily even in low-light situations (as low as EV-4). The AF performance is also twice as fast as the previous model during video shooting.
The XGA OLED Tru-Finder in the Sony A7S II has been upgraded to offer "the world's highest viewfinder magnification" of 0.78x (which is roughly 38.5 degrees in diagonal field of view) and shows clear images across the entire display area. ZEISS T* Coating is designed to reduce reflections on the viewfinder. In contrast to optical viewfinders, the OLED Tru-Finder can be used to show how exposure compensation, white balance and other settings affect the displayed image.
The Sony A7S II mirrorless camera goes on sale in October for $3000, body only. Watch the sample video below to get an idea of this camera's capabilities.

FEATURED VIDEO