Sony Intros Fast Focusing A6300 Mirrorless Camera (Hands-On Report with Images)
Sony introduced a fast and compact new mirrorless camera this morning: the 24.2-megapixel Sony A6300. The Sony A6300, which boasts what the company claims is the "world's fastest autofocus," is the follow-up to the Sony A6000 from 2014.
In that respect, the new Sony A6300 has some very big shoes to fill. Sony claims the A6000 has been the "best selling mirrorless camera of all time" and the "number one selling interchangeable lens camera" above $600, digital SLRs included.
So what does the new Sony A6300, which like its predecessor also uses an APS-C sized sensor, have to add to the equation? We had some hands-on time with a sample of the A6300 at a press event this morning to introduce the camera and came away impressed.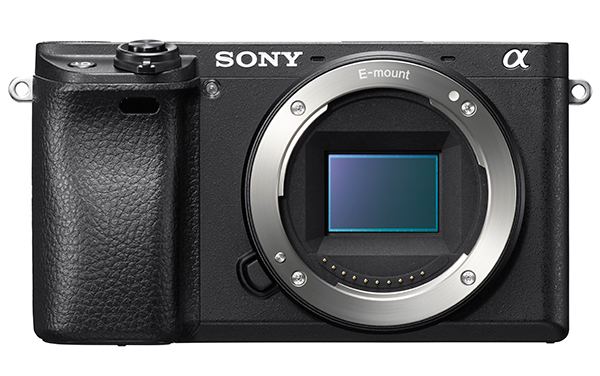 Here's a rundown of the feature highlights of the small but powerful Sony A6300, which will go on sale in March 2016 for $1000, body only.
• 4D Focus system that can lock focus on a subject in as little as 0.05 seconds, which Sony claims is the world's fastest autofocus (AF) acquisition time.
• 425 phase detection AF points that are densely positioned over the entire image area, which Sony says are the world's highest number of AF points on any interchangeable lens camera.
• Can shoot images at up to 11 frames per second with continuous autofocus and exposure tracking.
• Has the ability to support full live-view continuous shooting on the Tru-finder or LCD screen at up to 8 frames per second, which Sony says combines "the benefits of an electronic viewfinder with the immediacy of a through-the-lens optical viewfinder."
• Uses newly developed 24.2 MP APS-C sized Exmor CMOS sensor that works together with a BIONZ X image processing engine capture crisper images at ISO 100 – 51200.
• Can also shoot and record high resolution 4K video with full pixel readout and no pixel binning in the Super 35mm format.
• Offers 14 stops of dynamic range.
• Will also sell as a kit paired with a 16-50mm F3.5 – F5.6 kit lens (model SELP1650) for $1,150.
During this morning's event to launch the Sony A6300 and Sony's new G Master lenses – which includes a 24-70mm constant F2.8 standard zoom, an 85mm F1.4 prime and a 70-200mm constant F2.8 telephoto zoom – there were a few prototypes of the new cameras wired in at "touch and try" stations around the press conference. We've included some hands-on images we shot of the new camera in this report.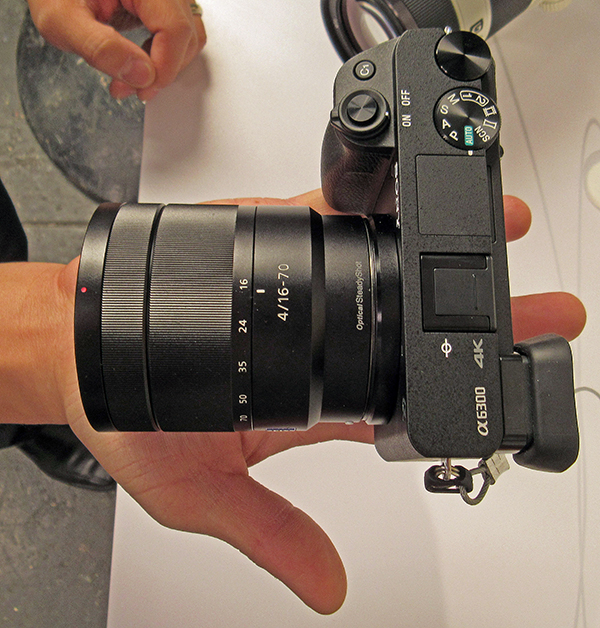 While we were allowed to shoot with the A6300 at the stations, we couldn't take our images with us or publish them. So though we can't comment on image quality yet, the Sony A6300 seemed like a fast and well designed mirrorless camera that closely resembles its popular predecessor but with a lot more under the hood.
Here's a video we shot of the Sony A6300 shootings continuous bursts at 11fps while locking focus on a boxer's face.
We're definitely looking forward to checking this camera out in an upcoming review! We've included a few more hands-on photos of the new Sony A6300 below.

FEATURED VIDEO