Solve Technical Problems With Affordable Photoshop Plug-Ins
Fred Miranda's Suite Of Solutions
All Photos © 2004, Peter K. Burian, All Rights Reserved
The Adobe Photoshop series is the most popular among image-editing programs, and this software includes a vast range of image-enhancing features. While some of the available tools are quite easy to use, advanced image-correction techniques require sophisticated and time-consuming multi-step processes. These are described in books and in Photoshop courses but not everyone wants to devote that much time and effort to becoming a Photoshop expert.

That's exactly why several companies make plug-ins: software that can automate time-consuming processes to produce professional-caliber image adjustments. Some of these products are pricey but the many plug-ins (for PC and Mac) from Fred Miranda's Digital Darkroom Inc. are quite inexpensive at $25-$50. (All are compatible with Photoshop 6, 7, and CS; some are also compatible with Photoshop Elements 2.0.) But don't let the simplicity of use and the low price fool you. These are highly sophisticated programs based on complex algorithms.

After you purchase one of these plug-ins at www.fredmiranda.com, the download and installation process takes only a few minutes. The plug-in then becomes another tool in Photoshop available under File>Automate. (Some plug-ins are also compatible with Photoshop Elements.) Fred Miranda markets dozens of useful products but the following problem-solving tools are particularly valuable for pro-caliber image enhancement.
The Velvia Vision plug-in is great for boosting color saturation for more visually appealing images. Although most images benefit from a moderate adjustment level, the software allows for selecting very high intensity, producing maximum saturation without creating digital noise, artifacts, or a color shift.
Boost Color Saturation
Photographers who appreciate the warm, highly-saturated look produced by Fujichrome Velvia slide film can simulate that effect with the Velvia Vision plug-in. Granted, Photoshop's built-in Saturation filter can also be used to boost color richness, but it can create digital noise and artifacts, or color shifts. That's why most experts recommend using a value no higher than +15 (a moderate level) for boosting overall color saturation.

If you want considerably more vibrant hues and tones without the side effects, use Velvia Vision instead (File> Automate>Velvia Vision). By employing an automatic multi-step process, the software adjusts colors individually within the red, green, and blue channels as a Photoshop expert might. Open an image, activate this plug-in, select the Preview option, and set an estimated intensity level such as +30 percent. In a couple of seconds, the preview image changes to depict the exact effect. Now you can moderate the intensity of saturation, using the Global Intensity tweak slider. When the preview looks perfect, click on the OK button and the modification is made. (You can also use this plug-in to reduce saturation with a minus intensity setting.)

Eventually, you'll also want to experiment with the other features: a minus level for color saturation reduction, Warm Color, Smart Color Correction, Smart Contrast (to enhance tonal range without clipping), and especially, with Add Dynamic Range (for better highlight/shadow detail).

Evaluation: A +20 percent to +30 percent level produces the rich colors that are perfect for many images. Some subjects benefit from much greater intensity and that's where the plug-in really shines producing very "clean" results in super-saturated areas even at a very high level of 50 percent. The only drawback? There's no option for modifying the richness of one or two specific colors. (Compatible with 8-bit files in Photoshop 6, 7, and CS only; $25.)
Convert Color Images To Monochrome
Although it's easy to convert a color image to monochrome with desaturation, professional effects take a lot more time and experimentation with the Channel Mixer in Photoshop. For much greater simplicity, and an incredibly wide range of different effects, it's worth using BW Workflow Pro (File>Automate>BW Workflow Pro).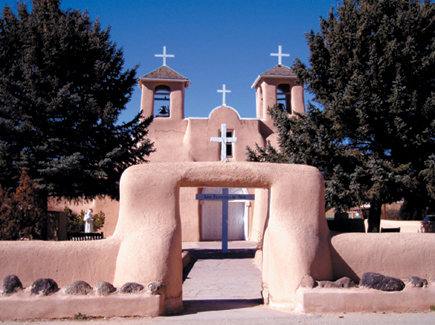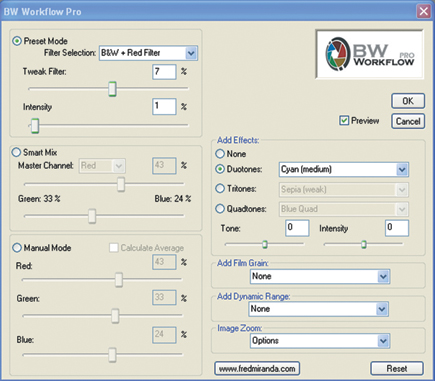 The BW Workflow Pro plug-in is incredibly easy to use. Many pro-caliber effects can be achieved with a couple of mouse clicks.
Start with the default setting for good results, but try making a filter selection: yellow, red, orange, blue, green, or high contrast. Check the Preview box and you can evaluate the effect that each of these options produce. When you find the one that's just perfect for any image, click OK and the conversion is made automatically. More serious black and white aficionados will also want to check out the many duotone, tritone, and quadtone presets. The other features can be useful, too: "Tweak Filter," "Intensity" adjustment, dynamic range expansion, "Smart Mix" for greater customizing control, and the "Film Grain" option for making images that resemble those from fast films.



LATEST VIDEO