Software Show-Offs! These Aren't Your Daddy's Slide Shows
What do we do when it comes time to show our photos off to friends, family, and colleagues? There's no question that printing every picture is a time-consuming and costly process. But there's a better way--photo "slide" shows. But unlike slide shows of the past, which meant dimming the lights, setting up a screen, and dealing with sometimes quirky projectors (and that bulb that was always blown when you needed it), today's digital slide shows are more like multimedia events that can be viewed on your computer and even CD and DVD players. In this review, I'll sample three products aimed at providing an efficient and inexpensive method of sharing photos by turning them into CD- or DVD-based slide shows.
Ulead's CD & DVD PictureShow 4
Ulead's CD and DVD PictureShow 4 opens with a guided workflow that eases the process of putting together your photo presentations (#1). The workflow is divided into three major sections: Organize, Theme, and Burn. You can move back and forth between the sections anytime before the Burn process has begun.
#1

Ulead's CD & DVD PictureShow 4.
Photos are imported via the Add Photos dialog, where you can also set the duration for each photo to be displayed during your slide show (#2). You can add up to 99 slide shows when burning your slide show to a CD, although one to nine slide shows is typical. When burning to a DVD, you are only limited by the size of your content and the capacity of your DVD disc.
#2

The Ulead Add Photos dialog box.
The next step, if desired, is to perform minor adjustments such as brightness, contrast, and color correction to your photos. CD & DVD PictureShow 4 provides the powerful Ulead PhotoImpact 12 ExpressFix module for making repairs to photos. Your images can be modified in six categories: Overall Exposure, Subject Exposure, Color Cast, Color Saturation, Focus, and Beautify Skin. Adjustments can be made by clicking on thumbnail presets, or by using slider controls (#3).
#3

The Ulead ExpressFix module.
The Theme section of CD & DVD PictureShow 4 is divided into three sections: Gallery, Menu, and Slideshow. The Gallery tab is used to select a background menu, six categories are available: Fantasyland, General, Holidays, Special Events, Sports, and Vacations. The Menu tab is used to customize the appearance of your menus, and the Slideshow tab is used to control the transitions that are applied as you move from photo to photo during your slide show. When you're done customizing the appearance of your photo presentation you can review it in a preview window (complete with simulated DVD remote control buttons, (#4), and then burn it to CD or DVD in the Burn section.
#4

Previewing a photo presentation in Ulead's CD & DVD PictureShow 4.
PictureShow 4 Pros And Cons
Ulead's CD & DVD PictureShow 4 seems to provide an excellent combination of affordability and features for the typical user.
Pros: Nicely designed themes, the efficient and powerful ExpressFix photo-editing module, and the well organized three-section guided workflow.

Cons: Not enough themes packaged with the try before you buy version, ability to customize is somewhat limited.
Ulead's CD & DVD PictureShow 4 is available from www.ulead.com and retail outlets, at $39.99 for the full version, and $29.99 for the upgrade.
Nero's PhotoShow Deluxe 5
I always worry when a new program exasperates me before I even start using it; such was the case with Nero's PhotoShow Deluxe 5. The installer had to download additional software before it would finish installing, then required my name and e-mail address before I could start using the program. After I deleted the original icon it added to my desktop, it added a second icon. When the program finally opened for the first time, I saw that it can only operate in two viewing modes: a full-screen window that hides the Windows status bar, or a partial screen window that's surrounded by either the window of whatever program you were previously using, or the Windows desktop. I've always found this "window over another window" layout distracting when using Macs; it was surprising to see it in Windows.

The PhotoShow Deluxe 5 interface is similar to that of Ulead's, with four main sections: Start, Manage, Make, and Share (#5). The Start tab doesn't do much other than move you to the Make tab, and start a new presentation. The Make tab is used to find and select photos from your hard drive, and to apply a "One Click Style" from one of six categories: Multi-Purpose, Themes, Events, Holidays, Music Videos, and Classifieds. The Classifieds option is unique in it can be used to create presentations for selling a car or house, with details that you enter (such as address and asking price) played back during
the presentation.
#5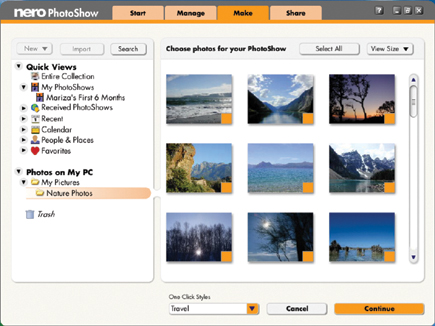 Nero's PhotoShow Deluxe 5.
The One Click Styles automatically add frames, music, and transition styles to your presentation. These are very useful if you want to create a presentation quickly with as few mouse clicks as possible. However, if you appreciate the ability to customize, you may find the One Click Styles to be more cumbersome than they are convenient. Once a One Click Style is applied, your presentation is previewed on a full-screen basis, with VCR-style controls on the bottom of the screen (#6). You can switch to another One Click Style during playback, and quickly see the results on your screen.
#6

Previewing a photo presentation with Nero's PhotoShow Deluxe 5.

FEATURED VIDEO