Sigma 20mm F1.4 DG HSM Art Lens Review
Call them what you will – ultra-wides or super-wides – I love 'em. By covering a breathtaking expanse, these types of extreme wide-angle lenses are not only capable of capturing most landscapes, they also help sweep you into that landscape, making you feel a part of the scene in the process.
Of course, not every ultra-wide shot has to be expansive. Sometimes we just want to capture the full scope of a structure or geologic form or even a tree without having to step back more and more until we find ourselves on the edge of a precipice—or standing in the middle of traffic. And of course there's always that in-your-face forced perspective that lends a dramatic flair to any subject photographed close up with these lenses.
Normally, I'd say, go with an ultra-wide zoom. But zooms, even at f/2.8, can be considered slow when we're shooting at dawn or dusk, and especially after nightfall or in a dimly lit interior, without cranking ISO all the way up. What about using a tripod? I often prefer to leave my tripod at home, opting instead to shoot with the camera handheld. This way I'm free to move about, without worrying about the attached tripod bumping into people on a crowded street, or catching it in brambles or scraping against rock along the side of a trail, or having to take everything apart and set it up from scratch each time the tripod is needed.
Enter the Sigma 20mm f/1.4 Art lens. This lens, which Sigma is calling "the world's first" 20mm f/1.4 lens for full frame digital SLRs, is eminently suited to handheld photography. That said, it would work just as nicely seated on your favorite pod. In fact, it has one advantage for tripod users. You know how you always forget to disengage the image-stabilization (IS) mechanism on a lens equipped with this tech when the camera is on a tripod? Well, I always do. (That can result in blurred shots.) This lens does not feature IS, or OS (optical stabilizer) in Sigma parlance, so no worries. Now, is that entirely a good thing? Let's find out.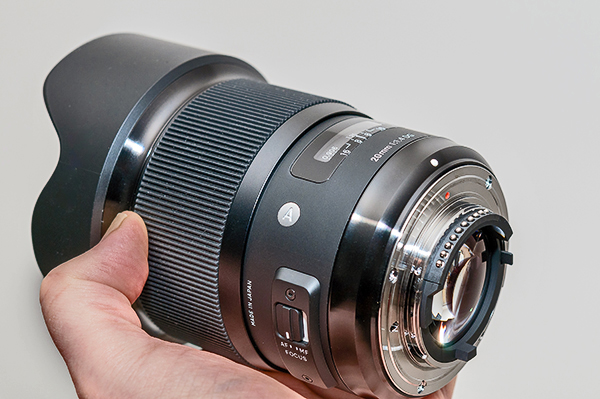 Features & Price
Here's a list of the Sigma 20mm F1.4 DG HSM A's key features, and price:
• Fast f/1.4 maximum aperture, which is unusual for a glass of this focal length
• A mix of exotic glass for enhanced optical performance
• Reduced chromatic aberration
• Coated against flare and ghosting
• Silent, fast AF
• Full manual focus override during AF
• "DG" designates full-frame compatibility
• Available in Nikon, Canon, and Sigma mounts
• Compatible with Sigma USB dock and Mount Conversion Service
• Suited for landscape photography, interiors, astrophotography, wedding photography
• $899 street price
Optics & Build
Sigma "Art"-designated lenses are primarily fast fixed-focal-length lenses designed for more discerning needs, judging from the manufacturer's literature. Aside from the moniker incorporating the "A" designation, that same "A" is a distinct feature on the lens barrel.
According to Sigma, this lens "incorporates both 'F' Low Dispersion (FLD) glass and five Special Low Dispersion (SLD) glass elements in a design of 15 elements in 11 groups. The combination of advanced optics and optimized lens power distribution minimizes spherical aberration, axial chromatic aberration, and field curvature." Sigma also notes that every lens will be tested using a proprietary measuring system.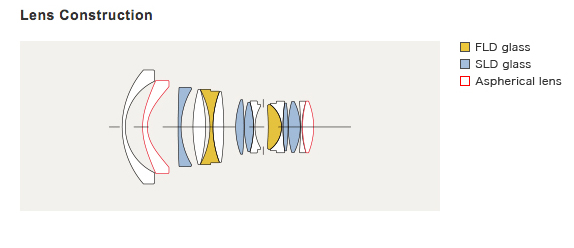 Equally important, the lens has a solid feel to it. Even the lens cap has a meaty feel: It doesn't simply slide off; it takes a bit of an effort to remove it from the built-in petal-shaped lens hood, so no fear of it dropping off somewhere. (I should note that Sigma has made available a metal lens cap to match the lens body, for $23. I tested with the standard plastic lens cap.) Attaching the lens to my Nikon D610 was as effortless as with any lens I normally use.
As expected of any super-wide, the front element is bulbous. Given that, one would have expected this lens to feature a fluorine (smudge-repellant) coating on at least the front element, if not both front and rear. Alas, that was not to be, which I found disappointing, but understandable in a lens under $1000.
The lens does not accept filters, something long-exposure enthusiasts may find disappointing, as it means you can't use ND filters. (I should point out that the Sigma UK site erroneously lists a 77mm filter diameter under technical specifications. For more accurate technical information, visit Sigma Japan's site.)
The lens mount is also worth noting. I found this info on Sigma Japan's site: "This lens features a brass bayonet mount of highly precise and durable construction. A special surface treatment enhances the mount's strength and long-term wear-resistance."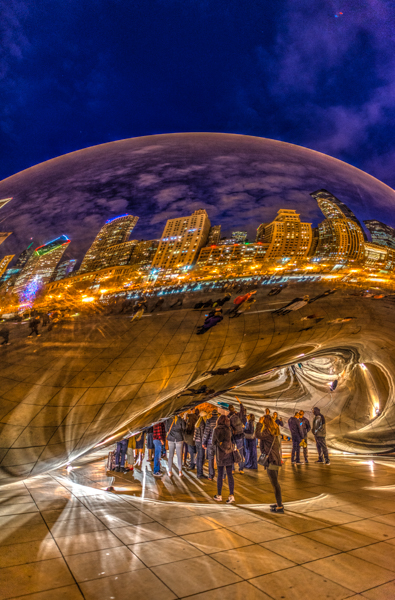 In the Field
Every frame shot in the field with this lens was taken with the Nikon D610 handheld. I could have also used my cropped-sensor D300, but that would have converted this beautiful 20mm focal length to a paltry 30mm—and that just seemed to defeat the purpose of shooting with this glass.
I took the lens around Chicago, visiting some of my favorite haunts with a fresh perspective courtesy of this lens, while also exploring new locations. I found challenging settings, both indoors and outdoors, especially at dusk and after nightfall.
While a bit on the stocky side, the lens is a comfortable size (3.6 x 5.1 inches) and heft (33.5 ounces) for handheld photography and was a good match for my D610, forming a comfortable balance in my hands. Especially nice, this ultra-wide was a perfect fit attached to my D610 inside Think Tank Photo's Retrospective Leather 5 shoulder bag for short hops around town.
Autofocusing proved fast and silent. Manual focus was buttery smooth. As you rotate the ring toward either end of travel, you can feel resistance and hear a click but the lens does not come to a dead stop. Focusing, I should add, is entirely internal, with a minimum focusing distance of 10.9 inches.
Performance
Overall, the Sigma 20mm f/1.4 Art lens performed admirably. There were times when I'd wished the lens came with Sigma's optical stabilizer. For the most part, I found I could safely get sharp results shooting handheld down to 1/20 second, which makes sense as this is the optimum handheld shooting speed. Anything slower usually resulted in a blurred image. I was largely shooting with the camera set to aperture-priority.
Shooting wide open (f/1.4) resulted in slight image softness across the frame. Stopping down showed considerable improvement. But let me temper that by saying that in practical situations where you're not shooting flat surfaces, the lens did well even at f/2 and was no slouch at f/1.4 either.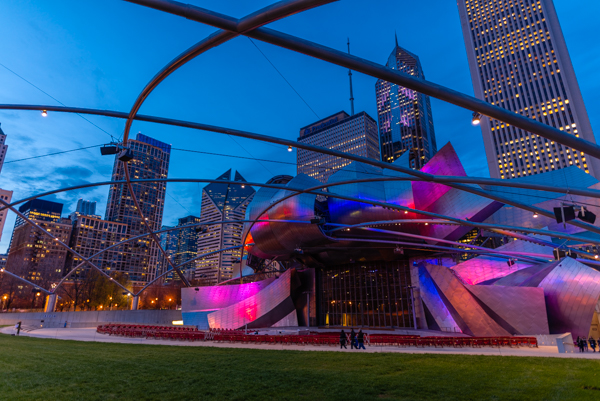 When shooting wide open I also detected what I could best define as astigmatism (point light sources near the edge of the frame appearing smeared), but this was largely alleviated by stopping down and disappeared entirely at f/2.8. And since this aberration is observable only when viewing the image magnified to around 100%, I wouldn't be bothered by it.
Vignetting likewise was most apparent at f/1.4. Stopping down certainly helped (f/2.8 or smaller), but so did a simple Profile correction in Lightroom during RAW conversion.
Axial chromatic aberration was well corrected, but lateral chromatic aberration (color fringing near the edges in areas of high contrast) did rear its head, if not all too obviously. Again, a simple click in Lightroom did the trick.
The 9-bladed rounded diaphragm produced nice, soft backgrounds at f/1.4. And even with a blazing sun in the frame, flare and flare ghosts were not a real problem, thanks to Sigma's Super Multi-Layer Coating.
Finally, we come to distortion. We'd expect considerable barrel distortion in a wide lens of this nature. Well, think again. Sigma did a marvelous job correcting distortion to the point where it's barely observable. You can leave it as is in most situations, except when shooting architectural and design studies. Again, simply apply the lens profile in Lightroom, and voila!
Conclusion
The Sigma 20mm f/1.4 Art lens will not disappoint. However, keep in mind that this lens does perform best when stopped down. That aside, I made countless exposures wide open without first scrutinizing even one frame on my computer—and I was largely satisfied with the results.
Indoors in dim lighting conditions, outdoors at dusk and at night, I never once wished for a tripod or flash knowing I could shoot wide open and capture the moment without resorting to outrageously high ISO settings. This lens showed its true colors every step of the way.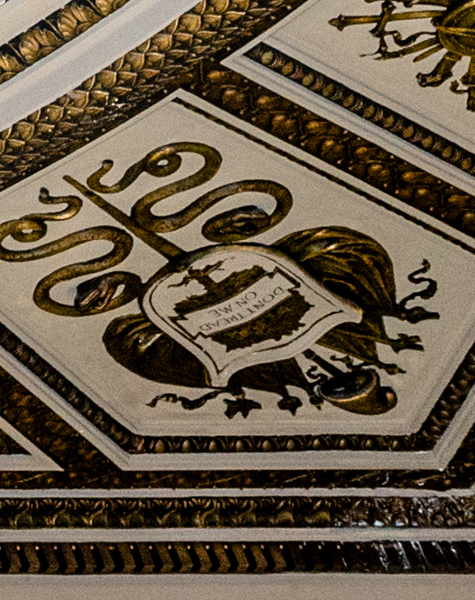 (Note: All images shown were shot handheld, by available light -- unless noted otherwise-- and processed in Lightroom CC at the default sharpness setting. Images are shown full-frame or minimally cropped, except for cropped details.)
Jack Neubart (www.jackneubart.com, www.pixelPERFEXION.net) is a photographer, photo-technical writer, educator, photo industry consultant, and author with over 35 years of experience, covering practically every aspect of photography.

FEATURED VIDEO