Sigma's SD14; D-SLR Camera With "Full-Color" Foveon X3 Pro Sensor With 14 Million Photodetectors
The long-awaited replacement for the SD10 that was released in 2004, Sigma's new SD14 (average street price: $1599) retains the best features of its predecessor but benefits from improvements that make it more competitive with the latest cameras. These include higher resolution; a larger/brighter viewfinder; a faster, more versatile autofocus system; greater burst depth; larger 2.5" LCD monitor; and two other new amenities: JPEG Capture modes and a built-in flash unit. Like the previous SD9 and SD10, the new camera employs a unique Foveon X3 sensor that was recently upgraded to provide full-color capture at every pixel.
Design And Operation
Smaller and lighter than the SD10, the body is still quite thick and hefty with a rugged, solid feel; the chunky, rubberized handgrip should be ideal for anyone with large hands. A well equipped enthusiast-level camera, the SD14 incorporates features that experienced photographers expect, including a full range of overrides, five-point autofocus sensor, depth of field preview, and reflex mirror lockup. There's a single fully-automatic Program mode, too, but none of the subject-specific Scene modes that are common in many other current D-SLRs.
A versatile camera with the features that serious enthusiasts want for landscape, nature, and travel photography, the Sigma SD14 is equipped with a unique type of sensor that can produce wide dynamic range, high definition of fine detail, and very pleasing colors. (This image was made in Super High/Fine JPEG capture at ISO 200.)
All Photos © 2007, Peter K. Burian, All Rights Reserved

Featuring a conventional design, the SD14 is equipped with two large knobs, many well-marked buttons, and a single input dial. While some aspects of camera control require a lot of button pressing, operation is straightforward and intuitive. The many analog controls--including a multipurpose Function and Quick Set button--minimize the need for the electronic menu after an initial camera setup. The various menu items should not cause any confusion; the purpose of nearly every function should be obvious to anyone with previous digital camera experience.

With its 150,000 pixels, the 2.5" LCD monitor does not provide ultrahigh resolution and it's not anti-glare coated, but the display is adequately bright and contrasty. Unlike many other newer D-SLRs, this one retains a small data panel on the right "shoulder," displaying the settings in use. However, the LCD monitor is used to display ISO, White Balance (WB), and Size/Quality options in a larger font for greater visibility.

Like most SLRs, the Sigma SD14 accepts a wide range of accessories, including Sigma's digital-dedicated EF-DG flash units and SA-mount AF lenses, all available exclusively from Sigma. Because the sensor is smaller than a 35mm film frame, a 1.7x field of view crop applies in terms of the effective focal length. When changing lenses, you'll notice the removable dust protector in front of the reflex mirror. It was quite effective even in the very dusty environment of the Valley of Fire State Park in Nevada, minimizing the need for frequent sensor cleaning.
At the default level for color saturation, the SD14--with the firmware available at the time of testing--produced rich colors, with particularly vibrant reds and yellows. In this case, perhaps because of the strong sidelighting, there was a loss of fine detail in the reds, calling for adjustment during post-processing. (Raw capture, at ISO 200, without a polarizer; color rendition was adjusted in Sigma's Photo Pro 3.0 and in Photoshop CS2.)
Performance Evaluation
During extensive shooting in Arizona, Nevada, and Southern Ontario, the Sigma SD14 allowed me to make many beautiful landscape, travel, and people pictures. The camera was quick to respond, ready to take the first shot in about 1 second. The eight-zone evaluative metering system sometimes produced a 0.3 EV overexposure, easily solved with an in camera override or in post-processing. Autofocus was reliable even in low light, and the five-point AF sensor allowed for quick shooting with off-center subjects. During a BMX bike race, the continuous AF system had no difficulty tracking competitors approaching my position.

In Continuous Drive mode, the SD14 was able to shoot at up to 3 frames per second for a series of six largest/finest JPEG or raw format photos when using a fast CompactFlash card. While the buffer was clearing, I was able to take another shot occasionally, but generally waited until all data recording was finished; that allowed the camera to provide another full burst. With a Lexar Pro 133x card, buffer clearing took about 30 seconds after a series of JPEG High images, 45 seconds after six Super High JPEGs, and 35 seconds in Raw High capture. That should be fast enough for most landscape, nature, and travel photography, but serious sports shooters would need greater burst depth and faster buffer clearing.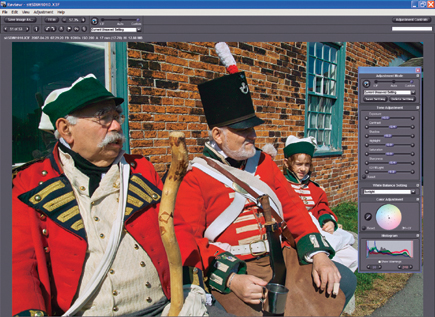 Sigma's Photo Pro 3.0 is a versatile program that includes a browser and useful tools for modifying many parameters of a raw format image or a JPEG capture. (This X3F format image was made with the SD14 at Fort York in Toronto, Canada.)
Image Quality Evaluation
Aside from the resolution aspects discussed in the sidebar, this camera produced beautiful JPEGs with high sharpness, snappy contrast, and rich color saturation at the default levels. At the time of my tests--when early samples of the SD14 first became available--Sigma was still fine-tuning the firmware; each subsequent version produced better results, particularly in terms of Auto WB.

In my test photos, skin tones and pastels are very pleasing; yellows and reds are especially vibrant. In fact, in images made in certain lighting conditions, reds are excessively rich, producing a loss of fine detail. That was particularly problematic when I used a polarizer. As well, the WB system occasionally provided very poor color balance when I used that filter, so, for all serious testing, I removed the polarizer. Some SD14 owners may prefer a less bold color rendition in general, at least for some types of subjects, easily achieved with a -0.5 in camera Saturation level or in post-processing. As well, the final firmware may be tweaked to provide slightly lower color saturation at the default level.
Images made in raw capture can be extensively modified in the Sigma Photo Pro 3.0 software--before processing and conversion to JPEG or TIFF--to produce any desired color, contrast, or tone, WB, sharpness, and so on. While after-market converters, such as Adobe Camera Raw in Photoshop CS2 and CS3 or in Elements 5.0 can also be used, not everyone owns those programs. Convenient and straightforward in operation, Photo Pro 3.0 is also quite fast for a camera brand converter; it can convert a high-res file to TIFF in 3 seconds. More importantly, this Sigma software includes a full range of tools for modifying virtually all technical aspects of a raw image, including highlight and shadow detail. All of those functions can be used for fine-tuning JPEG images as well, useful for anyone who does not own some other versatile image editor.

After minor tweaking of the Raw High files in Photo Pro 3.0, including sharpening at level +4, I converted them to TIFF. These are even better than JPEGs, absolutely superb in fact, with great sharpness and definition of intricate detail. At 100 percent magnification on my monitor, there are no jagged edges or other artifacts that might degrade image quality.