Sigma's APO 70-200mm f/2.8 EX DG Macro HSM; Pro-Caliber Zoom With Close-Focusing Ability
One of the favorite lenses among news photographers, a 70-200mm f/2.8 or 80-200mm f/2.8 zoom also appeals to many serious photo enthusiasts. Although large and heavy, lenses of this type offer several benefits. Their very wide maximum aperture allows for faster shutter speeds than the more typical f/4.5-5.6 zooms, great for low-light or action photography at lower ISOs (film or digital) for images with less grain or noise. Since these are professional-caliber zooms, they're also particularly rugged and boast several high-tech optical elements for high quality even at wide apertures.

Sigma's original 70-200mm f/2.8 APO zoom was a highly rated lens but recently, the company released two improved versions. The first of these, the APO 70-200mm f/2.8 EX DG HSM benefited from digital optimization (discussed shortly), earning the "DG" (Digital Grade) label. The latest model, now with a "Macro" designation, is identical in many respects but provides much closer focusing ability: 39.4" vs. the more typical 71". As a bonus, the newer lens is compatible with a larger, more rigid, rotating tripod-mounting mechanism; this optional accessory can be removed if desired when shooting handheld.
In outward appearance, the new Macro zoom is almost identical to previous versions except for the optional larger tripod-mounting collar and foot, a worthwhile improvement that is more suitable for a heavy lens of this type. (Photo Courtesy of Sigma America.)
Sophisticated Features And Design
Like several other premium-grade Sigma lenses, this one incorporates the Hyper Sonic Motor (HSM), an ultrasonic system that provides very fast, nearly silent AF operation. Because HSM is compatible only with Canon, Nikon, and Sigma SLR cameras, Sigma is making this "Macro"-designated zoom only in those mounts. (The previous APO 70-200mm f/2.8 EX DG model is available with HSM, too, in those mounts, but also with a conventional focus motor in Pentax and Minolta Maxxum/Sony Alpha mount.) Even when shooting in AF mode, manual focus is always available with an HSM lens, allowing for slight touch-ups when necessary.

An internal focusing mechanism is also used and provides faster autofocus (because fewer lens elements must be shifted) and a non-rotating front barrel (that does not change a filter's effect). A combination of internal focusing and internal zooming also allows for a non-extending barrel; hence, the center of gravity does not change, useful whenever a heavy lens is used on a tripod.

As the APO (for Apochromatic) designation suggests, this zoom is exceptionally well corrected for chromatic aberrations, with two ELD (Extraordinary Low Dispersion) elements and two pieces of SLD (Special Low Dispersion) glass. The result is superior image quality, particularly noticeable at wide apertures, with very high sharpness and freedom from color fringing around subject edges.
The Sigma APO zoom is a pro-caliber lens capable of producing images with exceptional sharpness, color rendition, contrast, and definition of intricate detail. (At 200mm at f/5.6; ISO 400; fill flash; Canon EOS Digital Rebel XT.)
All Photos © 2006, Peter K. Burian, All Rights Reserved
Although this is a multi-platform lens suitable for all types of SLR cameras, it's digitally optimized with an (unspecified) design as well as super multilayered coatings on numerous elements. The latter feature was intended to minimize the risk of internal flare and "ghosting" (reflections in the shape of the lens diaphragm) caused by highly reflective digital sensors. Naturally, the superior chemical coatings (and the deep, oversized lens hood) also provide greater resistance to flare from external light sources, making for images with higher contrast and hence, with greater apparent sharpness. That's a benefit with a 35mm SLR film camera as well.

As expected with a high-grade f/2.8 telephoto zoom, this Sigma model is quite heavy due to the use of wide diameter lens elements and a very rugged aluminium-alloy barrel. The scratch-resistant black crinkle finish and extra wide rubberized focusing and zoom rings exude a professional look and feel; the operation of both rings is very well damped for plenty of friction for a familiar "feel." A distance scale, in feet and meters, is provided under glass.
While the HSM focusing system is remarkably fast and reliable, the ability to adjust focus manually--without the need to switch to MF mode--is often useful, particularly in close-up photography where the exact point of focus is important. (At 135mm at f/13; Canon EOS Digital Rebel XT.)
Neither of the two previous Sigma 70-200mm f/2.8 models allowed for close focusing; when focused at the minimum (71") distance, they produced a maximum magnification of only 0.13x. That has been resolved with this Macro-designated model. The minimum focus distance has been reduced to 39.4", allowing for maximum magnification of 0.29x at the 200mm focal length. By comparison, this zoom's closest competitors from Canon and Nikon can focus down to 51.6" and 58.8", respectively.

Note: When used on a digital SLR with a sensor that's smaller than a 35mm film frame, the maximum magnification (in close focusing) seems even higher. That effect occurs because only a portion of the large image circle projected by this multi-platform lens is recorded by the small sensor. In other words, the field of view is cropped. Consequently, a small subject appears larger--in the viewfinder and in the final digital photo--because less of the scene is included in the image area. (The same applies with any lens, of course.) That's not higher magnification but the subject does appear larger so the effect is often called greater "apparent magnification."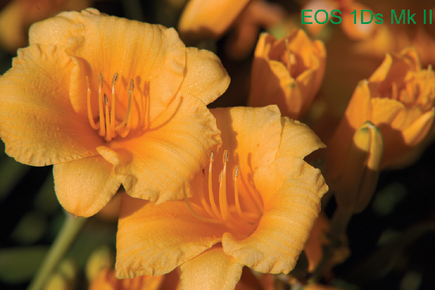 Regardless of the camera that's used, the minimum focusing distance is 39.4" at any focal length. However, the amount of the subject that's included in the photo will be less in images made with a digital SLR with an APS-C size sensor (such as the Canon EOS Digital Rebel XT) vs. a 35mm SLR or a digital SLR with full-frame sensor (such as the Canon EOS-1Ds Mark II or EOS 5D). Although this effect is actually field of view crop, magnification certainly appears to be greater. (At a 200mm focal length; f/11; Manfrotto tripod.)
In-Use Evaluation
While shooting stock images during several trips and events, I gave the Sigma zoom a good workout, using a Canon EOS Digital Rebel XT and occasionally, an EOS-1Ds Mark II with full-frame sensor. The advanced optical formula and digital optimization allowed this zoom to produce snappy contrast as well as incredibly high sharpness across the entire frame at most apertures and focal lengths. Optimal performance was provided in the 70-140mm range. I never hesitated to shoot at f/2.8 at these focal lengths when necessary for fast shutter speeds or shallow depth of field. By f/4, edge sharpness matched central sharpness. At longer focal lengths, central sharpness was high at wide apertures but I recommend stopping down to f/5.6 for the best edge sharpness. Unlike most affordable/compact zooms, this one is surprisingly well corrected for shading: by f/4, corner brightness matches central brightness, whether the lens is used with a digital SLR with a small sensor or a 35mm size sensor.


FEATURED VIDEO