Sigma's 18-200mm f/3.5-6.3 DC OS Lens; The First Multipurpose Sigma Zoom With A Built-In Image Stabilizer
Although Sigma released their first lens with a built-in Optical Stabilizer (OS) system in the spring of 2004, the company employed this technology in only one pro-grade lens, the 80-400mm f/4.5-5.6. That has changed with the introduction of a more compact/affordable (digital-only) 18-200mm OS zoom. Sigma will not comment about future plans, but a reliable source indicates that additional OS lenses will be developed to compete with the growing number of Canon IS and Nikon VR lenses. Coincidentally, Tamron has also announced their first zoom with a "Vibration Compensation" optical system, a 28-300mm f/3.5-6.3 multi-platform model that I'll be testing soon.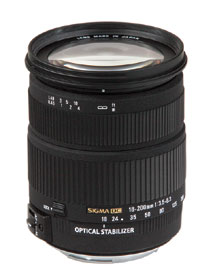 Sigma's newly-developed OS system employs two sensors inside the lens to detect vertical and horizontal movement and then shifts a group of elements to compensate. It automatically detects panning (lateral-only) movement--common in action photography--and then compensates for up/down camera movement to provide smooth/sharp pan effects.

It's just as important to note that this Sigma lens incorporates advanced optical technology, including a piece of Special Low Dispersion (SLD) glass plus three aspherical elements. That combination was intended to provide effective correction for all types of aberrations and distortion in order to produce a high level of optical performance at all focal lengths. As you would expect from a digitally-optimized lens, numerous elements are "super multilayer" coated to reduce flare and ghosting, which can be caused by a highly reflective CCD or CMOS sensor. Naturally, these coatings are also useful for minimizing flare from external light sources.
Particularly when shooting indoors, or from the deck of a ship or ferry, I really appreciated Sigma's effective Optical Stabilizer technology. While this system adds to the size/weight/price of the lens, it provides extra value in terms of peace of mind, maximizing the number of photos that will be "keepers." (Image made in Program mode at ISO 800.)
All Photos © 2007, Peter K. Burian, All Rights Reserved
Design And Construction
Like all of the recent Sigma DC (digital-only) models, this one is beautifully finished in matte black, with a very wide rubberized zoom and focus rings. It also offers an on/off switch for OS and AF plus a zoom lock that prevents the internal barrel from protruding while the lens is being carried. Sigma also includes a lens hood as part of the kit; it's corner-cut to avoid intruding into the image area at short focal lengths. The barrel is marked with highly visible numerals for focused distance, focal length, and maximum reproduction ratio numerals; the latter are relevant only in close focusing to 1.48 ft and differ depending on the focal length in use.

In spite of the broad range of focal lengths, obviously rugged construction (including a metal lens mount), and the built-in OS system, this very solid zoom is acceptably lightweight and compact. Compared to the non-stabilized 18-200mm f/3.5-6.3 DC model, it's 6.8 oz heavier, 0.3" wider in diameter, and 0.8" longer. The internal barrel does protrude when zooming to longer focal lengths, by 2.5" at the 200mm setting. Weight distribution does not shift very much, however, because the internal barrel is made of a lightweight polycarbonate material. The zoom mechanism is very well damped, with plenty of friction but a smooth feel.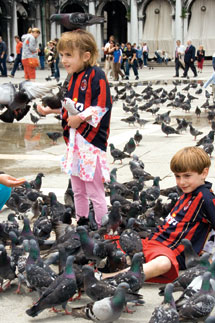 While this was not my favorite Sigma lens for action photography, the 18-200mm zoom's autofocus performance--with an EOS Digital Rebel XTi--was adequately fast and reliable for the vast majority of other subjects. In travel and family event photography, I very rarely missed capturing exactly the desired instant. (JPEG capture at 42mm at f/8, using ISO 400 and a Hoya S-HMC polarizer.)
Manual focus operation is quite smooth, with just enough friction for a familiar feel. Because this zoom does not include the ultrasonic HSM focus motor available in some other Sigma lenses, the focus ring rotates during AF operation, producing a low-pitched hum that is not problematic. Focusing is internal so the front element does not rotate; hence the effect of a filter never changes, a real benefit when using a polarizer.
Edge sharpness and brightness are quite acceptable at wide apertures, making f/5.6 a "useable" f/stop for images to be printed at the most common sizes: 4x6" or 5x7". By f/8 however, image quality is even better, suitable for making fine prints in much larger sizes. (Image made at f/5.6 at ISO 400, at an 85mm focal length, using a Hoya S-HMC polarizer.)
Autofocus Technology
During my tests with a Canon EOS Digital Rebel XTi, autofocus acquisition was usually quick though not lightning fast, as it is with the Sigma HSM zooms. In travel photography, I was rarely frustrated except when shooting at long focal lengths inside dark cathedrals. Focus tracking of cycle race competitors--at the 200mm focal length--was not very reliable; especially when the group was close to the camera, the AF system was rarely able to keep up with their motion. That's typical performance for a "slow" f/3.5-6.3 all-purpose zoom with a conventional AF motor. (By comparison, Sigma's "fast" f/2.8 HSM 50-150mm and 70-200mm zooms are far more effective in action photography.) Of course, those wide aperture lenses can transmit a lot more light to the camera's AF sensor and their ultrasonic motors (USM) are substantially more efficient.

Most D-SLR specs indicate that autofocus is available only with lenses featuring a maximum aperture of f/5.6 or wider. At the longest focal lengths, this lens--like many of today's all-purpose zooms--has a smaller maximum aperture of only f/6.3. In spite of that factor, autofocus does function thanks to some electronic wizardry provided by the computer chip in the lens barrel. Of course, it's not very fast at long focal lengths, especially in low light or when using a polarizer that reduces light transmission. For the best AF performance with this 18-200mm OS zoom, use focal lengths shorter than 150mm where the maximum aperture is wider.

LATEST VIDEO