Shutterbug's Exclusive photokina Coverage; Weird And Wonderful: With A Nod Toward "Luxury Goods"
Every photokina, we are assigned a category that for want of a better term we call "weird and wonderful." It's stuff that doesn't easily fit into any other category, or differs so much from the mass of its competitors that it deserves special mention.

Some products are just bizarre: we'll come to what we thought was the most bizarre trend at the end of this article. Other things may be useful, but of limited (sometimes very limited) appeal. Yet others are charming, or funny; we really quite like the idea of a pig-faced photo album, though we neglected to note the manufacturer's name. A few are luxuries, doing nothing that another product won't, but doing it in a way that makes you feel like a millionaire. Then there are the potential crazes: in a few years time, everything about them that is not actually patentable will have been ripped off and done cheaper. Let's start with one of these, from Odyssey Sales (www.odyssey-sales.com, though it wasn't yet on their website when we last looked).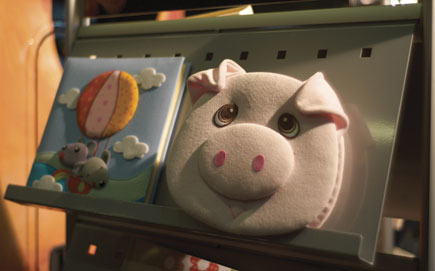 Take a normal, flat image; a portrait from your schooldays perhaps, or a picture of your parents or grandparents' wedding, or even a centuries-old painting. Digitize it. Via some very clever software, create a 3D effect and print it on traditional silver halide color paper. Slap a lenticular plastic 3D screen over the whole thing—a technology that goes back decades—and lo and behold, the latest 3D craze. Weird. And, of course, impossible to illustrate in flat print, or indeed on a website.

The price for one-offs will limit its appeal to the amateur—probably $100 or more for the first print, because of the cost of 3D digitizing—but the cost per image plummets as you print more and more copies: by the time you are into the thousands, a dollar or two for an 8x10", pennies for post cards. The same technology can be used to flip from color to black and white in the same image, or between a general scene and a close-up.

The possibilities are endless. Yes, it's only a variant of the old lenticular process, but before you see them as a premium service at your Image Sharing Point, or whatever new name the marketing men have devised this week for D&P (Developing & Printing), you can expect to see them as post cards; in devotional shops (they showed a late-Renaissance adoration of the infant Jesus in 3D); as decorations in a certain kind of Chinese or Indian restaurant (the Taj Mahal is a natural); as baseball cards; and, among schoolboys and fraternity boys, the kind of image where a young woman's swimsuit magically appears and disappears. The purely stereo form of the process may also enjoy some vogue for family portraits, especially among large and scattered families: people will make a living out of this product, selling it as a luxury. The great thing about it is that you don't need a special camera: any old picture will do.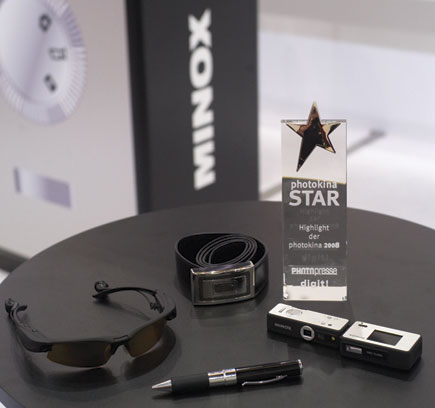 Minox sunglasses, pen, belt buckle, and electronic spy camera
For an entirely different school of weirdness, consider Minox. Not the 5-megapixel autofocus miniature replica of a twin-lens Rolleiflex in red "luxury" finish, though that's certainly weird enough. Not even the long-awaited digital version of the classic Minox spy camera, though we'll return to that in a moment. But sunglasses, a pen, and even a belt buckle with built-in cameras.

To a certain extent they're "joke" products: a couple of hundred bucks' worth of fun, with the side benefit that they're surprisingly capable little cameras. On the other hand, within hours of the launch, they had a dealer pleading with them to sell him the preproduction samples. He was apparently the main supplier to the "private detective" market. So I'm staring into my glass of bourbon, wondering when I'm gonna get paid, when this blonde walks onto the stand and says, "They tell me you sell cameras…"

The sunglasses do both still and video, with an MP3 player built-in as a brilliant "cover" for the added bulk of the electronics; there's a remote release you can operate from your pocket. The belt buckle (supplied with a shiny black leather belt) and pen (which also writes) are video-only.
Another hybrid digicam product that seems to exercise an enduring fascination is binoculars with built-in cameras. These go back to film and even plate days, but now the Chinese Wonder-Rec sports 10x22, 3.2 megapixels. Whether anyone picks the Wonder-Rec up, and whether it appears in camera stores rather than novelty shops and mail-order gadget catalogs, remains to be seen. Check www.housenoptical.com. There seemed to be two models, but we managed to get information only on one.

Going back to the electronic "classic" Minox, it's actually slightly bulkier than the mechanical, hand-built, film-based A/B/C, at 3.38x1.18x0.82" (86x30x21mm) and weighs 90g, a fraction under 3 oz. On the bright side, it's a lot cheaper: a fraction of the price. It's 3.2 megapixels (2048x1536) interpolated as standard to 5 megapixels (2560x1920), with a 320x240 pixel video option: it autofocuses to 0.5m or about 20". Memory is 128MB internal, plus mini SD cards up to 16GB. There's a very basic optical finder, so if you want an LCD screen to chimp at, you need to add the flash unit, which has the screen built-in.
Also in the realm of inexpensive fun are the new, multicolored Holgas, and Holga stereo, pinhole, and indeed stereo pinhole cameras. These cheap and frankly nasty Chinese cameras have a cult following for the way they introduce more or less unpredictable faults into your pictures: light leaks, softness, vignetting… Some people get brilliant results out of them, and it won't cost you much to find out if you can be among them. We're not.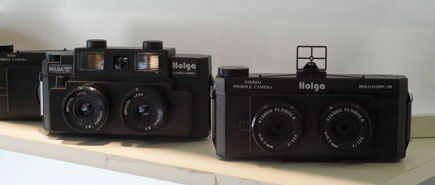 Holga stereo (left) and stereo pinhole (right)
For further mechanical weirdness, allied with software, check www.panorama-hardware.de and look at their "Single Shot Optic," a parabolic mirror on a stick, poking out of the lens. Point the camera straight upward; take a picture; and then use the supplied software to create a 360? single, instantaneous image. It's fun but it's not cheap at 249 euros tax paid; a bit under $300 net of tax.

For more economical weirdness, consider Liquid Image's diver's goggles with a 5-megapixel digicam built-in. At under $100, you wonder why they bother with a cheaper 3-megapixel version.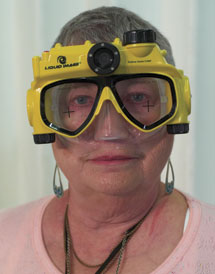 Frances with Liquid Image diver's goggles
Staying near the water, Camera Armor offers a semisubmersible housing for an increasing range of SLRs. Semisubmersible? Well, yes: they reckon it's OK down to a meter (40") or so, but they specifically say that it's not for underwater photography. Rather, it's for photography in hostile environments: sand, water, surf, and rain rather than actual underwater shooting. DiCAPac USA also had a new SLR flexible cover with a clever bellows-style lens cover to accommodate a wide range of cameras and lenses.

For professional underwater shooting, there were housings for still and video cameras in polycarbonate and metal from the usual suspects: Hugyfot, Sealux, Fantasea, AquaTech, and so forth. At any one time, you can never be sure exactly which models they can house, so check their websites for your specific camera model and local dealers: diving shops are a likelier bet than camera stores.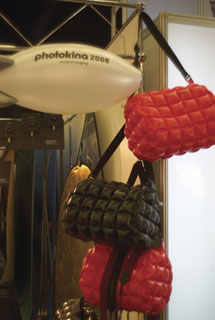 Still (possibly) near the water, there were inflatable holdalls from the Thai company Ekasilp; a versatile and inventive crew. These presumably float, and offer remarkable protection against knocks; but they are bulky, and we'd want to test one fairly rigorously before committing valuable equipment to it. They just looked blank when we asked about inflatable dartboards.

Camera Armor made their name with the dense rubber "second skins" that do what the company's name suggests, and they have also introduced an improved "bumper" to go around lens hoods and a lens case that is designed to withstand a fair amount of knocking about.

Delkin Devices introduced Snug-It Pro, a skimpier interpretation of the original Camera Armor for SLRs: thinner, lighter, offering less protection, but with a slightly more comfortable feel in the hand.

On the subject of "interpretations," both Subjectiv and Lensbaby introduced mounts with interchangeable optical units. Both offer plastic for the "Holga" look; glass for more sharpness; a pinhole; and a zone plate. The two units are surprisingly different: the Lensbaby has an "eyeball" swing-and-tilt option, which makes it more suitable for some applications, while Subjectiv's substantial focusing helical offers advantages in other applications: more optical modules are planned for it. We hope to review the system in due course. Subjectiv was on the Monochrom stand.

FEATURED VIDEO