Shooting In The Wet
A Primer On Keeping Your Powder Dry
Dry boxes are available from several sources. Shown here are Dry boxes from Hakuba USA and two small Pelican cases. The Pelican cases are watertight to a depth of 30' and the Hakuba Dry boxes feature a compartment in the lid to hold packages of desiccant.
It was the longest mileage day in a multi-day bike tour of the California Wine Country and the Mendocino Coast and we had yet to ride a mile when the rain that had been threatening started to come down. At first, it was just a light mist and then, as we started up the long climb out of Cloverdale, it really let loose. Soon it no longer mattered how much it rained as we were as wet as we could get. Constantly wiping my glasses with a soggy neckerchief I was thankful that I had my camera securely bundled up in a waterproof handlebar bag. Or so I thought.

We stopped at a laundromat in the little town of Philo to dry out the camping gear and as much clothing as we could take off and remain decent. I couldn't resist a couple of shots of everyone huddled around the dryers trying to warm up. I quickly discovered that there is a big difference between water-resistant and waterproof. Lesson one learned the hard way. Oh well, after all, it's only rainwater so, after removing the soggy film and the battery, I spent the next few hours carefully drying the camera by the campfire. Next morning with a new battery and fresh film installed...guess what? Everything worked just fine, guess I lucked out. Lesson two about to be learned. The camera did work OK through the rest of the trip but about a week after I got home it seized up. My Teutonic repair guy just shrugs and says, "kaput!" "But it worked fine after I dried it out," I protest. He patiently shows me where the corrosion and congealed lubricants are gumming up the works and quotes a repair figure that's more than twice what the camera is worth. Some lessons are more expensive than others.
Two amphibious cameras, my old Nikonos III and the recently introduced Époque ET100+. Submergible cameras can allow you to continue shooting even when conditions deteriorate to the point where other strategies for protecting equipment are useless.
That escapade happened a dozen or so years ago and although I have biked, hiked, and kayaked in inclement weather many times since I've never repeated the experience. Well, at least I am trainable. I'd also like to help you learn from my folly. So, here are some of my strategies for keeping things dry when shooting in wet conditions.

I live in a relatively arid part of California so I really don't have to be concerned much with snow or frequent hard rains but I do shoot around breaking waves, in and among tide pools and blowing spindrift can be much worse due to the salt content. When the spray or rain really gets heavy I prefer a waterproof camera. There are a number of point-and-shoots, also called lens-shutter cameras, that will do a very professional job in extremely wet conditions (see "Surviving The Storm: Six Weather Resistant Cameras" in the April '97 issue of Shutterbug for more details on some of these cameras) and my personal choice is the amphibious Nikonos. I currently use the long discontinued Nikonos III for a variety of reasons but it lacks the built-in light meter of the current Nikonos V and this can be a problem. One possible solution is to place a light meter in a plastic kitchen bag or one of the small EWA bags, but the recently reintroduced Sekonic Marine Meter model L-164c is an even more elegant solution. The submergible L-164c is a direct reading meter, which means that you dial in the shutter speed, point it at your subject, and the needle indicates the correct f/stop. This is really convenient when shooting in rain or snow or when you're wearing gloves.

Although amphibious cameras are highly water-resistant they lack many of the features and lens options that we expect from our more sophisticated SLR or larger format cameras. Let's look at some methods for working in adverse conditions while protecting our more versatile cameras and lenses from the elements.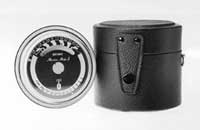 Sekonic has reintroduced the Sekonic Marine Meter L-164c. To my knowledge this is the only amphibious light meter in current production. A great meter when using older Nikonos models that lack the TTL metering of the newer versions.

First, we need to get the gear to the shoot and many of today's gadget bags and backpacks will keep your stuff dry through everything short of a total immersion. Paddling or camping outfitters also have a variety of dry boxes and bags that you may find useful to protect your gear. When kayaking I keep my camera in a dry bag pulling it out when a shot presents itself. I keep a towel handy for the errant splash and have never had a serious problem. Note: this is a flat water technique not intended for open or rough water. When the water is rough or it's getting windy I put the regular camera gear in a case that is totally water (and bomb) proof such as a Pelican case and switch to the aforementioned Nikonos.
It's imperative to keep the front element of the lens dry and unobstructed so a UV, Sky-light, or clear filter is a must. Keep lens tissue or a lens cloth handy to wipe off any droplets just before you trip the shutter. You should be using the deepest lens shade that will work with your lens anyway and it will help keep the lens dry as well. You also want to keep the lens and camera bodies dry and a good way to accomplish this is with a rain jacket of some sort. In a pinch a one or two gallon size kitchen bag or a small trash bag with one hole cut for the lens and another for the eyepiece will work. In fact I always carry several kitchen bags of various sizes in the bottom of my camera bag for those times when the weather guesser blows it and I get caught out in an unexpected shower.

Two commercially available rain jackets that I have worked with are the Laird Rain Hood and the EWA Rain Cape. These are of different materials and design but both are very effective in protecting your gear while allowing you to continue shooting. Both come in a variety of sizes to fit various camera and lens combinations. Ann Laird even makes a large format model that doubles as a weatherproof focusing cloth, so it's a good idea to get a brochure or call to identify which model you need.
Many manufacturers make special weatherproof or resistant cases and backpacks. The large backpack shown is from Hakuba USA and it will hold my entire 4x5 field outfit. It also boasts a well designed shoulder harness system complete with a sternum strap and lumbar padding.
Another piece of equipment I like when shooting in wet or muddy conditions is the Benbo tripod. It features a leg design that puts the larger telescoping section on the bottom. This section is sealed from the elements so it can be submerged to a depth of a foot or more, depending on the model, and the muck stays out.

To ensure the continued health of your equipment a very important consideration is post-shoot maintenance. As soon as I get home the tripod gets a thorough freshwater rinse to remove any salt or mud. An occasional wipe with a rag dampened with WD-40 is the only other attention the tripods normally require. Cameras and lenses will receive an exterior wipe down with a soft cloth dampened, not soaked, with freshwater to remove residual salt spray. Submergible cameras get a soak in a bucket of freshwater to dissolve salt or muck and are then dried with a soft chamois. This is done before I unload the film to prevent getting salt or mud inside the cameras. Bags, cases, covers, or any other protective gear that is muddy or covered with salt spray also gets a freshwater rinse and is air-dried so that it will be ready for the next shoot. No matter how tired you are after the day's shoot, don't put the maintenance off. It should be done as soon as possible after the equipment has been in the wet.

No matter how much care we exercise we can still get snake bit so what do you do if the worst happens? Whether your camera gets soaked with salt or freshwater the first aid is the same. Wipe off as much of the external water as you can, take out the film and batteries, then place your camera in a plastic kitchen bag. Zip the bag almost all the way closed and then evacuate as much of the air as possible before sealing the bag completely. If you have an ear syringe you could try to suck as much moisture out of the camera's interior as possible prior to sealing it in the plastic bag. Exercise extreme care using compressed air however, as you could actually blow the muck farther into the camera's innards. You should then get the camera, still sealed in the bag, to a repair facility as quickly as you can. In the past the predominant wisdom was to flush saltwater out of a soaked camera with freshwater or alcohol. If done soon enough this was effective with older mechanical cameras but it is probably not a good idea with the electronic cameras most of us use today. As with everything else, "an ounce of prevention is worth a pound of cure."

You can, of course, simply stay indoors when the conditions turn sodden but, for me at least, there are too many exciting opportunities for great photographs when the weather turns nasty. So, if you use common sense and apply the precautions we've discussed I'm sure your camera will stay nice and dry and you'll bring home some dramatic images. Oh yeah, wear your rubbers, after all, you wouldn't want to catch a cold.
Supplies Needed
Laird Rain Hood, Laird Tri-pads, and Photographer's ground cloth; Hakuba cases and backpacks, Velbon tripods, dry boxes, desiccants, and lots of other nifty stuff; Nikonos cameras, flash units, and accessories; Pelican waterproof equipment cases; EWA Marine Housings, Epoque ET100+ camera, Graf Studioballs, and Culmann tripods from R.T.S.; Benbo tripods, Domke Outpack cases, backpacks, and Dri-Safe from Saunders.
Manufacturers/Distributors
A. Laird Photo
PO Box 1250
Red Lodge, MT 59068
(406) 446-2168
e-mail: annelairdphoto@twoalpha.net
Hakuba USA, Inc.
10621 Bloomfield St., Ste. 39
Los Alamitos, CA 90720
(800) 423-1623
(562) 799-1898
fax: (562) 799-1316
e-mail: sales@hakubausa.com

Nikon
1300 Walt Whitman Rd.
Melville, NY 11747
(800) 645-6687
(516) 547-4200
fax: (516) 547-0362
www.nikonusa.com
Pelican Products
23215 Early Ave.
Torrance, CA 90505
(800) 473-5422
(310) 326-4700
fax: (310) 326-3311
R.T.S. Inc.
40-11 Burt Dr.
Deer Park, NY 11729
(516) 242-6801
fax: (516) 242-6808
The Saunders Group
21 Jet View Dr.
Rochester, NY 14624
(800) 394-3686
(716) 328-7800
fax: (716) 328-5078
www.saundersphoto.com

FEATURED VIDEO