Shooting Stairways
If you're intrigued by architecture and its interesting details, chances are that you enjoy photographing stairways. You can capture interesting design elements, both in structure and in detail. Stairways can be depicted in their entirety with curved, sweeping lines, or can become an abstract subject if you zoom in on a close-up of line patterns. If stairways are interesting to you, a variety of photographic opportunities are available.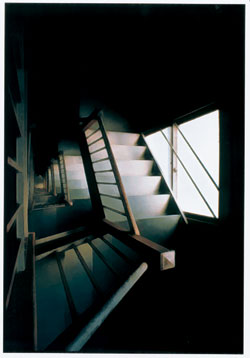 This view of a stairway illuminated by window light was turned into a work of art via the computer.
Reader photo by Stan Kaufman, Bayville, NY
To determine the best compositions, it's best to explore a stairway from different viewpoints. It's easy simply to photograph a subject straight on, but changes in your viewpoint will offer different interpretations of the stairway's design qualities. Find a pleasing angle that spotlights whatever features made you decide to photograph it. You might try shooting from a low angle to place the slats of a stairway against a colorful background, such as an industrial staircase against a blue sky. Photographing a spiraling stairway from above can reveal a striking circular design that draws the eye into the center of composition. For variety, you could also take a picture from partway up the stairs or from underneath. The graceful lines of the stairway would still be apparent, but the design impact would be totally different. You could also shoot images of the angular stairways and landings on the outside of urban buildings. Then come in closer and photograph the shadows that these strong lines create.

If you're shooting a picture that encompasses a wide view, it's a good idea to use your camera's zoom lens on a wide-angle setting like 28--35mm. Another approach is to zoom in for a tighter view of a staircase and isolate a detail or compose an abstract design. You'll want to use the telephoto end of your zoom lens to bring a small area in close, such as a focal length of 80--100mm. (You'll also want to utilize the close-up mode on your camera.) Stairways sometimes offer the chance for you to simplify your composition by looking for patterns created by lines or shapes.
This rustic image of a ladder was enhanced with Photoshop Elements.
Reader photo by Harvey Morgan II, Santa Fe, NM
In a photo, lines can be used to lead, connect, separate, define and unify. In the rungs and railings of a single staircase, lines of varying shapes and designs may occur--curved, straight, horizontal, and/or vertical--which offer opportunities to capture eye-catching abstracts. Your job is to take time to find a viewpoint that organizes these elements into an eye-catching design.


FEATURED VIDEO