Shoot EPIC Travel & Nature Photos Under Boring Clear Skies (VIDEO)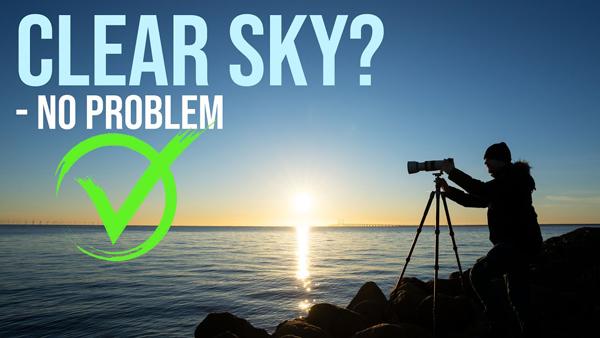 Tourists, hikers, and other outdoor enthusiasts love waking up to a bright day with clear skies. The opposite is true for outdoor photographers, for whom clear, featureless skies without clouds can be an absolute nightmare.
Fortunately there are a few tricks for capturing beautiful images when clear skies are in the forecast. In the interesting video below, Danish landscape photographer Mads Peter Iversen offers a variety of tips for getting the job done when the weather is "too good."
For this behind-the-scene episode Iversen arose early, in time to arrive at his destination before sunrise. As he explains, "When you're photographing with a clear sky, what you always want first and foremost is a compelling subject." In this instance he chose a picturesque bridge connecting Denmark and Sweden


The problem with clear pale blue skies is that they don't offer much interest to a scene. Iversen recommends countering this problem by shooting at Blue Hour or Golden Hour when even a featureless sky is full of beautiful, soft colors.
A related tip is to try finding an area in the scene with complimentary, contrasting colors. Another technique is to frame a shot in a way that deemphasizes the sky, and Iversen provides a number of helpful composition tips.
Other topics in this 13-minute video include how to make the most of a long lens, incorporating the sun or the moon in the shot if possible, and a few other technical tricks.
After watching the video head over to Iversen's YouTube channel where you'll find much more of interest on outdoor photography.
And check out the tutorial we posted recently, explaining how to shoot perfectly exposed landscape photos under a variety of conditions.

FEATURED VIDEO