7 Features That Make the SOG S66 PowerAssist Multi-Tool a Great Father's Day Gift for Your Picture-Taking Dad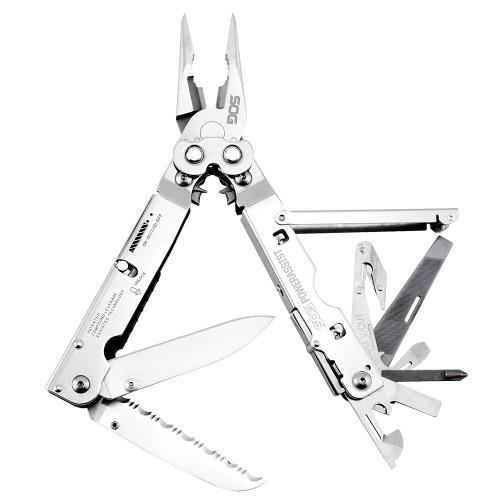 Dads and tools go together like crooked public servants and greasy bags of banknotes. Photographers tend to tote tools, too. Put it all together (minus the politician) and we just might have the perfect Father's Day gift suggestion. And it comes from SOG, a company with a rich and venerated heritage.
An old gag says that a man with only a hammer sees every problem as a nail. If that's true I must have been born with an oyster knife because I prefer to think that there's a pearl instead every lump life gives you, if you have the wherewithal to dig past the messy, ugly part. No matter how you respond to adversity, the S66 PowerAssist Multi-Tool from SOG is equipment enough to help you find a speedy solution.
Here are seven reasons this just might be the best Father's Day gift ever.
1) Extra built-in safety features. It's obvious that SOG went to great lengths to keep S66 users safe. For example, the two knife blades (one straight and one serrated) can be locked in place when stowed and locked tight when deployed.
2) Blades can be used without opening the tool. Both blades are accessible even while the tool is still folded. That makes it easier and faster when you just need to open a box or cut some rope. Either blade makes short work or trimming seamless background paper or nipping duct tape.
3) Sixteen tools. Have you ever opened a multi-tool and asked yourself, "What in hell is THAT attachment for?" That does not happen with the SOG S66. There are 16 tools and they all make useful sense. Photo enthusiasts will find everything needed to fieldstrip a tripod or repair a video rig.
4) Needle nose pliers with geared leverage. Compound leverage technology works by employing multiple pivot points that generate greater handle travel in relation to jaw movement. SOG claims that the jaws have about double the bite-down force of regular pliers. Fix stubborn zippers on gadget bags or reluctant baseplate screws with ease.
5) Smooth handles. Small thing? Hardly. If you ever used a first generation multi-tool you probably still have the scars on your palms to prove it. Smoother handles allow you to squeeze the pliers tighter too, without discomfort.
6) Replaceable tools. In the unlikely event that an individual tool becomes damaged, you can replace it without replacing the whole set. Neat.
7) Warranty. All SOG products are guaranteed for the lifetime of the original purchaser—provided, of course, the tools are used and cared for properly.
The SOG S66 PowerAssist Multi-Tool has an MSRP of $119 and comes complete with a durable nylon belt case. You can order online from SOG or a variety of other retailers including Amazon and Home Depot.
—Jon Sienkiewicz

FEATURED VIDEO