Selling Your Photography At Art Shows
Two Experienced Pros Tell You How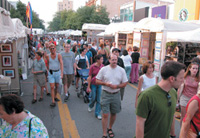 People browsing the Ann Arbor Summer Art Fair.
Photos © 2002, Larry Berman, All Rights Reserved
You've been taking pictures for years. You show your prints to friends and family members and they constantly give you positive feedback and tell you how much they love your photography. Perhaps you've thought about selling your pictures professionally, but how do you begin? We will guide you through the process of marketing your photographs at the thousands of juried art shows that take place around the U.S.A.
Fine Art Festivals
Outdoor art festivals can be found in every state of the union. They are usually at their peak when the weather is nicest--down South in the winter, up North in the summer. They range from small local affairs, with low-end crafts and imported items set out on card tables to huge well attended events with outstanding art work on display. All kinds of arts and crafts may be exhibited, painting, pottery, sculpture, glass, and of course, photography. Major art shows like The Coconut Grove Art Festival, The Ann Arbor Summer Art Fair, and Cherry Creek Festival of the Arts have attendance in the hundreds of thousands.

Now imagine your photographs matted and framed on display while dozens of people crowd into your booth eager to see and buy your work. Each weekend thousands of photographers sell their prints at art shows all over the country, and you can, too.

When we first started exhibiting at art shows over 25 years ago, most of the shows we did were fairly local, sometimes in a shopping mall or in a small park. Between the two of us we have sold tens of thousands of original prints over the last two decades. We will share the "secrets" of our success and help you avoid the many mistakes we made over the years.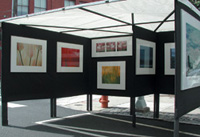 NonCommercialCanopy: Gary San Pietro built a distinctive one of a kind seamless walled booth to simulate a gallery setting. His photographs have been previously featured in the August 2002 issue of "Shutterbug."
Getting Started
There are three challenges facing someone who wants to sell their photographs at art shows. First, choosing your best images and preparing them for sale. Second, finding where and when the good shows are, and how to apply to them. Third, building or purchasing display equipment that will show your work to best advantage and protect it from the weather.

It's a great idea to begin by visiting local art shows and seeing what other artists and photographers are selling and how they go about displaying their work. Next, using the resources we share with you on the web site at the end of this article, choose a major show and visit it to check out the top photographers. Ask questions of the artists you meet. Some will be helpful and willing to share their experiences with you. Others may not be as forthcoming. But look at the work, note the different types of displays, and think of your work displayed in that venue.
Selecting Your Best Work
It's normal to begin with a wide selection of subjects and styles in your photographic work. After all, that's how you've been shooting up to this point. When first starting out consider letting the public decide which your stronger images are. It will be hard to guess which images will sell best, very often they will choose pictures that will surprise you.

In general, people pictures are a hard sell, unless the people are from an exotic culture. Still life subjects, European scenes, landscapes, wildlife, and images that capture a magic about the subject often do quite well.

To optimize your success you should focus on creating a unified body of work. It's all too easy to lose sales because your display confuses a potential buyer. When you hang a large number of images in a limited space, they will interact with each other, and that dynamic will either help or hurt your sales. Remember, at a good show you will be competing with several hundred other artists who are showing and selling their work. What is it that will grab people walking by your booth and cause them to stop and be drawn in to browse your images? Your presentation and your work must reach out to them.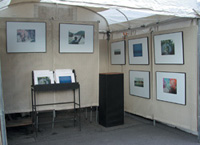 UniformBooth: Larry Berman's display using commercial covers on homemade display racks under a commercially manufactured Craft Hut canopy.
Preparing Your Photographs For Exhibit
Although it may seem to be a daunting task to produce enough work to fill an entire exhibit, once you have the right tools and suppliers, you'll find that it is actually easier to produce a quantity of matted and framed work than it is to do just one or two pieces.

Printing, mounting, matting, and framing all have to be done on a professional level. The more of this work you can do yourself, the lower your costs will be, and the greater your profits. Finding suppliers who can sell you frames and matting supplies at wholesale prices, and working with photo labs that offer substantial quantity print discounts, will ensure your sales are profitable.

Also, keep in mind that some art shows require the photographer to do their own printing. Each show will outline its requirements in the application, so be sure to read what is expected of you before you sign the contract.

Just as materials and labor are a factor in your selling price, so is competition from your peers. While it is obvious that you can't spend $150 to print, matte, and frame a 16x20 if you plan on selling it for $100, it's also true that it is quite difficult to sell a piece at a substantially higher price than your competition does for that same size. The ultimate goal in the art show market is to create imagery that transcends the price barrier. To be successful you will have to produce great images at acceptable prices.

If you are looking for a professional photo lab that works with photographers on the art show circuit, we can recommend two. Fine Print specializes in producing quantity prints at wholesale prices. Formally a C print lab, they've now gone digital producing quantity digital prints at wholesale prices. It's one of the most widely used labs by photographers selling at art shows. Foto 1 also does excellent work and prices their quantity LightJet (digital) prints similar to quantity machine C prints. We define quantity as multiple prints from the same negative or digital file.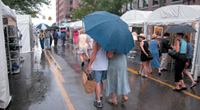 Even the rain doesn't dampen the spirits of the art inclined at the Ann Arbor Summer Art Fair. The veteran art fair goers carry umbrellas and are prepared for changes in weather. Some actually prefer the rain because the less serious viewers leave, freeing up the normally crowded streets for the serious shoppers.
Print Presentation
There is no one correct way to mount and matte photographic prints. You can dry mount, vacuum mount, hinge your prints, or use special adhesives. Will your work look best in colored or white matte board, single or double matted? Should you matte using rag (museum) board, regular matte board, or white or black core matte board? What style of frames look best on your images? Remember to consider the overall look of your display. A single style frame will look better than a different frame for each photograph. But if your body of work is eclectic, than you might consider framing on a piece by piece basis.

The two most popular matte board companies are Bainbridge and Crescent. Both offer regular and acid-free board. If you're ordering under the minimum limit required by the manufacturers, companies like United Mfrs Supplies will sell in much smaller quantities but require you to open an account first.

If you choose to cut your own mattes, a professional matte cutting tool will save you a great deal of time and effort. We work with several different top of the line tools, including a Speed Mat wall mounted matte cutter which is designed for production work, and a C&H cutter which is also useful for cutting down backing board. You can also use an inexpensive handheld Dexter matte cutting tool. You can also purchase your mattes precut. We farm our matte cutting out to a company called Dixie Matting when we are pressed for time and have some major shows coming up. They have very reasonable prices for any size mattes you specify, either single or double, with and without backing, and each matte is cut by hand.
Getting Supplies
You will need a wholesale source for framing supplies. We would recommend both M&M Distributors and United Mfrs Supplies as excellent sources. They sell all the art materials you need to produce professional framed art work. There are a multitude of companies that sell frames. Many exhibitors on the art show circuit use a company called Florida Frames which sells quantities of quality wood frames at wholesale prices. High quality aluminum section frames can be purchased from suppliers like Frame Fit.

Non-glare glass reduces the reflections on your framed works, but costs a lot more and can soften the appearance of your photos. Call local glass distributors, and ask about purchasing "single strength" glass by the box. (A box is always approximately 50 sq ft of glass so a box of 16x20 glass will have 23 "lites," or pieces of glass in it, while a box of 11x14 glass will have 47 pieces in it.) Buying glass in this way will be far less expensive than buying it at a local shop. If given the choice, we always prefer paper packed pre-washed glass to powder packed glass, as it doesn't require cleaning.
To Frame Or Not To Frame
Besides hanging framed pictures on your display, you should also offer unframed photographs for sale. This serves four purposes. It gives you a less expensive item to prepare and sell. It lets you display different images that might not have the same theme as the ones hanging on the display. It allows people who have different tastes in framing to buy your work and frame it in a style that will be more appropriate for the place that they intend to hang it. And it can generate a cash flow by providing a less expensive product for sale.

Your unframed photos will need to be matted and mounted and displayed in a browse bin, protected by clear bags or shrink wrap so they can be seen and handled without damage. We recommend clear acetate bags from a company called Impact Images. They are a much simpler alternative to shrink-wrapping. Though slightly more expensive, the ease and speed makes it worth the extra expense. Bags are available in all standard sizes for two-dimensional artwork and have a flap with a peel-off adhesive strip to make sealing easy.
Choosing Shows
We recommend that you only apply to juried art fairs, as this audience is more likely to be interested in purchasing original signed photographs. If you would like to get a bit of experience by doing small local events to start with, that is not a bad idea, but don't be disappointed if your sales are not as high as you would hope. The big national and regional shows are where most serious art buyers go, and you should, too.

There are many ways to find out which shows are likely to provide a good market for your work. Many state arts councils have listings of events, but they are often lacking in details that will help you find the shows that are right for you.

Sunshine Artist Magazine is the closest thing there is to a trade magazine of the art show business. They feature show reviews listed by state, and each monthly issue contains hundreds of art show listings that are sorted by location and date. There are also advertisements throughout the magazine for companies that sell products that are used by art show exhibitors. If you're just starting out, a subscription to this magazine will be extremely helpful. (Co-author Chris Maher writes a monthly column for "Sunshine Artist.")

Perhaps the best source of insightful information on high quality art and craft fairs in the US is The Art Fair Sourcebook, put together by the veteran art show photographer Greg Lawler. The book is published annually and is a necessary resource if you're considering art shows as a profession. It lists the top 300 art shows in the country with an in-depth look at their requirements. This is an extremely useful guide, and will give you a real jumpstart choosing the right shows to exhibit in. While it is not inexpensive, it will save you the expense of setting up at shows that you won't be able to make money at.

Over time, you will also find that lots of really useful information will come from your fellow exhibitors. You will quickly begin to make new friends with other art show veterans, and learn from their experiences.
Creating Your Jury Slides
Earlier we stressed the importance of a unified body of images to hang in your booth. Even more important is a unified body of images to submit as slides for jurying into the shows. If you don't get accepted into the shows, you'll have no place to market your photography. Photographers have two advantages over all other mediums in the preparation of jury slides. First, they are photographers and, as such, know the best way to prepare their imagery. The other is that the photograph can be presented full frame on the slide, void of the matte and frame. For years the photographers who shot 35mm slides had the advantage of easily submitting dupe slides of their originals. Now, digital processes can help everyone optimize their jury slides.

Aside from the individual image slides, you will also need a booth slide for most applications. This is required so the art show gets a feel for how professional your display will look. This is where a unified body of images can clearly work for you.

In total you will need five or six individual slides plus the booth slide. An added advantage of being a photographer is that you can shoot rolls of in-camera dupes. Each application will need its own set of slides so you will need to have multiple sets on hand to apply to more than one show at a time.
The Application Process
After you have decided what shows you would like to exhibit your work at, you will need to send away for the applications. Most art shows mail their applications six to eight months before the event. The application will list their requirements for admission and for display. It also lists the quantity of slides required, how to label the slides, the fees to enclose (both booth and application fees), the date it has to be postmarked by, and if a self-addressed stamped envelope is needed for the return of your slides. (Don't miss the closing date!) Some applications have room for a description of your work, either generally or by slide. The show will use a group of judges to evaluate the submitted slides on a preset date. They then will notify you if you were accepted or not. Depending on the quality of the show, and the potential for good sales, some shows are much more difficult to get into than others.
Showing Your Photographs
Remember our suggestion that you visit a few shows to see what they are all about? You may have noticed that most of the booths had similar professional-looking canopies. Your first impression may have been that they are supplied by the show, but that's not the case. All the shows provide you with is 100 sq ft of display space. Outdoor booth spaces are usually a uniform 10x10 ft or slightly larger. It will be up to you to fill your space with a professional-looking display and canopy.

You may be able to rent one from a local company and have it already set up for you upon arrival at the site. Check with the show before you apply. But it is best to have your own way of protecting your work from the weather. One of the best outdoor canopies designed for artists is called the Craft Hut from Newton's Mobile Canvas. It seems to be the sturdiest and most versatile canopy on the market. It's reasonably priced at about $750 but will be more if ordered with lots of options. At the opposite end of the canopy spectrum is the low cost, lightweight, 10x10 pop-up type canopy you can purchase at Sam's Club or Costco for about $200. If you purchase one of these discount canopies, make sure to get all four sides as we've seen them advertised as coming with only three.

Now that you have a roof over your head, you will need walls to hang your work on. You can make your own, or purchase commercially made "display racks." Armstrong and MD Enterprises manufacture professional looking, lightweight display panels. They are 6.5 ft tall and connect together to form a stable display within your booth. As an alternative, there are a few companies that make fabric walls that roll up for storage and hang from the frame within the most popular canopies. This idea is a mixed blessing. The convenience of storage and lighter weight is offset by the lack of stability on a windy day and the lack of flexibility in how you can set up your booth. Another thing to consider is that they need the canopy frame to hang, which is a fixed 10x10. If you are planning to build your own display panels remember that they should be both sturdy and lightweight.
Weatherwise
Weather is a big variable when you are doing outdoor art fairs. You will be glad you purchased a good canopy when the weather turns nasty. You will need to keep your booth from blowing away in the wind, so bring some weights and ropes, as well as some dog screws. A screw gun and drywall screws work well on asphalt streets.

Display bins to show your unframed work need to be carefully planned out in design and size. Since you're only dealing with a 10x10 foot space, and hope that thousands of people will see your work, you need to design the booth interior to your best advantage. Once you have visited a few shows, you will be able to visualize what kind of display bins will work best for you.
Getting It All To The Show
So now you have a garage full of boxes of framed photographs and a display to hang them on. How do you get everything to the art show? You must be careful to prevent the frames from being damaged, so use cardboard dividers and make boxes to put everything in.

You can use boxes that the matte board came in. If you don't own a van or truck to pack everything into you will need to rent one. If you're serious about pursuing the art show market as a career, eventually you'll end up purchasing a dedicated vehicle for your new business.

We'll leave you with these words of wisdom. Never let anyone carrying an open umbrella into your booth in the rain.
For a complete list of resources, visit http://bermangraphics.com/ galleryartshows.htm.
Chris Maher and Larry Berman are photographers, writers, and web designers, specializing in image intensive photography sites. For a detailed list of resources visit their web sites www.ArtWebWorks.com and www.BermanGraphics.com.

Suppliers And Other Resources
The list on the web site http://bermangraphics.com/galleryartshows. htm consists of resources that we've had personal experience with for years. It is by no means complete, as you'll find out when you begin creating your own resource list. Also, don't rule out the resources that don't have a web site or toll free number.
Tip Sheet
Web Site Promotion--Use your web site URL as your business name on your booth sign.

Contacting People Interested In Your Photography--We recommend collecting e-mail addresses of interested people in two ways. One is an e-mail collection form on your web site. Another is an e-mail collection list you keep in your booth. Get in the habit of maintaining a database of customer information so you can send out e-mail to them on a regular basis.

Credit Cards--Accepting credit cards will increase your sales. But getting setup as a merchant can be difficult. There are several businesses that specialize in getting artists set up with merchant accounts. See our resource list for more details.

Package Customer Purchases--We recommend using clear plastic bags for your customers' purchases for a number of reasons, like protection from the weather and self-promotion. Available in every size imaginable, we've been buying ours from the EverGreen Bag Company.

Preparing For Bad Weather--RadioShack has several inexpensive weather radios which will serve you well for years. Knowing about impending weather conditions that can damage your display will give you the time you need to protect your work. Carry a few oversized white tarps and spring clips to fasten them to your display as needed. Rolls of paper towels can also help if your work gets wet. An excellent display canopy like the Craft Hut with awning and clear side tarps can protect your work and allow you to keep selling even after bad weather has forced your competitors to close.

Lights--If you have room in your vehicle, you can carry small clip-on lights and extension cords just in case you have access to electricity. You never know when you'll be under a tree on an overcast day and the person next to you might have a generator. For shows that you know will provide electric power you can carry track lights for a classier looking presentation.

Discuss Aspects Of Selling On Forums--We've created a forum on Yahoo Groups where photographers can discuss all aspects of selling photography at art shows. Including, but not limited to, taking photos that sell, printing processes, preparing them for display, display equipment, preparation of jury slides, applying for shows, the use of digital tools in taking and preparing the photos, and creating jury slides from digital files. Other art show mediums are also welcome to discuss how to best photograph their work for jurying. In addition to the forum, there is a companion resource web site with numerous articles pertaining to the art show industry and an extensive resource and links page. The forum: http://groups.yahoo.com/group/art show_photo. The companion web site: http://artshowphoto.com.

FEATURED VIDEO