Seeing Life Firsthand; The Photography Of Peter DaSilva
As a newspaper photographer, you never know when you show up in the morning what you're going to be working on--sometimes it's an environmental portrait, other times a feature, or a documentary image that is posed," San Francisco-based Peter DaSilva says.

"Whatever it is, I need to produce a picture of quality every time I'm sent out. Though many shooters focus on a particular style, a good news photographer has to be able to adapt on the fly, sum up a location quickly, and think of all the different options as soon as they walk through the door. And when they go in, whatever is happening is what they get."
Beverly Cleary
Renowned children's author Beverly Cleary sits by an early portrait of herself in the living room of her Carmel, California, home. Cleary recently published her latest children's book, Ramona's World, which has been 15 years in the making.
All Photos © 2006, Peter DaSilva, All Rights Reserved
DaSilva was a product of the 1980s in Berkeley, California, during the anti-apartheid movement. Though he had some interest in photography, he began to take it seriously as he became more politically active.

"We were still protesting," he recalls, "and I would go to these things and there was something about coming home and seeing these places portrayed in newspapers or on the news and thinking, `wait a minute--that didn't happen' or `it was not like that.'

"I started taking pictures for a college paper in Berkeley, The Daily Californian. They were off-campus but produced the newspaper for the University. I got my first published picture on the cover of a weekly. It was of protesters being trampled by University police, a pretty violent incident.
Neil Young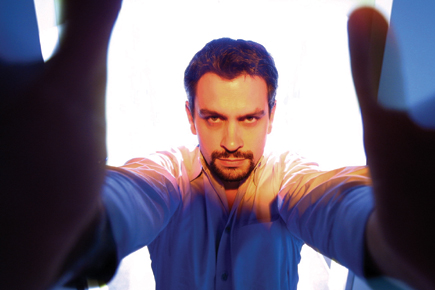 August 20, 2001; Redwood City, California. Neil Young, VP Exec. in Charge of Production at Electronic Arts in Redwood City and co-creator of EA's Internet game "Majestic," tries to pull
you in like his game Majestic. Photo by Peter DaSilva/for The New York Times.
"I began to think I wanted to photograph, that I could be a part of history and record what I witnessed rather than sitting back and looking at what others had to say. I saw things firsthand and recorded them, and it snowballed."

DaSilva began to meet other photographers and discover what the industry was like, becoming a stringer for the wire services, starting with UPI and AP in San Francisco, becoming one of their top stringers for almost four years.

"I worked under some incredible photographers like Pulitzer Prize winner Sal Veder," he says. "Sal taught me much about life and how to deal with people respectfully as a photographer. The gang from AP helped me hone my skills and I am forever grateful."
John Lee Hooker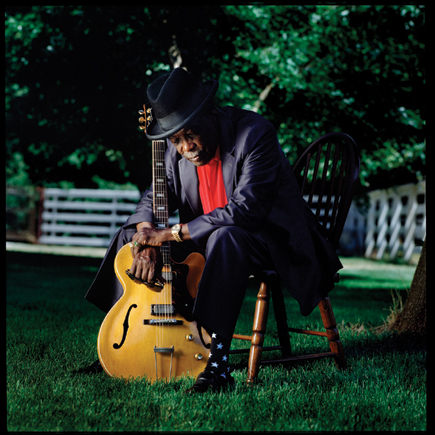 June 19, 1997. Blues artist John Lee Hooker at his Woodside, California, home.
They taught DaSilva how to best sell the story and to become a generalist in the sense that no matter what they threw at him he needed to produce, whether a portrait or a documentary. Wire service photographers do everything and they do it quickly because there are always rigid deadlines.

"Editing was done in the camera," DaSilva says, "and you really had to look for your pictures and to assess each experience. There was not always the luxury of setting up the lighting or a portrait subject who would give me half a day."