Review: OWC Envoy Pro Elektron is the Smallest and Fastest 1TB External Drive Money Can Buy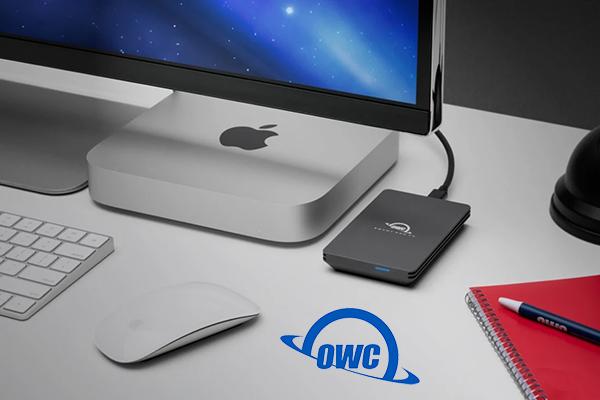 We never thought we'd be comparing the dimensions of an SSD external drive to the tiny size of an SDXC card, but here we are. Slim enough to slip into the watch pocket of your favorite Levi's, the OWC Envoy Pro Elektron is also the fastest mini-sized USB-C bus-powered SSD in the universe.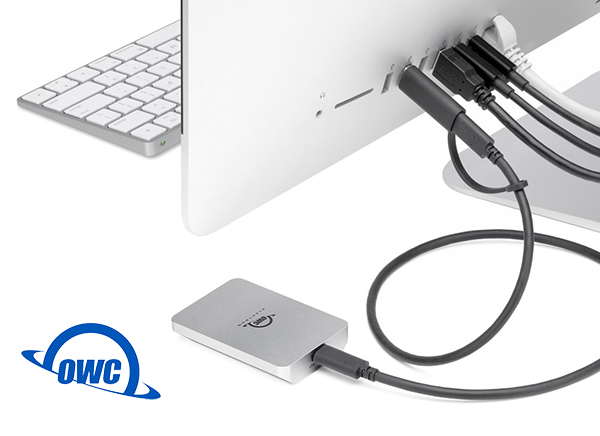 Superior Technology Delivers Speed in Small Form Factor
It's a matter of science, not marketing hyperbole. It's as true as saying that a half-gallon bucket holds more beer than a 12-ounce bottle.
Here's why.
All SSDs (Solid State Drive) use non-volatile memory instead of spinning media like conventional HDD (Hard Disk Drives) use. This is advantageous because there are no moving parts to wear out, make noise or fail because of debris on the platter surface.
However, most SSDs follow SATA protocol and use drivers that are in fact designed for hard disk drives with spinning technology.
This sometimes happens when hardware development progresses faster than software development.
OWC's Elektron instead uses Non-Volatile Memory Express (NVMe) advanced technology that delivers up to twice as fast performance compared to other portable SSDs. This allows you to save, backup and edit video, image files and other work files with up to 1011MB/s real-world performance. These numbers are not based on mathematical theory; they're the result of intensive performance testing, something OWC is famous for.
The OWC Envoy Pro Elektron is SMALL
Measuring just 3.0 x 2.0 x 0.5 inches W x L x H (that's 5.2 x 7.6 x 1.2 cm in the metric-friendly world) it can hide under a business card. It weighs 85 grams, or 3 ounces.
Plug and Play
The OWC Elektron is universally compatible, meaning that it's plug and play with Thunderbolt and USB Macs or PCs as well as devices like the iPad Pro and Chromebooks. No more "plug and pray." Additionally, for convenience and to assure satisfaction with compatibility, OWC includes a USB-C cable with a tethered Type-A adapter plug that is ready to fit into to any modern computing machine.
Own both a Mac and a PC? Elektron also works cross-platform between Macs and PCs if you use OWC's MacDrive software sold separately for $49. It's not just another driver; it's desirable even if you don't use an Elektron because MacDrive enables PC users to access nearly any Mac-formatted (HFS+) drive, DVD, CD, etc. It also includes disk repair functions.
Bus Powered
This means that the OWC Envoy Pro Elektron relies on the device it's connected to for power instead of an external (wall wart) AC adapter. Fewer parts to pack—in fact, all you need to carry is the Elektron and one USB cable.
Durable
The OWC Envoy Pro Elektron's enclosure is made of heat dissipating aircraft-grade aluminum. It's crushproof, dustproof and waterproof. It's rated IP67, meaning that it's unlikely that dust or water will ingress under normal conditions. For a complete explanation of IP ratings read this Shutterbug story: "Is Your Weather Resistant, Splashproof, Waterproof Camera Impervious to Water & Dust?"
And according to OWC, "…if you happen to drop this tiny but mighty drive onto a driveway or parking lot, the crushproof Envoy Pro Elektron can be rolled over multiple times without damage." We assume they mean by an ordinary vehicle and not a Bagger 288.
Bootable
Mac users can launch apps directly from the Elektron Pro and start working almost immediately.
In the Field
With less mass than an average digital camera rechargeable battery, the OWC Elektron Pro fits anywhere—camera bag, purse or pocket. No need to worry about sitting on it, either. And unless it's submerged one meter under water for longer than 30 minutes, you're safe getting it splashed, too.
Operating speed is amazing. Although most portable drives are relatively fast, the Read speed and Write speed of an Elektron will surprise you. We were able to upload and download large image files so fast that it appeared to be almost instantaneous.
Videographers, who often create enormous files, will love the ability to access 1TB of storage without the burden of carrying large, heavy drives. Elektron 1TB size will store about 41 hours of GoPro 4k video, for example. Of course, you can store other files, like 250,000 standard quality songs (38,000 high-quality songs) or 200 high-def movies.
Highly recommended. But I do have one small suggestion for the folks at OWC. Offer a set of slip cases in different colors so that users can color code multiple drives. Start with a safety orange case so that a wayward Elektron is easier to find in a cluttered gadget bag. Follow that up with a wallet-style 18% gray case that doubles as a White Balance calibration target.
Price and Availability
We honestly thought the 1TB capacity OWC Envoy Pro Elektron would cost around $250-$300, considering all it offers. So the price was a nice surprise. She's available from OWC for $169 in the 1TB capacity. Lower capacities start at $89 for 240GB. A 2TB model is available for $269 should you need more storage. Included is a 3 Year OWC Limited Warranty. Package contains OWC Envoy Pro Elektron, a USB -C cable with tethered USB Type-C to Type-A adapter and a scarcely necessary Quick Start Guide.
—Jon Sienkiewicz