Cotton Carrier Endeavor Photo Belt System Review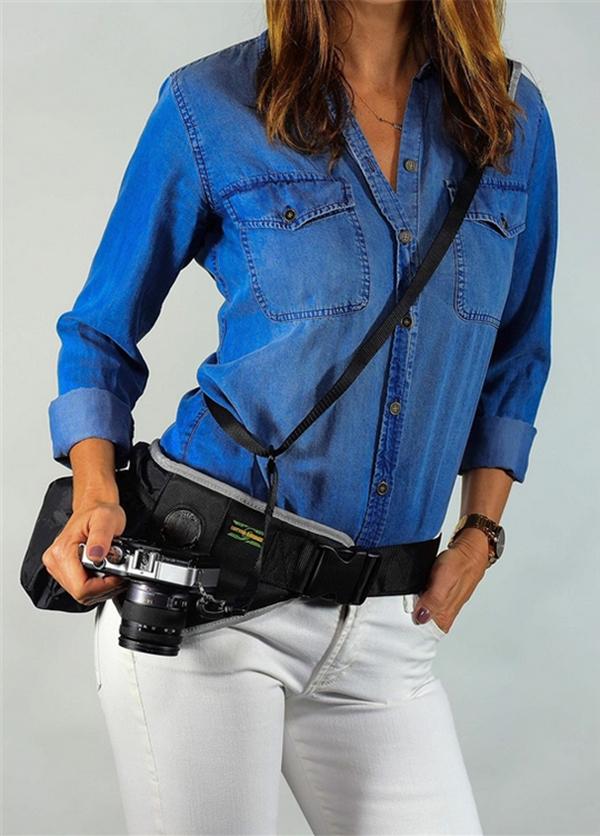 A few years back, while waiting for a beautiful but thoroughly flakey model in the parking lot of a restaurant near Liberty State Park, my boredom was interrupted by a black Lincoln Town Car that slipped suspiciously past me and parked a few spaces away. After several minutes, two men exited the sedan. They were wearing tuxedos and looked rather serious. The trunk lid popped open. Ignoring me completely, they rummaged through the trunk. One of the men removed his tux jacket and strapped on a large black holster. A moment later, the other did the same. I slid down in my seat, wondering if I was about to witness some weird reenactment of High Noon, right there in Jersey City.
When I realized that one of their weapons was a telltale-white Canon 70-200mm zoom lens, it dawned on me what was happening. As they loaded up their cannons—I mean Canons—I knew that they would soon start shooting, but not at each other. Their intended target was a newlywed couple. The restaurant was a popular spot for wedding receptions, and these two gents were photographers, on the scene early to scout lighting and locations.
That was my first encounter with Cotton Carrier. I learned from these two professionals that their Cotton Carrier systems allowed them to work through long events and location shoots without backache or neck strain. Cool—especially when you consider that nearly 70 million Americans will suffer chronic back pain this year.
So when Cotton Carrier sent me an Endeavor belt carrying system for review, I couldn't wait to get started.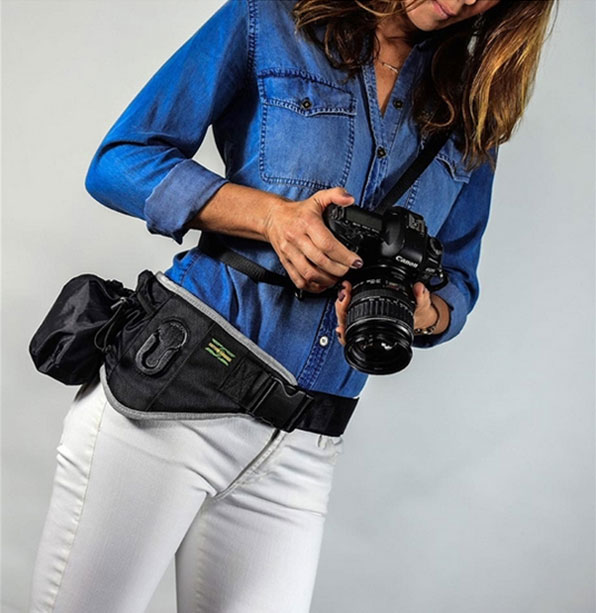 The belt is made of lightweight but extremely durable 1680 denier polypropylene material that's very neatly stitched and assembled. The quick release buckle is pleasantly oversized and all of the hardware is top drawer. The receptacle is made of very strong Lexan, by the way. It's going to last a lifetime, which is good because the Endeavor belt system has a lifetime warranty.
It's easy to use. Attach the Camera Hub to the tripod socket of your DSLR or mirrorless camera snugly using the included tool. Extend the belt around your waist and tighten it until it's comfortable. You don't want it too loose—the camera shouldn't sag when holstered. Next you attach the bandolier-style strap to the left side of your camera (as measured from behind). You can skip that step and freewheel it, but it's not recommended.
Once assembled, you turn the camera body so that the baseplate is parallel with your body and slide the Camera Hub securely into the receptacle notch on the belt. Once secure, the camera rotates so that the lens is pointing down and you are in business.
The system includes one regular Camera Hub, one Shoulder Strap with Sliding Safety Tether and the tools and miscellany needed to put it all together. There is an accessory pouch that's built marsupial-like into a smaller pocket that's integral with the belt. It will fit a small lens, but I found it perfect for the lens cap (which never seems to have a home once separated from the lens).
It's comfortable to wear. It keeps your DSLR literally at your fingertips so it's always ready to rock and roll. It's one of those accessories that you may not think about until someone shows it to you—but once you've tried it, you're hooked. Highly recommended.
The Cotton Carrier Endeavor Belt System sells for $89 and can be bought at leading camera retail locations, online at www.cottoncarrier.com or from Amazon.
—Jon Sienkiewicz

FEATURED VIDEO