Quiet Images; The Photography Of Philip Perkis
The photographs of Philip Perkis come from his own inner world; they are quiet images that speak to us intimately. Presented in a recent show at the Alan Klotz Gallery in New York, many of them grace the pages of his new book The Sadness of Men, published by The Quantuck Lane Press.
Warwick, New York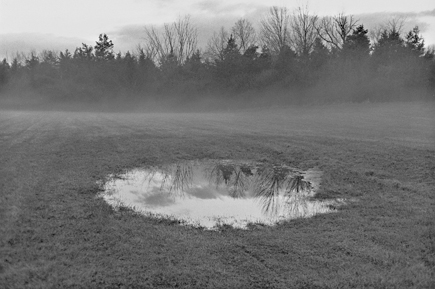 All Photos © 2008, Philip Perkis, All Rights Reserved
Currently a teacher at Pratt Institute and the School of Visual Arts, Perkis tells his students, "You can point this little black box at something that has a real emotional resonance, real meaning, real poetry. It's magic and you never figure out why it happens.

"You don't know and I don't know, and I hope I don't find out. For me doing photography is like this puzzle that is never going to be solved."
In 1957 Perkis was in the Air Force aboard a bomber carrying a hydrogen bomb and staring out the windows of the plane for hours at a time scanning the skies. "That was my job," he says. "During that same time I met a man named James Oliver Mitchell who was a noted photographer from California and I became interested in photography. Mitchell was an interesting photographer and influenced me greatly. He took me to the Post Exchange and helped me to buy my first Leica."

Robert Frank became his idol and when he saw the original French edition of The Americans by Frank and Jack Kerouac in '57 his life changed and he has been photographing ever since.
Using 400 speed film, Perkis shoots black and white, always within a horizontal format. He does not use a tripod or lights or "any of that stuff" and prints with as much detail as he can get. As for what he photographs, his answer is, "Anything I can look at—my wife—my kids—landscapes—cityscapes—wherever I go. It's my 'Wow! Look at that.' Sometimes it's just the way the light hits an object. I am very interested in vision—vision is a miracle and I think there is a religious quality to seeing. At the beginning of the Bible God said, 'Let there be light.' The whole thing is light. Just looking out my window and seeing the building across from me is amazing. I am very straightforward in what I see, nothing weird, and I am still using film because I love what I do.

"It would probably take me three years to get as good with digital as I am with film and I don't like computers or the technology. Sitting in front of a screen and pushing a mouse around is not for this Luddite. I still think tape recorders are newfangled devices.
"A lot of people do digital work and it is very beautiful and I have no argument with that," Perkis says. "But I love the darkroom. I put on my '50s bebop jazz and I have a huge darkroom with a rubber floor so I can take off my shoes and I'm happy as a puppy."
Rio de Janeiro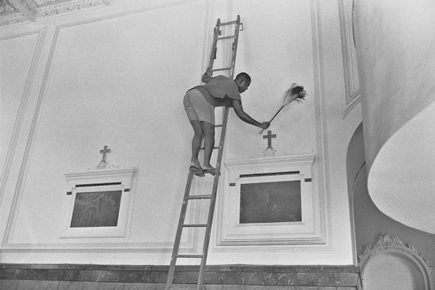 Perkis has been photographing and doing his own printing for over 50 years but he also made his living printing for other photographers and even now gets his thrill watching a print come up from the developer.

Perkis is extremely interested in painting and drawing; "Even more so than photography," he says. "I go to the Metropolitan Museum at least twice a month to look at the works."
As a student at the San Francisco Art Institute he studied painting seriously. However, he also acquired a wife and a baby so the consideration of a family to support swayed him toward the possibility of making a living from his photography.

"I did all kinds of commercial work that you could imagine—weddings, bar mitzvahs, and some high price stuff. I've always made half of my living doing commercial assignments and the other half teaching. I have made time each day though to do my own work. That's the center—I photograph every day!
First Born, Goshen, New York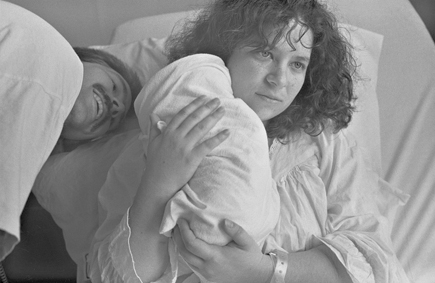 "Last year," he says, "I had a retinal occlusion and have lost the sight in my left eye—the eye I took pictures with for 50 years. It changed me a lot! My work looks a little different and it makes me want to shoot all the time because I realize that time is running out and I am now 72 years old."