Quantum Qpaq-X Modular Power Pack
Quantum's new Qpaq-X, a high-energy portable power supply for the Qflash model X and X2, is a professional-quality system that lets the user select from 200 to 800 ws of flash power by combining snap-together capacitor and battery modules. In addition to keeping size and weight down by using only the components needed, this intelligent design offers a choice of two battery sizes, normal and fast recycling, individual control of two flash heads, as well as operation from US and overseas AC sources.

The PX Command Module supplies 200 ws from the PB1 High Per-formance Battery Module or PB2 Compact Battery Module, featuring 6-7 hour and 3-4 hour re-charge times, respectively, that mount beneath it. Additional power is added in 200 ws increments by placing PXC Modules between the PX and battery, although the energy of 600 and 800 ws setups will be split between the two flash connectors so that neither receives more than 400 ws.

The PAC AC Module fits between the PX and PB1/PB2 to run the system from AC power while charging the battery with the PR3 Fast Charger. Use the PDC Dual Battery Adapter to externally charge one or two PB1s or PB2s with the PR3, the PR1 Standard Charger (available in US, Euro, and UK versions), the PR2 Universal Charger, or the PRV Vehicular Charger. Times vary with setup, but the PR3/PAC combo charges one PB2 in under one hour, or one PB1 in about three hours. The PR3/PDC takes 1-2 hours with two PB2s, or 4-5 hours with two PB1s. All modules are keyed to prevent incorrect combinations.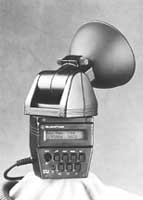 Power configuration determines number of flashes and recycling time. With normal recycling, a fresh PB1 yields around 350 full-power flashes, then drops to 180, 135, and 90 flashes as one, two, or three PXCs are added. Recycling times are 3.2, 6.4, 9.6, and 12.8 sec, respectively. The same array gives 275, 140, 105, and 70 flashes, at times of 1.8, 3.6, 5.4, and 7.2 sec, with Ultra (fast) recycling. A PB2 yields 160, 80, 60, and 40 full-power flashes (with zero, one, two, or three PXCs) at the same normal times as a PB1, with the PB2 giving 120, 60, 45, and 30 pops at PB1 Ultra times.

Like previous Qflash heads, the rugged, cleanly styled model X2 uses a keypad and LCD panel to control and monitor all functions. The panel lights as long as the power supply is on, but increases in brilliance for 4 sec when one of the seven keys is pressed. A polarized dual-blade synchronization cord socket is located on one side of the body, and a coiled twist-lock power cable, extending to over 6', exits the other. The Qflash attaches to a stand or bracket via its 1/4x20 bottom bushing, with the Qpaq-X requiring the optional PPM Stand Mounting Kit.
Flash mode is selected by pressing the mode key, then scrolling through the options with the up/down keys. In auto, aperture value is displayed in the upper right area of the panel, the distance range and reflector type (normal, wide, or diffused) appear beneath it, with ISO showing in the lower left. The set key toggles between aperture and ISO so that up/down changes either, in 1/3 stop increments, while continuously adjusting the auto distance range. Should an impossible combination be chosen, the displayed aperture changes to the required value.

Manual mode displays guide number, flash power, aperture, and distance. The set key now adjusts power level, ISO, and aperture in 1/3 stop increments, with fractional values displayed with a plus or minus sign. Man 2 and Man 4 settings made with the option key program the head for use with 200 or 400 ws Qpaq-X setups, as well as compatible Norman and Lumedyne power packs. Other options are speaker on/off, normal, wide, or diffused reflector status, and feet or meter distance display.

In strobo mode, scrolling through Hz, number, and the power fraction with the set and up/down keys sets the number of flashes per second, the total number of flashes, and power level. Frequency choices are 1 to 50, with 1 to 35 consecutive flashes. The circuitry again prevents combinations for which there is insufficient power by changing one setting as needed if another is adjusted out of range. One can have many small bursts in a short time or a few moderate ones spread out--10Hz and No. 10 yields 10 1/32 power flashes in 1 sec, whereas 1Hz and No. 10 gives one 1/8 power flash every second for 10 sec.
The accessory QF21 Remote Sensor attaches to the camera hot shoe and overrides the flash body sensor for off-camera auto operation. With the appropriate adapter, the model X2 gives TTL exposure control with compatible 35mm and medium format cameras. The LCD panel confirms proper connection and provides the same over, normal, and under post-exposure messages. The QF50 patch cable gangs two or more heads together, yet allows each to function individually in any mode.

Other Qflash niceties include a built-in exposure confirmation spea-ker, although plugging an earphone into the audio jack disconnects it for jobs where silence is preferred. Program mode retains user-selected system information for up to four manual, auto, or TTL setups. An adjustment screw under the sensor allows fine-tuning of the output by up to 1/2 stop over or under factory settings. With a fit and finish that is strictly first class, the state of the art circuitry and smooth user interface of the American-made Quantum Qflash and Qpaq-X makes consistently accurate exposures a snap.

For more information, contact Quantum Instruments, Inc., 1075 Stewart Ave., Garden City, NY 11530; (516) 222-6000; fax: (516) 222-0569; www.qtm.com.
Technical Specifications

Quantum Qpaq-X Modular Power Pack
System: Modular AC/DC power supply for Quantum Qflash model X and X2; provides 200, 400, 600, or 800 ws of flash power with add-on capacitor modules; uses interchangeable memory free sealed lead-acid batteries
Size And Weight: PX Command Module 3.25x3.25x6.5", PXC Add-on Module 3.25x2x6.5", PB1 Battery Module 3.25x3.25x6.5"; approximately 7 lbs total
Quantum Qflash Model X2
Modes: Auto, TTL, manual, stroboscopic, and slave
Modeling Lamp: 12v, 35w halogen
Reflector: Removable 45/8" aluminum, adjustable for normal or wide angle coverage; full H/V movement, 90° illumination with snap on diffuser
Power Supplies: Quantum Qpaq-X, some Norman and Lumedyne models
Guide Number: 226 at 400 ws (in feet, ISO 100, normal reflector)
Maximum Flash Power: 400 ws
Auto Aperture Range: f/1.4 to f/32
Manual Power Control: Full to 1/64 in 1/3 stop increments
Strobo Mode: User selectable frequency and number of flashes, self-adjusting power level
Color Temperature: Approximately 5500K at maximum power
Flash Duration: 1/250-1/9900 sec at 400 ws
ISO Range: 12 to 3200
Size And Weight: Body, 3.2x3.5x6.5"; reflector, 4.6x2.5"; 1.75 lbs total

LATEST VIDEO