Quantum's Turbo Slim Compact Battery & More; The Studio In A Shoebox Revisited
More than 20 years ago, photographer and photographic genius Gary Regester showed us all how to create a lighting system that used two shoe-mounted flash units and would indeed fit inside a shoebox. Over the years I've tried to create something similar--a set of small electronic flash units and all the required ephemera that would fit inside a small carrying case. But I never got it down to shoebox size--until now.
The key to making this 21st century version of a "studio in a shoebox" work is Quantum Instruments' Qflash professional flash unit that I covered in depth in the December 2004 issue of Shutterbug. You can read the story online (www.shutterbug.com, type Qflash in the Search box) in case you missed it. The latest model, the Qflash 5d-R ($641), supports wireless control of all dedicated D-SLR electronic Flash modes, including Manual, TTL, Auto, Auto-fill, and TTL-Ratio from up to 500 ft away. By using one of Quantum's QTTL adapters the Qflash 5d-R seamlessly blends with Canon, Nikon, and other professional digital camera systems.

The Qflash 5d-R supplies the main light for my shoebox--I wear a size 13--lighting system, but it's the other Quantum accessories that make it work so well.

Battery Powered
If you use any kind of shoe-mounted electronic flash unit you already know that the four ubiquitous AA batteries that power it aren't bad, but when the going gets rough they don't cut it. That's when you require a robust external power pack. While some camera and flash manufacturers offer optional external power sources, the best solution for me and other photographers has been the batteries from Quantum Instruments. Instead of memory-prone NiCd cells, Turbo Batteries use nickel-hydride or lead cells to give consistent performance.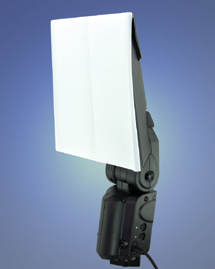 The Turbo Slim Compact, a.k.a. SC battery, provides up to 225 full-power flashes with Quantum's Qflash and up to 400 on shoe-mount units on a single 1.5-hour charge. Like all Quantum batteries, the Turbo SC features a "fuel gauge" that displays the amount of power remaining and monitors charging progress. What's different about the Turbo SC is its diminutive size. It's about the same size of a 3.5x5" index card and weighs less than a lb, making Quantum's Turbo SC the perfect power source for my shoebox studio lighting setup. The Turbo SC is compatible with all Quantum C- and CC-series flash cables and includes a 100-240v charger and a removable belt clip.

When the unit is registered using Quantum's website, the company will send you a free leather shoulder strap. During my testing period, my wife Mary photographed a few weddings using the Turbo SC attached to an old camera strap and it performed yeoman-like duty with her Olympus FL-55 electronic flash unit with the appropriate Quantum module connecting it to the battery. What makes the Turbo SC attractive to wedding and event photographers is a speedy recycle rate. It recycles up to seven times faster and has 10 times the power of internal batteries.
This business portrait was captured directly in Monochrome mode using a Canon EOS-1D Mark III and an EF 135mm SF lens. Exposure was 1¼60 sec at f/9 and ISO 100 and was first measured with a flash meter and fine-tuned by adjusting the camera's ISO speed. A Quantum Qflash 5d-R with QF69 Mini Folding Softbox was the main light with fill provided by a "bounced" Canon 550EX with STO-FEN diffuser mounted.
All Photos © 2007, Joe Farace, All Rights Reserved

This portrait of Mary was made with just a Quantum Qflash 5d-R with QF69 Mini Folding Softbox. An Adorama 5-in-1 reflector was placed on the other side and placed slightly behind her to provide fill, although I don't know how much it contributed since there is no modeling light on the Qflash. The flash was wirelessly tripped by using a Canon ST-E2 transmitter mounted on the camera's hot shoe. Exposure was 1/60 sec at f/8 and ISO 100. Lighting is pleasant, if not a bit flat.
In my shoebox studio setup, I could have hung the Turbo SC with that same camera strap from any protruding knob on the light stand, but instead I preferred using Quantum's inexpensive ($36.25) QBC clamp; it's a perfect, secure fit for mounting a Turbo or other Quantum battery on a light stand.


LATEST VIDEO