Q&A For Digital Photography
Digital help is designed to aid you in getting the mostfrom your digital photography, printing, scanning, and image creation. Each month, David Brooks provides solutions to problems you might encounter with matters such as color calibration and management, digital printer and scanner settings, and working with digital photographic images with many different kinds of cameras and software. All questions sent to him will be answered with the most appropriate information he can access and provide. However, not all questions and answers will appear in this department. Readers can send questions to David Brooks addressed to "Shutterbug" magazine, through the "Shutterbug" website (www.shutterbug.com), directly via e-mail to:
editorial@shutterbug.com
or
goofotografx@gmail.com
or by US Mail to: David Brooks, PO Box 2830, Lompoc, CA 93438.
Help Us Out...
To aid us in making Digital Help as helpful as possible, please be specific in your query and include components, including software, that you use. David says, "Make me guess the problem and I might guess wrong."—Editor
Q. Monochrome Color Shifts
I have a new Dell UltraSharp U3011 display. I hooked it up to a Mac mini 2010 with Snow Leopard and calibrated it with Spyder4Elite. The problem is, my black-and-white files (both scans and Raw file color to black-and-white conversions with Photoshop and Lightroom) have a green tint in the black and gray areas, even after using Spyder4 post-calibration color adjustment sliders. I would move the sliders toward purple and away from green. I even had Dell replace my display and still have the same problem with my black-and-white images. I think it is the nature of this particular model. I had no problem with my Mac display; I had it for years but it proved too small to use effectively.
Charles Smirnoff
via e-mail
A. The only Dell UltraSharp I tested and recommended is the 24" U2410. Most of the negative feedback I received was from users who purchased the 27" and 30" UltraSharp U models. A few U2410 models had color irregularities, but the problem was solved when replaced with a new display. Apparently the larger display screen sizes are not the same as the 24". One of my colleagues and a longtime friend purchased a U2410 and had to get it replaced immediately. Now, after more than two years, he has added a second U2410. That's maybe the better and less costly way to get more screen area. Two Dell UltraSharp U2410s provide twice the screen area, considerably more than a 30" display, and the two displays cost less than a single 30".
Q. Reconditioned LaCie 324i?
I know you own and are happy with the LaCie 324i monitor. Do you have any experience buying a reconditioned unit from the manufacturer?
Steve Vihon
via e-mail
A. Yes, I do own a LaCie 324i LCD display, and it performs very well. However, I am not happy that it was discontinued by LaCie, because now, if it fails, how do I get it fixed? I would not be so unhappy if LaCie would reveal who manufactured their 324i, and what model by that maker it is, because then I could find a repair facility that might have parts that would fit it. (By the way, LaCie does not manufacture most of the products it sells; they are products made by independent companies, and LaCie does not reveal who the manufacturer is.) So my answer is no. I would not spend money on a refurbished LaCie 324i unless LaCie would reveal the manufacturer and their model number.
Q. 35mm Film Scanner Options
My Nikon Super Coolscan 4000 ED scanner abruptly died. I suspect it will be extremely expensive to repair, and maybe not economical. What are you recommending these days for a replacement?
Michael Levy
via e-mail
A. I have been using Plustek's OpticFilm 7600i as a 35mm scanner for several years. It's the only consumer-priced scanner sold that works well. There are much more expensive scanners (made by Hasselblad/Imacon) but the price is out of most real people's budgets. Type Plustek OpticFilm 7600i scanner into the Search box on the Shutterbug homepage for my report. I should note that there is a newer model, the Plustek OpticFilm 8200i, that comes with SilverFast 8 software. I have not tested and reviewed this new model because I did not find this new software very user-friendly and it is completely different in operation and design than the Version 6 I have been working with since I began using SilverFast well over a decade ago. I guess I am getting old and set in my ways; I don't like having to relearn a new and different software workflow after refining the previous version for many years.
Q. Kodachrome Scans
My cardiologist, who has been keeping me ticking after a triple bypass 12 years ago, has asked my advice about purchasing a good slide scanner to result in enough resolution to make 8.5x11" prints. The tricky part of this is that he has 3000 Kodachrome slides, which I believe present their own problem if he wanted to use the "Digital ICE" technology to clean dust from the slides in preparation for the scans. Is there a 35mm size scanner being made today that would handle the job? Or perhaps he could purchase a used one, maybe a Minolta, not sure of the model, that would get the job done?
Dick Fellows
via e-mail
A. A lot of my 35mm film library is also Kodachrome, and you are correct—infrared detection and correction for dirt and scratch removal like Digital ICE does not work with Kodachrome or silver-based black and white. The solution I use is to clean the film with professional film cleaner. That does work and with older film of all kinds should be done before scanning. Google Shopping as well as Adorama and B&H carry the cleaner and the special wipes made to clean film.
The older Minolta and Nikon scanners are limited in resolution to 4000dpi while the Plustek OpticFilm 7600i scans at 7200dpi and yields a better image result. In addition, there can be problems getting good scanner software for some more recent computer operating systems for the older scanners, but LaserSoft Imaging has some at www.silverfast.com.
Q. Scanning Family Photos
I have been scanning several old family photos, black and white and old Kodachrome slides, and copying them to CDs. Family members have asked for these and will want to order prints from retail outlets. I scan using SilverFast 8, Adobe Elements, a Mac mini, and a calibrated Dell U2410 monitor. My monitor is calibrated (Spyder3) and set for RGB color. Should I be using sRGB instead, and reset the contrast to 50 percent? What about file size? Since I expect they will be ordering prints only at 5x7 or 4x6 size, I thought I would crop them to 5x7 at 300ppi for the CD.
Jerry Hite
via e-mail
A. Most inexpensive consumer print services expect image files to be in JPEG format and sRGB color space. So your display should match those specifications if you want the people receiving the CDs to be able to print them with the best print quality. So yes, set the Dell UltraSharp U2410 to sRGB Mode and adjust the brightness to 50 percent and the contrast to obtain a white luminance of 140.0 CDm2 (probably a little under 50 percent contrast setting).
Q. New Mac minis
Your comments on the Mac mini being a great photo-editing computer have convinced me to get one to replace an old tired PC. My plan was to purchase the mid-level mini with a separate graphics card, but that generation has been discontinued and as far as I can tell the new minis all have on-board graphics.
I won't be using the computer for professional-level editing, but I would like to get the best results I can. I'll be using Elements and probably Lightroom. It will also be used for general computing and surfing the web. My monitor is a Dell U2312HM. The Apple retailers near me (and a few not so close) have all sold out of the previous generation minis. What would you advise?
Brian Fullmer
via e-mail
A. The new, just announced Mac mini is quite a bit more powerful than the previous model, now with 16GB maximum installed RAM, the option of Fusion hard drive performance that is much faster, plus the new Intel 4000 video card is more powerful than the previous ATI version.
That's a lot of improvement for a Mac mini at the same basic price, but of course putting in the maximum 16GB of RAM will add to the cost. Even so, the mini now has almost maximum power for image editing and processing. So yes, I would recommend it without question.
Q. Color Laser Printing?
Is there any solid information on the longevity of color laser prints on archival paper? Photo print qualities are now very good with some printers, fine for family records, etc., if not for great art prints. The manufacturers claim to know nothing; does that mean that the prints are ephemeral, like dye inkjet prints a few years ago, or are they potentially fast and inexpensive substitutes for pigment inkjets? How permanent are the bond of toner to paper, the color of toners, and resistance to flow and blurring? If duplexed, will toner-to-toner pages ever stick together? Does anyone know? I'm thinking of using it in small-edition, self-published books for family and friends.
Warren Hamilton
via e-mail
A. I think you have already answered your question. The color laser printer segment is sold mostly to business users, and they do not usually make color printed material for long-lasting purposes. The exception may be some top-of-the-line products like the Xerox printers, but they remain costly to purchase.
My understanding is the color medium in those printers is dye based, so the life expectancy would not be greater than the best Epson and Canon dye-based inkjets. Inkjets are slower, so just invest a little more time and save on the cost of the printer and materials. By the way, a few years ago I tried a Minolta laser color printer and found it was not possible to color manage it, so matched color results may be impossible.
Update: Part-TimeReal Estate Photography
In the January, 2013, issue of Shutterbug, reader Ralph Selitzer, interested in doing real estate photography part-time, asked for my recommendation on lenses. I suggested that he use a tripod to get his camera level and then shoot two exposures side by side at 17mm to get a panoramic view. I also suggested that he could edit the photos in some of the newest Photoshop applications that have the panorama merge utilities. Though I'm not exactly sure as to what suggestion he used, I did receive the following note of success from Ralph:
"Printed 200 postcards, and got a job with the leading real estate agent to Brooklyn on the first contact. I'm making photos of Brooklyn areas—41 communities. Had an opportunity to photograph them before the Sandy storm—the only record existing. Fillmore is supposed to put them on its website, crediting me. We shall see."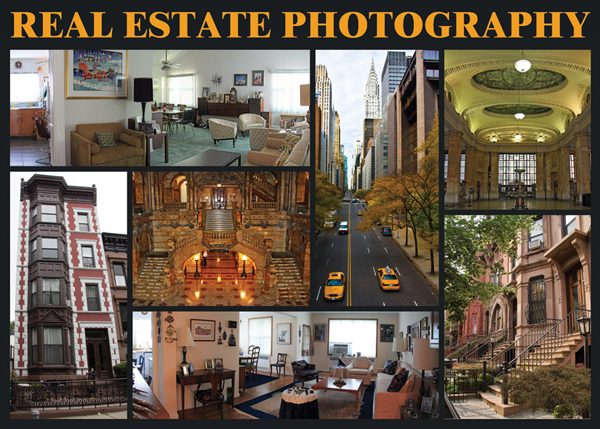 Announcement
I am pleased to announce the latest 4.3 edition tomy eBook Digital Darkroom Resource Cd. The CD now contains 33 chapters totaling 399 pages in Adobe Acrobat .PDF format, providing easy-to-read text and large high-quality illustration. The CD is available for $20 plus $5 shipping and handling (US Mail if available). Ordering is as simple as sending a check or money order for $25 made out to me, David B. Brooks, and mailed to PO Box 2830, Lompoc, CA 93438.

FEATURED VIDEO