Pro's Choice; Unconventional Stylings; Marshall Harrington's Unique Imagery
Shooting professionally since the 1970s, San Diego-based Marshall Harrington (www.marshallharrington.com) has employed various processes and techniques, film and digital, that give him a competitive edge. In my book, Location Lighting Solutions (Amphoto), Harrington described his work as "visual semiotics," explaining that "I love making pictures that tell complex stories but which are reduced to simple, passionate images."
PricewaterhouseCoopers sent Marshall Harrington around the world to create a series of images that would convey their global reach. Here, he had to contend with a downpour, so when it came time to shoot the group portrait, he decided to use umbrellas to tie it all together, which even extended to his lighting, with one monolight plus umbrella on each side. The color frames were shot on negative film with the Hasselblad Xpan, while a Canon EOS-1Ds Mark II was used for the portrait (converted to black and white in post).
All Photos © 2009, Marshall Harrington, All Rights Reserved
The "Deconstructed" Image
Harrington often takes a wide approach to image capture, having mastered the panoramic camera long ago. He'd owned and worked with Widelux and the Fuji G617 in the past. Of course he started with the basics, originally shooting with a Canon F-1, and soon moved on to a variety of medium format TLR and SLR cameras en route to large format. He's worked with Mamiya, Fuji, Sinar, and Horseman. His approach is simple: buy the camera, buy the system, because San Diego is not known as a center for gear rental. This way he'd have the lens he needed when he needed it. On the other hand, he points out: "I'm not a camera nut, so I don't run out right away and buy the latest iteration. I'm more about what the camera does. I'm still working with Canon, namely the 5D and 1Ds Mark II."

Today, his panoramic camera of choice is the Hasselblad Xpan. The resulting pictures have become his signature style. How he uses this camera is an art form in itself. He shoots a series of panoramic images, horizontal or vertical, and creates a kind of living mosaic. Harrington always shoots these images handheld so he can frame each component image as needed. He then scans the Xpan images on an Imacon in the studio, at a resolution large enough for a wall-size mural. He explains the basic process:

"When I first started making these images, I called them 'constructions,' because making them was like building something. As the first few took shape, I realized that the central reason I was doing them was to take a scene apart, looking at different aspects of it, then rebuilding it in a way that pointed out the differences in how the scene fit together. Hence my use of the term 'deconstruction.' Life is frequently not a perfect fit and so it is with these images. It's a kind of analysis of a scene or a point of view in interpreting a scene. Certainly deconstruction in aesthetics, as the French philosopher and literary critic Jacques Derrida defined it, played a part."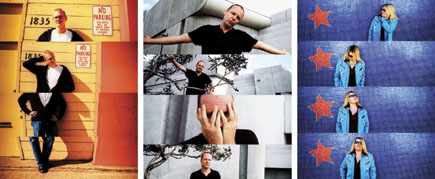 On assignment for Qualcomm, Marshall Harrington used the Hasselblad Xpan to capture the various poses, and then combined them to help the client make a visual statement that would be much stronger than a single image alone could convey. This was shot entirely by available light, with the addition of white bounce cards for fill.
These deconstructed images are not simply a reflection of his personal fine art shooting. Clients appreciate them as well. The global accounting firm of PricewaterhouseCoopers sent him around the world—to South America, Europe, and Asia—to create these deconstructions for an annual report. What's more, when Qualcomm wanted to promote their new product named "Brew," along with developers using it, the art director worked with Harrington to brew up a unique formula, in the form of a deconstructed image for a series of ads. Another project took a completely different turn. The client wanted a mural-size family portrait. This time Harrington chose to shoot digitally, capturing individual frames and compositing them into a deconstructed mosaic.

He Keeps His Lighting LightHarrington doesn't go in for a heavy-handed approach to lighting. Hence his preference for Profoto Acute packs and heads. But on occasion, when he finds that he needs a ton of lights, he'll turn to his trusty Normans. There are some lights you just never get rid of.
Here, Marshall Harrington was asked to shoot a family portrait for a wall-size mural, so he chose to create a mosaic involving 64 images. Shooting in a studio, with the family members lying on a bed, Harrington bounced heads off adjacent white walls and ceiling for a soft wash of light. This treatment lends depth and texture to the portrait.

LATEST VIDEO