Press the Button & Share the Past: Speedy Epson FastFoto FF-640 Makes Scanning Photos a Breeze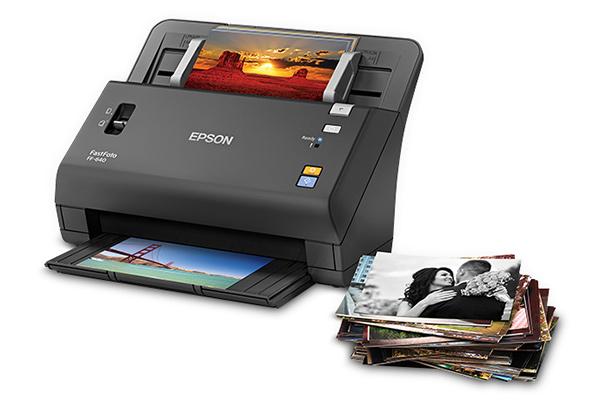 In millions of families across America and around the world, there's one family member who is the Keeper of the Photos. Often that person either hasn't the skill, or the time, or the inclination to scan and share more than just a few of the treasures. If things were perfect, thousands of family images would be available online for all family members to share. Instead, it's usually one relative who has boxes and albums and envelopes full of all sorts and sizes of photos, all passed down—and in reality—passed over. Press the button and forget the rest.
It doesn't have to be that way, and you don't have to spend the next 30 weekends scanning photographs on a flatbed scanner, or trust (and pay) an outside service to scan the family albums. The Epson FastFoto FF-640 scans photos as fast as one per second and easily restores faded prints to their original color to share with family and friends via the cloud and on social media, including Facebook and Instagram.
The Epson FastFoto FF-640 is a high speed photo scanner, sure, but more than that it's the heart of a complete system. You might call it a Family Reunion in a Box. The FastFoto allows anyone to Scan, Restore, Save, Organize and Share photos of all sorts from postcard-size to 8x10 enlargements plus panoramas. And when it's not busy digitizing irreplaceable photographs it does double duty scanning student artwork, tax records, old love letters and everything else that's on paper and is important enough to save or share. It can even scan both sides of a photo or postcard at the same time so that the handwritten notes are preserved and saved along with the image. And it does all of these things very, very fast.
Photos can fade as they age—chemistry breaks down and the image base deteriorates. As we've all seen, colors lose their punch and things can go horribly wrong. As part of the reproduction process, the FastFoto scanner restores color, corrects red-eye and enhances overall appearance. Smart Photo Fix (SPF) Technology handles the corrections with just a single click—no expertise or labor required. What's more, misalignments are prevented by Epson's proprietary Dynamic Skew Correction (DSC) and a sophisticated multi-roller paper feed design that automatically corrects the angle of the original as it enters the scanner. An Ultrasonic Sensor with Double Feed Detection prevents misfeeds and skipped photos, while Auto Size Detection makes it possible to mix several sizes in one stack.
Epson even includes a special carrier sleeve that protects worn or ragged photos during the process.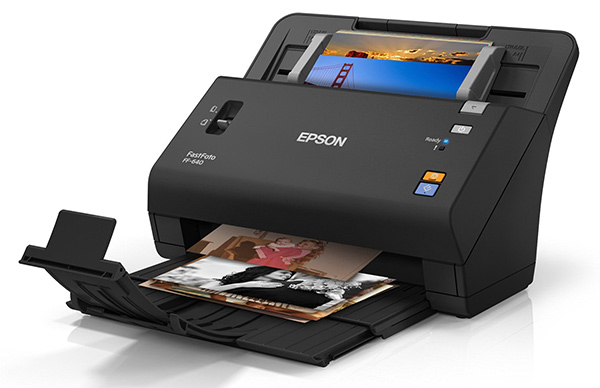 Scan and Restore
The FastFoto from Epson is the world's fastest* photo scanner. It can scan stacks of mixed-size photos as fast as one photo per second at 300 dpi, and is capable of 600 dpi output. The scanned photos become digital image files that are ready for sharing, printing, adding to scrapbooks or creating custom family albums. Old images are given new vibrancy automatically with color correction and red-eye reduction features. Advanced photographers may enjoy additional post processing using their favorite image editor, but that's optional—richly enhanced, optimized image files are created automatically.
Save
Single-step Technology allows you to capture both sides of a photo or postcard at the same time. The handwritten notes, date stamps and other ephemera are recorded with the image and preserved forever. As is true with any high quality scanner, the capabilities are not limited to photos. For example, school records, children's art projects, greeting cards, receipts and other documents can be digitized—quickly—at resolution as high as 600 dpi. And you control the destination where the file is saved. You can place images in a folder on a hard drive or USB drive in the conventional way, or upload them directly to Dropbox or Google Drive.
Organize
Sifting through hundreds or thousands of computer files can be a nightmare of confusion without a sophisticated organizational structure. Anyone can scan an image, but can anyone find it later? The answer is a resounding Yes! with the Epson FastFoto scanning system. You will be able to locate photos (or documents) in seconds thanks to FastFoto custom software, which features unique file/folder naming as well as date and subject tagging. To organize documents other than photographs, the FastFoto includes Document Capture Pro, with which you can create searchable PDFs for easy retrieval, and ABBYY FineReader to scan and save as editable files.
Share
Photos are made to be shared. With the Epson FastFoto FF-640 it's easy to share some or all of your entire collection of rejuvenated memories with family and friends. Share on popular social media like Instagram and on Facebook, or upload directly to Dropbox and Google Drive. Grant access rights to family members—no more lengthy e-mails with resized attachments, no more mailing thumb drives full of laboriously sorted and renamed scan files. The Epson FastFoto truly is a Family Reunion in a Box
Press the Button and Share the Past
Active photographers understand that photography means different things to different people. For heavy DSLR users, photography may be fine art, or landscape masterpieces or a collection of gritty street scenes. To a modern teenager it's more likely a cellphone-size digital image that's viewed for a few seconds and deleted—or exiled to an unnamed folder where it will die when the phone or hard drive dies.
For millions, however, photography isn't a passion, it's a means to an important end, and that end is the photograph that freezes a fleeting fraction of a second and makes it immortal. Many of us know our departed ancestors only by the surviving photographs. Photographs are tunnels that lead back in time and connect us to when grandparents and great-grandparents arrived in America, proudly served our country in uniform or graduated from high school.
The Epson FastFoto FF-640 takes the drudgery out of scanning the irreplaceable photo collection that all families have. It's fast—the world's fastest*, in fact—and highly automated to perform all of the corrections and restorations that photographers and laymen alike demand.
About Epson
As active photographers, we all know Epson as the manufacturer of premier photo-quality inkjet printers. With roots that go back 75 years, Seiko Epson has nearly 75,000 employees worldwide and enjoys a sterling reputation as maker of photo printers, photo scanners, document scanners and workgroup document scanners, including the Epson WorkForce DS-860 Color Document Scanner which scans up to 65 pages per minute and is rated for 6000-page daily duty cycle. You might say that high-speed photo and document scanning just comes natural to Epson.
Epson FastFoto FF-640 Minimum System Requirements
• Windows 7, 8/8.1, 10
• Mac OS X 10.6.8 – 10.11.x
• Software requires internet connection for download and installation.
* In its class, as compared to other consumer photo scanners priced under $1,000 MSRP USD (sold into the United States and Canada as of November 2015). Based on average speed from start of scan to end, using Windows driver, scanning thirty 4x6 inch photos at 300 dpi in landscape orientation. Autofeed tray accommodates 30 photos at a time. Scanning self-developed instant prints, because of their thickness, is not recommended.

FEATURED VIDEO