PMA Show Reports; Gadgets & Accessories; The "Other" Stuff We All Love
What's new and different in gadgets and accessories this year? While digital has overtaken cameras it seems that many of the accessories we saw could be used as much on a film as a digital camera, proving that while there might not be much new under the sun there are certainly variations that bend with the technological tide.

Alpine Innovations' D-Pod is an interesting mini tripod for compact cameras that folds very flat for easier carrying. One lock knob loosens the non-extendable legs to spread apart, and then another knob allows you to adjust the front-to-back tilting top. At $10, this is a handy small support gadget to keep in your bag.
Aputure's Trigmaster Plus is a wireless transmitter and receiver system built into one pocket-sized unit. This all-in-one device can send and receive signals at the same time so users can remotely trigger their camera, then the camera relays a signal to remote flash units all in synchronization. It can be operated at up to 120 feet and lists for $60.
(Argraph) Marumi DHG (Digital High Grade) Filters are designed specifically for digital cameras and are said to eliminate flare and ghosting prevalent when camera chips convert light into electrical signals. The Super DHG Circular Polarizer is available in standard thread sizes from 49-82mm. The Marumi DHG Achromat Macro Lens is a close-up lens that offers edge-to-edge sharpness and is available in two magnifications, +3 and +5. Also from Argraph, the Pana-Vue Pana-Scan lets you easily convert 35mm slides and negatives and 110 negatives into a 5-megapixel digital image at the touch of a button.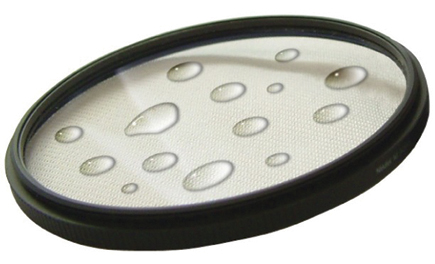 Argraph Marumi Super DHG Circular Polarizer
Argraph Pana-Vue Pana-Scan
BlackRapid has an interesting line of camera straps designed specifically for the working photographer. The R-Strap is built for speed—the camera is suspended upside down from its tripod socket then is easily and quickly slid up the strap to any shooting position. They showed a prototype of a new strap designed specifically for women that has an embroidered pattern on the shoulder pad.
| | |
| --- | --- |
| | |
| | BlackRapid Prototype Strap For Women |
California Sunbounce's Sun-Sniper Steel camera strap features the added security of having a steel strip inside so it cannot be easily cut by anyone attempting to steal the camera. The innovative railway strap allows the user to carry their camera comfortably at the waist then rapidly bring it up to eye-level shooting position. The MSRP is $79. A double-strap version has an over-the-shoulder harness to easily hold two cameras independently, each of which has a shock-absorbing feature. Brand new, with no pricing as yet, is a triple-press harness with attachments for carrying around three different cameras. At the back is a shallow pouch suitable for holding a laptop computer.
California Sunbounce Sun-Sniper Steel Camera Strap
Clik Elite has a new concept small telephoto backpack/camera support. You carry your equipment in a rather conventional backpack on your back, but when you swing it around to the front of your body as a chestpack, a metal support for holding your camera is positioned so you can shoot at eye level. The support can be adjusted up and down 7". The frame system stabilizes large heavy lenses while the aluminum frame transfers weight to the body. The BodyLink Telephoto Pack will accommodate a 70-200mm zoom on a D-SLR body.
Clik Elite BodyLink Telephoto Pack
Delkin Devices' Jellyfish is a floating waterproof accessory kit that will safely house and protect your waterproof camera in most any activity on water or land. An orange floating ball tethers the case at the end of a clip-on/clip-off wrist strap for easy carrying. Buoyancy is rated for up to 8 oz and it's watertight down to 5 feet. The MSRP is $20.

FEATURED VIDEO