PMA Show Report; Software Updates; Plug-Ins, Browsers, And HDR
Most of the software news for 2010 was featured in our March issue, but we have some quick updates to share.

Nik Software is best known for its Photoshop plug-ins. They have expanded beyond this with support for both Apple's Aperture and Adobe's Lightroom now in all of their products. One new addition worthy of mention is Viveza 2. If you're not familiar with Viveza, it uses Nik's proprietary U Point technology to make complex selections easy for anyone—no dealing with difficult masks or blending, just place a control point on your image where you want to make an adjustment and let the software handle the rest. New features in Version 2 include the ability to make global adjustments along with the targeted adjustments via control points, grouping control points together to make working with similar adjustments easier and more consistent, and the addition of a curves control, along with shadow and structure adjustments.
ACD Systems' browser software, Version 12, as well as ACDSee Pro Photo Manager 3, are both for the Windows environment. ACDSee's claim to fame has always been speed—nearly instant viewing of images regardless of the resolution, and Pro Photo Manager 3 is no exception. Even 24-megapixel Raw images snap into view. Although I view this as more of an image browser than a workflow tool, there are Raw-processing features, nondestructive editing for all image formats, and image-editing features that many will find useful. If you frequently upload images to one of the sharing services like Flickr, SmugMug, or Zenfolio, you'll be able to do this from within the application.
ACD Systems ACDSee Pro Photo Manager 3
HDR PhotoStudio from Unified Color takes a different approach to HDR photography. While many people like the highly processed versions of HDR imagery, HDR PhotoStudio aims for a realistic representation. Yes, you'll still be merging different exposures together to create a single image with an expanded dynamic range, but the end result is an image that looks like what the eye would have seen vs. the hyper-reality look of many competing solutions. The Mac version is now available, so it's cross-platform and doesn't require other applications to run. You can export your images in a proprietary 32-bit format and use the included import module to open the images in Photoshop for further editing work. A Lightroom plug-in is also included for accessing the application from your catalogs. Both Mac and Windows support 64-bit processing, taking advantage of the available memory and number of processors in your system. Overall performance seems very good, and the tools are intuitive to use.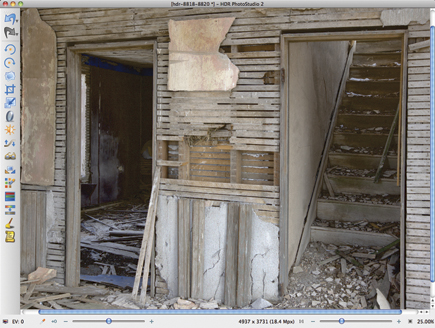 Unified Color HDR PhotoStudio
Manufacturers/Distributors' website addresses can be found by visiting the Instant Links section of our website at: www.shutterbug.com/currentissuelinks/.

FEATURED VIDEO