Plug-In Tools For Image Enhancement; Add Contemporary Edges, Artistic Frames, Brushes, Backgrounds, And Templates To Your Photos With Graphic Authority Tools
Want to add a cutting edge look to your portraits of young people, artists or musicians? Does a static still life subject or product that you shot need to be injected with some electricity? Would you like to incorporate artistic hand-drawn elements in your images, but you don't have art or graphic design training? Graphic Authority has an extensive catalog of digital edges, frames, templates, backgrounds, ornaments, and brushes that may be just what you need to energize your work and stimulate your creativity.

Packaged on DVD and CD, each disc includes both a QuickTime 5-10 minute demo movie and a full color guide in PDF format. (If you don't already have them, both the movie player and Adobe Acrobat Reader are free downloads.) Follow a few steps to drag and drop your photo into the Graphic Authority template in Photoshop CS or later and you're done. Or keep going to modify color, add or remove layers, and work with brushes, ornamental vector art, or other tools.

Compatible with both PCs and Macs, Graphic Authority single discs range from $59.95-$79.95, but you can save money with bundles. For example, the Artistic Expressions package includes two DVDs and one CD for $129.95. The three Artistic Expressions discs contain frames, templates, and vector ornaments. The Library collection encompasses photographic frames and edges, aging and grunge brushes, and backgrounds to create edgy composites or add finishing touches. Their three DVDs are $179.95.

The Graphic Choice bundle, especially suited to portrait and wedding photographers, includes antique backgrounds, hand-drawn ornaments, blended frames, spatter brushes, photo album templates, and templates for sports cards and posters. You just take your photos of your young soccer player, for example, and drop them into a template to create a professional looking card or poster. Three DVDs are $129.95.

You'll find more templates in the Made To Change collection—30 with a contemporary look, 30 with a vintage feel, and 30 backgrounds. The three DVDs go for $129.95. The Studio Collection includes all the Graphic Authority tools, marketing materials, Senior Styles Templates, and Fine Art Frames, for $459.95. You can see examples of how photographers have used these tools on the websites listed. You'll also see free training videos and samples of all the tools that come on each disc, so you know exactly what you will be getting.
Drag & Drop Templates
1. The first photo I wanted to enhance was this shot of a vintage microphone, 4x6" at 300dpi.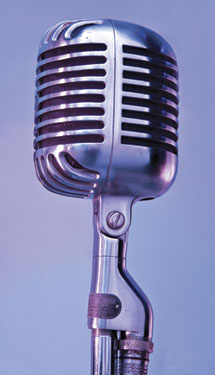 1
All Photos © 2008, Howard Millard, All Rights Reserved
2. For a background/edge effect, I browsed through the printed booklet included with the Artistic Expressions DVDs. You can also look through a PDF catalog on each disc. In Volume 1 Templates, Portraits, I found the perfect background to complement the mic shot. Number 29.psd is a multilayered Photoshop file with images of records and audio cables. You could also use this background to enliven a portrait of a musician.

I copied the template to my desktop from the DVD and opened it in Adobe Photoshop CS3. The Graphic Authority files are in sRGB color space. A dialog box opened in CS3 and I converted to my working space, Adobe RGB. To enable you to make a poster, the background template is a large file, 9x12" at 300dpi. Since my photo is smaller, I downsized the file to 6x8 via Image>Image size.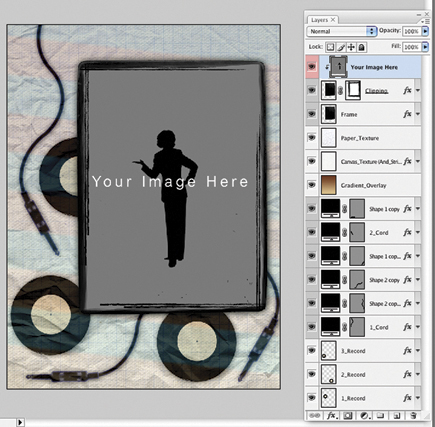 3. Note all the layers in the Layers palette on the right. One at the top is highlighted in pink and named "Your Image Here." With both the mic photo and the background open in Photoshop, I used the Move tool (press V on the keyboard) to drag the microphone onto the background template. Although you can't see it in the image yet, the mic now appears as Layer 1 in the Layers palette.

Next, drag the mic Layer 1 just below the "Your Image Here" layer and then delete the "Your Image Here" layer. You can now see the microphone in the template image. With the microphone Layer 1 active, use the Move tool to position it.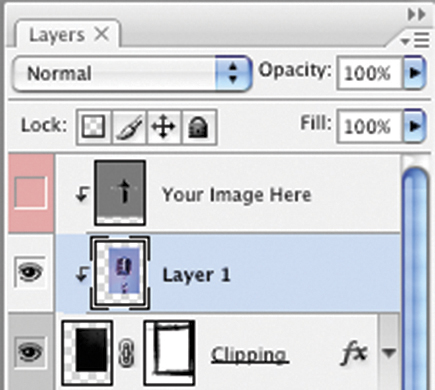 4. My mic photo is now encased in a professional graphic design background. If I want to tweak the image further, I can delete or modify any of the many layers in the template. For example, I can remove any of the records or cables, or re-position them, or I can change the color of the background. By providing all the layers, Graphic Authority makes it easy for you to customize each template to your particular photos and taste.
5. For the next example, I began with this shot of four orange flowers to which I want to add a graphic frame. 4x6" at 300dpi.
6. From the Artistic Expressions, Volume 3 Ornaments DVD, I chose this file, 01.psd, with a hand-painted decorative frame and gradient color background. With Image>Image Size, I downsized the file to 6x9" to better fit my photo.
7. As described in the first example, I open both files in Photoshop, then drag the flower on top of the background. In the Layers palette, I drag this new layer to just below the "Your Image Here" layer and then delete the "Your Image Here" layer. You can now see the flowers in the template image.

LATEST VIDEO

SPONSORED VIDEO