Plan Ahead: 7 Photo Ops I Won't Miss in 2017
President Eisenhower said, "In preparing for battle I have always found that plans are useless, but planning is indispensable." I get that. It's a truism that applies to things much lighter than D-Day, too. So as I watch March melt into April, I summon my highly analog paper Day-Timer calendar and begin plotting my summer. In pencil, of course. Here are the seven "must-do" activities I've strategized so far.
Your list is bound to be different than mine. If not, please stop stalking me. Hopefully, these activities—May through November—will help you conjure up a list of your own.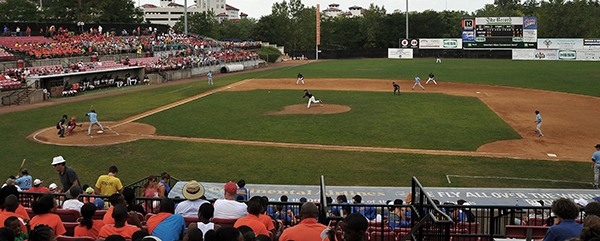 1. Opening Day
The New Jersey Jackals open at home against the Quebec Capitales on May 18. They finished first in the Can-Am independent league last year with a record of 68 and 32. It's great baseball, it's inexpensive, and the park is so darn accessible—by which I mean that it's easy to find dozens of great angles to shoot from. They play in Yogi Berra Stadium, on the campus of Montclair State University in New Jersey. Shooting minor league professional baseball is a great way to hone your shooting skills.
2. Ramsey Farmers' Market
June 4 is the date of the first outdoor market of the year, but any Sunday is June is fine. Farmers' Markets offer color, close-ups, street shooting—in short, a literal tableau of camera opportunities. If there are none in your area, make friends with a local garden shop or roadside vegetable stand. Pick-your-own farms offer photogenic fun, too, and the strawberry season begins in June— cherries in late June.
3. Best Fireworks in Bergen County
July 4 marks the 107th annual Ridgewood, NJ, Fourth of July Celebration, and no, I have not attended all of them. Volumes upon volumes have been written about shooting fireworks, including this one that I penned last year. Important to note, many readers chimed in with better tips than I offered, so there's clearly more than one way to skin this cat.
4. Any Sunday in August
New York's Chinatown offers arguably some of the best food in Manhattan and for me at least, some of the best photography. If you live in the Big Apple, you know what it's like to be on Canal Street in August. If you plan a trip here, be sure to include a few hours in Chinatown on your itinerary. Insiders tip: work your way a few blocks north toward Grand and you'll find a few supermarkets that are amazing.
5. NY Renaissance Faire
I'll be there on September 4, God willing and if the creek doesn't rise. The Faire opens August 5, weekends only, but there's something special about going on Labor Day. If you can't get interesting pictures at the Ren Faire, you can't get them anywhere. Just be prepared for some pretty sketchy accents, voluminous bustiers and people who really get into character. For example, check out the juggler at the top of this story.
6. Bronx Zoo in October
I got this straight from the horse's mouth—or was it a zebra? October is the best month to visit the Bronx Zoo. Children are back in school, midday temperatures are cooler and the animals are quite active because the crowds are much thinner. Anyway, this is what employees at the zoo told me. I was only kidding about the horse.
7. Deck the Halls
Rockefeller Center in November. Tree lighting is November 29 so this "must do" may slip into December, but seriously, this is a great venue around the holiday season. While many, many other cities have fireworks, farmers' markets, Renaissance Faires, zoos, Chinatowns and professional baseball, there is only one Rockefeller Center. Take kids; that's what the holidays are all about.
Thankfully, there are dozens of other events that I'd hate to miss. The Jersey Shore, especially the Gateway National Recreation Area at Sandy Hook, New Jersey, in May before Memorial Day is a very important place to me. And I always look forward to PhotoPlus Expo in October at Javits Center. So I keep making the list longer and longer. At this rate I'll have more events than I do weekends, but hey—is there a better way to spend the summer?
—Jon Sienkiewicz

FEATURED VIDEO