Picture Project
The Working Wharf
Photos © 2001, David Wade, All Rights Reserved
Call it photographer's myopia. Or maybe it's the "greener pastures" syndrome. Why is it that photographers, seeking more exotic locales often overlook the most interesting subjects right in their own backyard? It took me more than 12 years working as a photographer in Japan to finally discover that the ideal subject I had been searching for had been waiting right in Maine all along. I traveled hundreds of thousands of miles before it occurred to me to just train my camera on what was right there in front of me. Portland's waterfront is one of the most exciting and photogenic places I have ever encountered. With its rough hewn shacks, its piles of fishing gear, and its salty lobstermen, this working waterfront is a place of living history every bit as exotic as other places I'd photographed--Laotian villages along the Mekong River, the primal forests of Indonesia, or the floating markets of Burma.
Back in the heyday of sailing, when square rigged clipper ships plied the waters between the colonies and Europe, Portland was the most active port in New England, after Boston, due to its large protected natural harbor and its closeness to European ports. They said then that the harbor was so chocked with ships that you could cross it by jumping from boat to boat. Portland had as many as 24 working wharves where boats used to line up to load and unload cargo, take provisions and outfit for the next voyage. When sailing ships were later replaced by faster powered vessels, Portland's geographical advantage evaporated, business dried up, and many of the piers fell into disrepair and abandoned. Portland, however, remained a vibrant port in the fishing, lumber, and molasses trade right up through Prohibition, when the less savory rum-running trade still provided the local maritime economy with much needed liquidity.
Today, while the number of working wharves is way down, Portland has a strong active waterfront and a good segment of its population is engaged in the fishing and lobstering industry. Lobsters have become nearly synonymous with the state of Maine, and these crawling crustaceans from Maine's cold waters are so celebrated for their succulent taste that they get shipped to restaurants as far away as Sante Fe and Tokyo, where they fetch top dollar. Lobstering is a big business with Maine's annual harvest (approximately 40,000,000 lbs in 2000) accounting for a big chunk of the state's revenue.
I am particularly fascinated with one old wooden dock, one of the last remaining fish piers that hasn't fallen victim to either old age or recent residential and recreational development. Widgery Wharf is the oldest working wharf in Portland, built in 1774, two years before the signing of the Declaration of Independence. The wharf plane reeks and creaks of history, with its pilings worn to near nothing by centuries of sea worms, and those other holes where the molasses shed once stood. On moonless nights, boats would surreptitiously slide under the dock with hand augers, bore holes, siphon the rich black syrup into barrels, and slip into the darkness with their sweet plunder. The tanks are gone now, along with the downeast drillers for black gold. All that remains today is the lobstermen, but the memory perseveres among the old-timers whose shacks line the dock.
Collectively owned by five families of lobstermen, Widgery Wharf is a bastion of Yankee independence, a traditional fishery where men work for themselves, labor hard with their hands, and set out to sea in small craft to make their living. I was struck by the simplicity and directness of these fiercely independent lobstermen, who keep a tradition by hauling traps just as their fathers had before them.
Gaining Access
One obstacle all photographers face (and that I encountered as an outsider) was to gain access and the trust of the people I wanted to record in this small dockside society. I found that through my persistence, visiting regularly and over an extended period of time, that I was finally able to break through the legendary native Maine distrust of folks "from away" and gradually be accepted as a familiar face. I carried only one camera, so as to not draw undue attention to myself, and made a point of bringing back prints to share with my subjects. Some of them ended up, along with the lobstermen's own snaps, on the back of a fish shed door which acted as the dock's historical archives. My original intent had been to preserve for posterity the story of the Maine lobsterman (who like the cowboy before him, I view as an endangered species in changing times). That changed the more time I worked on it. I found I had become more interested in recording the story of this one particular wharf, to be in fact, a useful part of it, by capturing it on film. Instead, Widgery Wharf has captured me.
Photo Approach
My photographic approach is from a historical/documentary position. I use mainly Kodak TCN 400, a black and white film processed in C-41 color chemistry, which produces a sepia-toned machine print, quite useful for sharing with the people I photograph. Besides, this tonality seems perfect in keeping with the character of Widgery Wharf, its old wooden boats and its weathered working fishermen. For exhibition purposes, I scan the negatives then print them with an Epson printer on archival paper.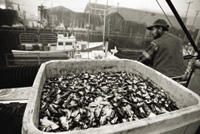 I keep my camera rig down to a simple one body, one lens setup, for easy maneuverability and to avoid attention. I like the feel and performance of Canon cameras and generally use an EOS 2 or a lightweight Elan body with a Canon fast f/2.8 20-35mm lens for the wide overviews and environmental portraits in tighter quarters and the low-light conditions in building and boat interiors. I almost always work in daylight, preferring overcast and foggy days (of which we get more than a few) and occasionally use fill flash when I'm forced to, from the on-camera pop-up unit, knocked down 2/3 of a stop. Some days I feel better working with a Tamron 28-300mm lens that gives me added flexibility for tight portraits, distant views, and forced perspective shots. Generally, I never carry a bag or more than one body or lens unless I'm going offshore fishing and want to have some back-up insurance if something fails. This is a long-term project on the working wharf, so I try to pace myself and shoot sparingly.
Lobstermen face many challenges beside the unstated but ever-present danger of going offshore in small boats and unpredictable weather. Increased government regulations, a fragile lobster nursery, higher fuel prices, new technologies, swelling competition, crowded sea beds, even unrelated events like the terrorist attack on New York City or the death of the Japanese Emperor can affect market demand and cause prices to plummet.
The biggest challenge to the livelihoods of lobstermen lays in the scarcity of highly desirable waterfront property. The lobstermen and their shacks have become prime targets for big money developers. How much longer they can persevere is in question, given the economic pressure to develop the commercial waterfront into more lucrative tourist/entertainment complexes.
Whether Widgery Wharf and its lobstermen will last another generation is hard to say, but their days are numbered. They are an endangered occupation, like the cowboys who tamed the Wild West with daring and self-reliance, then faded into history. Those are the same qualities I have come to respect in the Maine lobstermen and I have tried to preserve in my photographs of Widgery Wharf on Portland's working waterfront.
David Wade's photos of Widgery Wharf (part of a larger book project on The Working Waterfront) will be on exhibit June 3-29, 2002, at The Gallery at The Clown, 123 Middle St., Portland, ME 04101; (207) 756-7399. You can see an extensive portfolio of his work at www.davewadephoto.com. You can also e-mail him at dwade1@maine.rr.com.
Lobstermen Bios

Al Urquhart
The sign over the door of Al Urquhart's fish shack defiantly proclaims "Retired; No Worry, No Hurry, No Phone, No Boss." Almost entirely true, except Al, at 79, wasn't retired, and is still down on the dock working traps and fishing regularly. Al was never a quitter, and when the boat he was fishing off the Grand Banks sank, Al survived and decided to move a little closer to shore and take up lobstering instead. That was 40 years ago when Al set up shop on Widgery Wharf. Last year, when the medication he was on started to mess with his balance, he finally had to give up working on boats, but you'll still find him on the dock putting in time.
Leland Merrill
At 78, Leland Merrill, one of the dock co-owners, still makes his living hauling the heavy lobster traps, with his son Dickie, up on the deck of their boat. He says, "It's the only work I've ever known and I'm not about to learn another trade." When he's not fishing, he's mending his traps in front of the wood burning stove that heats his shed. "Lobstering's changed," he'll tell you, replacing the mesh that holds the lobster in the trap. "We used to have to weave these by hand with manilla and sissel twine, but nylon netting's changed all that and there's just too many people and traps out there today." An excellent raconteur and Widgery Wharf's unofficial historian, Leland remembers everyone who ever worked the dock. He recalls how in the late 1930s he used to row out in a punt and haul the lobsters by hand, for which he earned 14 cents a pound. "Modern lobsterboats all use hydraulic winches to bring the traps up," Leland notes, "and the prices have risen, too."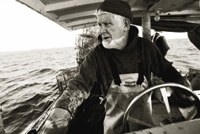 Billy Floyd
Billy Floyd looks every bit the part of the old salt with his silver beard and woven seacap. Fellow fishermen recently built him a new shed when the old one he occupied for almost 50 years had to be torn down to replace the rotten supports beneath it. "Some of these pilings holding up the dock are probably the original ones dating back to the Revolutionary War. I can't believe I dared to park my pickup truck out here," he marvels, shaking his head. A lifelong lobsterman whose grandfathers were both lobstermen, a co-owner of the wharf, and part-time philosopher, Billy's endless energy and twinkling eyes belie his 76 years. I'm amazed to watch him stack 30 lb traps four high on the dock. Whatever the weather, if anybody's going out hauling, you know it's going to be Billy, in the same wooden boat he's fished from for 40 years. Billy readily admits to never throwing anything out. "You never know when you're going to need it," he states, followed by his regularly repeated "it's always something€," a pointed reference to all the variables a man faces who makes his living on the sea.
When he was forced to clean out his lobster shack of fishing equipment, old gears, scallop rakes, marine batteries,and years of accumulated stuff, Billy discovered a 1966 L.L. Bean calendar, and under a shelf cluttered with old paint cans, lead weights, swordfish bills, and ancient harpoon tips, "a genuine antique," the original one seat wooden hopper.

LATEST VIDEO

SPONSORED VIDEO
Testing Tamron's SP 150-60mm G2 lens while capturing birds and alligators in Apalachicola, Florida.