Photojournalism Techniques for Amateurs
Professor Kenneth Kobré--who teaches photojournalism at San Francisco State University--advises those who are interested in pursuing a career in news photography to "First master your camera, flash and the rest of your equipment."
He suggests that students attend a community college or university with a good photojournalism program: "Each school has a particular approach to photography." Another advantage to formal education, he says, is that you can learn more about law and ethics as it applies to photojournalism. And, besides being a good shooter, Kobré emphasizes, "you must be able to write a clear, accurate photo caption."


Kobré is represented by Mercury Pictures and freelances widely as a photojournalist. He's also the author of several books, including How to Photograph Friends and Strangers and the acclaimed textbook, Photojournalism: The Professionals' Approach, which features interviews with professional photographers across the country and includes many of the compelling images that accompany this story.

Importance of Education
At San Francisco State, Kobré says, "We encourage students to take a broad look at photojournalism." This encompasses everything from news events and sports to photo illustrations and feature stories. "We also help students get internships to newspapers," he adds. Photojournalism students from schools across the country compete for these paid internships, which gives them real-life experience and allows them to build their portfolios--"The internship is a stepping stone from college to the pro world," comments Kobré. Some students do multiple internships. He notes that some newspapers hire only students from accredited photojournalism programs, while others just want to see a good portfolio.

"This is a highly competitive field," he warns, "with a finite number of jobs at any given time." He advises beginning photographers to establish a track record of professionalism. Generally, photojournalists begin working for small newspapers, then bigger ones, and some progress to assignments for magazines such as Time, Newsweek, Smithsonian, News & World Report, and European publications like Geo and Paris Match.


Kobré's students work both digitally and with film. "We're more interested in the image that the student produces, regardless of the equipment." But the advent of more-affordable digital SLRs under $1000, he says, is enabling more students to buy good digital cameras with interchangeable lenses. Kobré says that film is still being used in photojournalism, but he anticipates that it will play less of a role as time goes by. "There are magazines that still utilize transparencies," he says. "Some publications that give assignments early in the week allow the photographer time to process film."

"There's a lot of good photographers out there," he notes, "but they're not necessarily good photojournalists." As a pro, "you're responsible for finding the story of the day that can be told in pictures." This is true, Kobré points out, for both large and small publications. Sometimes a photojournalist's job involves working with a writer, but oftentimes, a photographer does his/her own research on the stories they plan to shoot. This, he says, is where journalism comes into play. His students get a background in photography, as well as researching a story and writing both captions and text to accompany the pictures.

Shooting A News Event
Before shooting a story, says Kobré, "You must know when it's going to happen. A scanner radio is a spot news photographer's number-one piece of equipment." Many photojournalists continually monitor scanner radios to learn about breaking news. Police, fire, and other emergency services communicate via radio bands of varying frequencies, and photographers must know how to interpret these messages and codes. According to Kobré, a lot of photographers note the number of alarms and the number of engines called to determine the magnitude of a fire. Many fire-alarm calls are false and the crews extinguish small fires so quickly that the photographer can't reach them in time to make a meaningful image. "The fires have to be big enough to make it worth your while."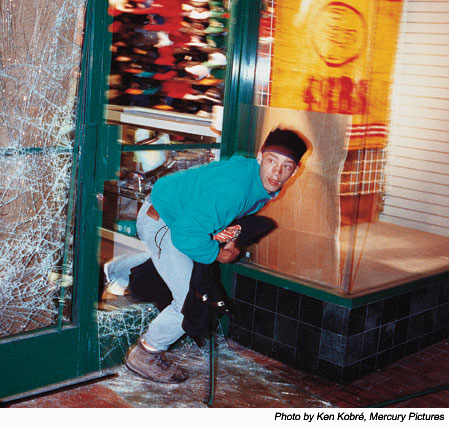 FEATURED VIDEO