Photographing World Series-Winning Shortstop Carlos Correa's Unusual Training Routine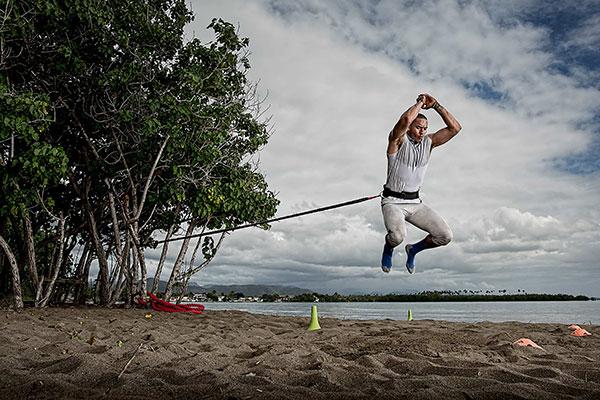 That's Carlos Correa, Houston Astros shortstop, in February, 2016, on a secluded beach on the south coast of Puerto Rico, training for the upcoming season. He'd been named American League Rookie of the Year for 2015, but no achievement was going to make this driven professional let up in his efforts to stay ahead of the game.
The photographer who took this picture, Andrew Hancock, feels the same way, though his training takes the form of working out ideas for pictures, projects, and assignments.
"You have to differentiate yourself," he says, "and create pictures people haven't seen, pictures that are appealing to both clients and subjects."
Hancock's success is due to skill, good relationships with clients, and "being relentless in coming up with ideas and ways to get access, and to package everything up and present it, and then have the athlete and the team buy into it as well. They have to recognize the opportunity to create something special and valuable to them."
He works in two markets—commercial and editorial—and he believes his dual focus keeps him versatile, agile, and busy. "There's really no off switch," he says. "I'm constantly thinking. I'll meet a player, and by following his progress, or just by talking to him, I'll figure out what makes him different, what makes him special." Hancock credits this facility to his journalism degree. "I have the ability to interview to get information to help me be creative and come up with ideas."
And so he followed Correa's rise in the major leagues, noted the immediate effect he had on his team and how he helped take them to the playoffs.
"I always want to have a set of ideas and projects in mind because I'm talking to various editors at different times," Hancock says. "When I heard that Correa was going to be training in Puerto Rico after the season, I pitched the idea of following his training to Derek Jeter's web magazine, The Players' Tribune, and I got the assignment."
Correa's beach routine consisted of jumping against the restraint of a bungee cord to positions marked by cones and reaching each one in succession. "The tension is on his legs when he lands," Hancock explains, "and that builds up strength that pays off in his ability to take off quickly and cover a lot of ground when he's going after the ball."
The beach training was a highlight for the photographer. "He worked in a typical weight room and at the ball field, working on hitting and fielding," Hancock says, "but the time at the beach was for me the most visually appealing because it's something people don't normally get to see."
And if there's something going on in sports that people don't normally see, count on Andrew Hancock to jump to it.
Andrew Hancock's website, andrewhancock.com, features an array of ideas turned into photos that have brought him international recognition and an all-star client list.
Tech Talk: The photo was made with a Nikon D810 and an AF-S Nikkor 20mm f/1.8G ED lens. The camera settings were 1/320 second, f/8, ISO 64, manual exposure, and center-weighted metering. The scene was strobed with a Profoto Pro-B4 pack powering a Pro-B Head Plus fitted with a Zoom Reflector.